Blancco Technology Group Leverages CloudShare to Scale Up Sales
To get articles like this free in your inbox, subscribe to our newsletter.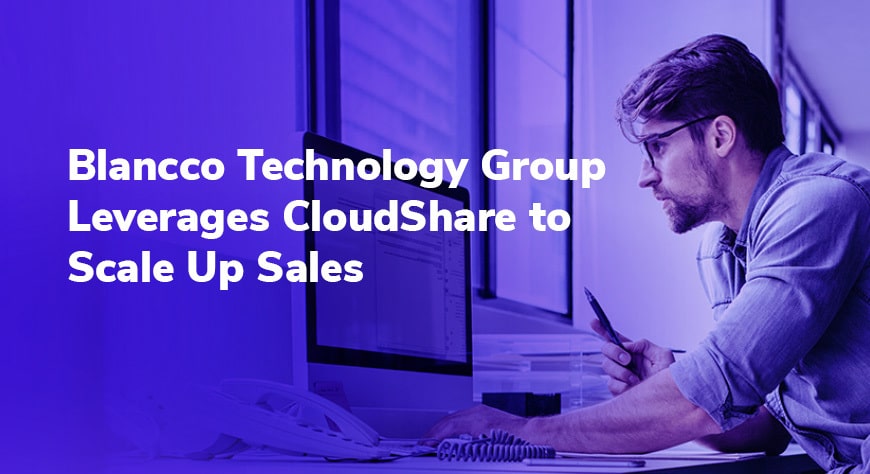 When you have a team of talented developers, it sometimes seems like there's nothing they can't do. But that doesn't mean it's a good idea to divert them from core product development to create sales tools from scratch.
Like many software developers, Blancco Technology Group ‒ a leading global provider of data erasure and mobile lifecycle solutions ‒ began building a cloud-based training platform for their sales team.
Scaling became an issue, along with poor reporting and wasted setup time 
Over time, it became clear that the labor-intensive processes behind it – both development and support – did not scale at anywhere near the pace that the company was growing. In addition:
There also was no visibility into which products were being demonstrated, for how long, by whom, and how often. So management couldn't know which people, teams, or products needed additional support.
They knew they were using only a modest collection of no-frills, hand-made engagement features, not a complete collection of tools designed specifically for training
Sales reps were still wasting hours each day troubleshooting and configuring the system – time that could be better spent selling, meeting KPIs and improving the bottom line
After creating a wish-list of features and exploring the options, the team selected CloudShare as a best-of-breed business acceleration platform to eliminate all these challenges and streamline the sales and training process for all stakeholders. Once implemented, they discovered that any sales rep could:
Send out invitations to launch a browser-based, up-to-date, optimized VM without fear of last-minute glitches
Customize a pitch by selecting from a catalog of pre-built relevant environments
Confidently launch a demo without the need to test a new setup extensively before putting it in front of a prospect
Shift away from the headache of ongoing technical logistics, instead of leveraging this self-service, scalable user experience
And what about ROI?
When asked about ROI, Cornelius Bührle, Director of Global Sales Engineering at Blancco, explains: "When it comes to sales, let's be honest – the ROI isn't necessarily a simple per-use dollar saving. Instead, it's all about an entire process, now infused with rock-solid stability, which directly boosts the success rates for the entire sales organization."
Download our latest Case Study, Blancco Technology Group Leverages CloudShare to Scale Up Sales, to learn how Blancco scaled and got more focused with the vertical approach, as they removed the roadblocks they had simply accepted as part of the game.
---
What you should do next…
1. Subscribe to our newsletter:
Subscribe to our newsletter below for the latest news, advice and thought-leadership for software professionals. Or visit our blog to browse our most recent articles.
2. Learn how virtual labs can grow your business:
To learn more about how CloudShare helps software organizations grow revenue, increase efficiency and improve quality, visit our resources page. You'll be able to browser dozens of valuable white papers, eBooks, webinars, case studies, and brochures.
3. Get a FREE, no obligation demo:
Discover just how easy it is to create your cloud environment—in minutes! One of our friendly virtual labs experts will be happy to:
Show you the platform in action
Calculate pricing for your business
Set you up with a 14-day free trial
Answer any questions you have
No pressure or obligation