How to Build a Great B2B Sales Experience for Your Prospects, Customers, and Reps
To get articles like this free in your inbox, subscribe to our newsletter.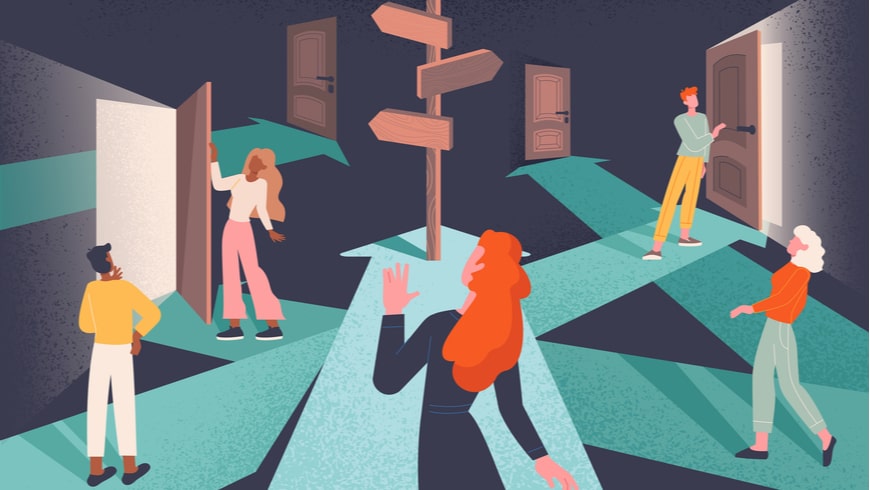 The B2B sales experience can vary wildly from product to product and company to company. By delivering a high-quality experience to your prospects, from first contact to post-purchase training, you can stand out among your competitors. (Like, way out from the crowd.)
If you get it right, you can also create a loyal following of super users, boosting customer retention and advocacy. And your sales reps will feel confident every step of the way, knowing that they are set up to succeed. Today, we'll show you how.
What is the B2B sales experience? 
The B2B sales experience is the interaction between your prospects and your organization.
Although, in this article, we're mostly focused on the initial stages where a sales professional is encouraging a prospect to become a customer—there's more to it than this. It includes every interaction from the beginning of the buyer journey to the end of the customer journey. Because there's always the opportunity to upsell, drive retention, encourage advocacy and more.
The importance of making the B2B sales experience a priority 
Gartner says that in a digital-first environment, B2B organizations must deliver a seller-assisted buying experience in order to succeed. Product-led is all well and good in some scenarios, but "purchase regret" for customers with a rep-free experience is 23% higher than customers that interact with a salesperson.
That's not all. The single biggest driver of a B2B sale is the degree to which customers feel confident about their own decisions. Yet, customers in an all-digital world are unwittingly pursuing buying behaviour that undermines their confidence. In other words, digital-only buying (without contact with a sales rep) actually harms customer confidence and therefore their drive to buy. It's not about pushing the customer, it's about making sure your sales team are thinking like the customer and providing an experience that correlates with their needs.
Gartner has found that those who report a high-level of decision confidence are 10 times more likely to make a high-quality, low-regret purchase. There are three significant drivers of customer confidence.
Perception of sellers
Difference between supplier offerings
Sense of consensus across the sales process
The sales experience you create for your prospects directly affects customer confidence and therefore the likelihood of a successful sale.
How to improve B2B sales processes and experiences
You should always be looking to improve your sales process.
It's essential to keep up with trends, understand what your audience needs (and wants!) and be agile enough to provide it. What tools are available to help our sales professionals make an impression. Here are several tips to help you enhance the sales experience your organization offers. (Spoiler alert: finding the right sales enablement technology is essential.)
Talk to your customers, but focus on what they want
Building a great experience for your customers starts with cultivating a relationship with them. What you need to "get" from these early conversations is their pain points, expectations, and requirements. It means forgetting what you want to tell them about your product and focusing on what they want to hear.
But it's here where the fun starts. The next generation of sales enablement technology provides a wide range of features and functionality to spark life into sales experiences. So that you can showcase just how valuable your product is.
Don't show, don't tell… just hand them the reins
Rather than a webinar or video explaining why your product is fantastic, why not let prospects try it out for themselves. A hands-on virtual sales experience allows prospects to get up front and personal with your software is an engaging and immersive way.
Just imagine, you are your customer. It's crunch time. You have to make a decision. What made more of an impact… the impersonal remote webinar you and ten others sat through or the hands-on demo where you got to push the software to its limits.
Make it personal, keep it real
Personalized sales demos and proofs of concept are key to building the customer confidence that leads to a sale. These kinds of experiences are increasingly important to modern business users. The B2C space has been doing this for years, spurred on by the hyper-personalized experiences provided by tech giants like Amazon and Spotify.
So how do you create personalized experiences in a B2B setting? For software companies this means showcasing the value of your product in overcoming a customer's specific requirements. More than that, it means immersing them in what this actually means for them. Using a sales enablement platform that allows you to spin up your customers' IT environments is an effective way to do this. Then provide hands-on demos so they can test it out in a realistic simulation of a real-world scenario that they would face at work.
Make it simple, seamless, and steady
Another feature of the modern sales experience is that it's hassle-free. As we have seen above, that doesn't necessarily mean ignoring seller-assisted experiences. But for prospects and customers, it means seamless digital experiences. And for your sales professionals, it means providing tools that are quick, easy to use, and reliable.
Your sales team should be ready to initiate a demo or proof of concept at short notice. This includes spinning up complex IT environments and scenarios. They should also know that they can customize and personalize experiences in real time. And they should be confident that there won't be any technical disruptions or latency issues.
Be smart about improving sales experiences
Next-generation sales enablement platforms come with built-in analytics and intelligence. You can use real-time data to adjust sessions to tailor them to the preferences of prospects, customers, or your sales professionals. But you can also look at the bigger picture. What works, and what doesn't? Which features do users gravitate to? Which sessions have high bounce rates? This can be invaluable in improving sales experiences over time.
You can also do this the old-fashioned way—although with a modern twist. The simplest way to get feedback is asking your customers. What do they like about your sales process from start to finish? What areas could you improve in? How can you make the processes smoother for everyone? And if a lead decides not to buy you should try and find out why. This can be integrated into the sales experience itself with interactive, real-time Q&A, chat boxes, and follow-up communications.
CloudShare puts customer experience at the forefront 
Optimizing your sales experience is one of the best ways to increase your close rate and ramp up revenue. CloudShare is designed to help your sales team to create exceptional experiences for your leads and become a foundational platform for your sales process.
CloudShare makes it simple and fast to spin up cloud environments where you can host and demo your software. Our clients use our platform as an essential sales tool when interacting with their prospects and customers.
To learn more about how CloudShare can help you build a great B2B sales experience for your customers, get in touch today. 
---
What you should do next…
1. Subscribe to our newsletter:
Subscribe to our newsletter below for the latest news, advice and thought-leadership for software professionals. Or visit our blog to browse our most recent articles.
2. Learn how virtual labs can grow your business:
To learn more about how CloudShare helps software organizations grow revenue, increase efficiency and improve quality, visit our resources page. You'll be able to browser dozens of valuable white papers, eBooks, webinars, case studies, and brochures.
3. Get a FREE, no obligation demo:
Discover just how easy it is to create your cloud environment—in minutes! One of our friendly virtual labs experts will be happy to:
Show you the platform in action
Calculate pricing for your business
Set you up with a 14-day free trial
Answer any questions you have
No pressure or obligation