3 Reasons Why Hands-on Training Is Hands-down Better Than Passive Learning
To get articles like this free in your inbox, subscribe to our newsletter.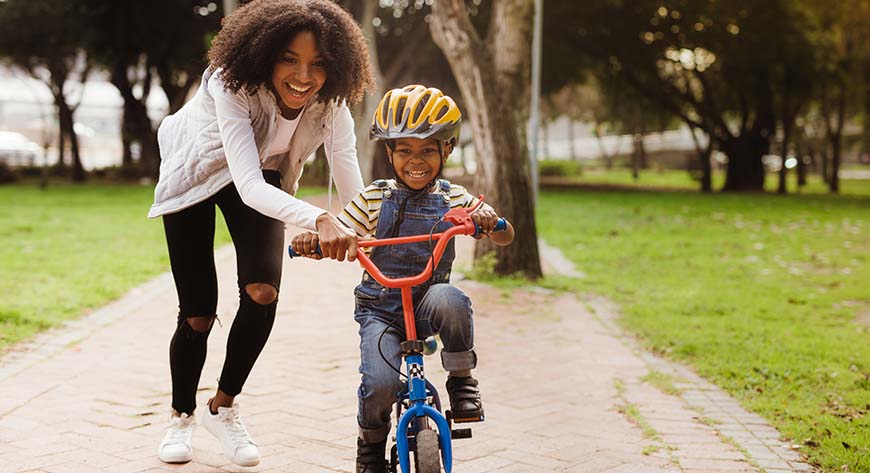 When it comes to customer education, hands-on training should be a no-brainer for B2B SaaS companies. Also known as "experiential learning", a hands-on experience allows trainees to learn by doing, rather than through passive experiences like reading a textbook or watching a video. In this blog, we'll shine a light on the advantages of using hands-on training technology. First, let's start with an apocryphal tale.
Little Red Riding Hood
One weekend, we'd planned to teach our daughter to ride a bike. She wanted to learn for ages, the little scamp, and we couldn't put it off any longer.
Unfortunately, my partner was swamped with work, and I received last-minute tickets to the big ball game. So, we called Grandma and asked if she would help. "No problem, send her over," Grandma said.
In a flash of inspiration, I googled "How to ride a bike" and quickly found a YouTube playlist with some funky animations. I sat my daughter down in front of the screen, showed her where Grandma's house was on Google Maps, and wished her luck.
Suffice to say… she never made it there. She didn't make it out of the yard. There were tears. Child services were called. They made us return our "Parents of the Year" award. And the wolf now lives in Grandma's house, undisturbed. And we all (except Grandma) lived happily. ever. after.
The moral of the story?
When it comes to customer education, a webinar won't always cut it.
3 hands-on training advantages
To learn how to ride a bike, you need hands-on training. You can't read how to do it in a book, and then cycle off into the sunset.
Like riding a bike, customer education can be greatly enhanced by hands-on training. Here's how.
Helps customers discover extra value
Customer retention matters. In a highly competitive market, customers are fickler than ever. The best way to retain customers is to prove the ongoing value of your software.
If your software remains useful for customers, they will keep using it. It's therefore essential that customers know how to use your software to solve their problems – and not just any problem, but the ones they specifically face daily.
Telling them, showing them, this only goes so far. You could produce videos or host webinars, but you're the one controlling what is covered.
Nothing compares to customers let loose on your software (in a safe, secure sandboxed environment). They will naturally stumble upon issues and obstacles that you might not have considered as such. Hands-on experiences are an effective way for customers to learn how your software can help them achieve their unique objectives. And fit their way of working.
Works well combined with instructor-led learning
SaaS companies should try to find a hands-on training platform that also offers instructor-led training. This way, software training is as easy as riding a bike.
With over-the-shoulder functionality, an instructor can guide customers through training – just like a teacher in a traditional classroom or a parent showing their child how to ride a bike. As users explore your software, an instructor can answer questions and offer advice directly to individuals, even if there are multiple people in the session. Over-the-shoulder functionality facilitates this without anyone having to screen-share with the whole group.
Creates engaging experiences
Customer expectations are everything these days, thanks to technology giants like Amazon and Google changing the game in terms of personalization, ease of use, and seamless integrations. In a Salesforce survey, 67% of respondents said their standard for "good experiences" is currently greater than ever before.
The training industry is no different – and the same can be said for B2B SaaS companies too. It's not just the B2C world that needs to provide smooth and seamless experiences. If training experiences aren't engaging, then users won't stick around to learn anything at all. And let's not forget, your organization may have perfected your software's UX and UI, but if training experiences are poor, three consequences will occur:
Training outcomes will be low.
Adoption will be low.
Customer satisfaction will be low.
And the training experience itself will damage your reputation with customers.
Interactive, immersive experiences in a hands-on IT environment improves learning outcomes because it's engaging. Passive learning experiences no longer cut it. Webinars and videos can only offer so much before engagement drops off the chart. Hands-on training, learning by doing, that's where it's at.
Any disadvantages?
There are, but these depend on each and every trainee, instructor, and can be influenced by a wide range of scenarios.
Everyone learns differently. Some trainees will prefer watching a webinar and will take more from that than a hands-on session.
There may be reasons, perhaps due to limitations placed on budgets where simple training is better for your organization.
Time might be a factor too. A customer might prefer a quick overview presented in a pdf, rather than ongoing interactive training.
But for substantial software training, hands-on experiences are essential and will improve engagement, knowledge retention, and training outcomes.
Hands up for hands-on training
Technology is the main factor in delivering better training experiences. That's why selecting the right software training platform for your business is essential. You can remain stuck with passive and inadequate training, or you can choose a platform capable of supporting high-quality, hands-on learning experiences.
With CloudShare's next-generation hands-on training platform, you can breathe life into training experiences for all participants and at all customer education touchpoints.
To learn more about how to improve training experiences, such as hands-on training, at your organization, get in contact with the team at CloudShare today. 
---
What you should do next…
1. Subscribe to our newsletter:
Subscribe to our newsletter below for the latest news, advice and thought-leadership for software professionals. Or visit our blog to browse our most recent articles.
2. Learn how virtual labs can grow your business:
To learn more about how CloudShare helps software organizations grow revenue, increase efficiency and improve quality, visit our resources page. You'll be able to browser dozens of valuable white papers, eBooks, webinars, case studies, and brochures.
3. Get a FREE, no obligation demo:
Discover just how easy it is to create your cloud environment—in minutes! One of our friendly virtual labs experts will be happy to:
Show you the platform in action
Calculate pricing for your business
Set you up with a 14-day free trial
Answer any questions you have
No pressure or obligation