CloudShare Expands Single Sign-On (SSO) Support with OpenID Connect
To get articles like this free in your inbox, subscribe to our newsletter.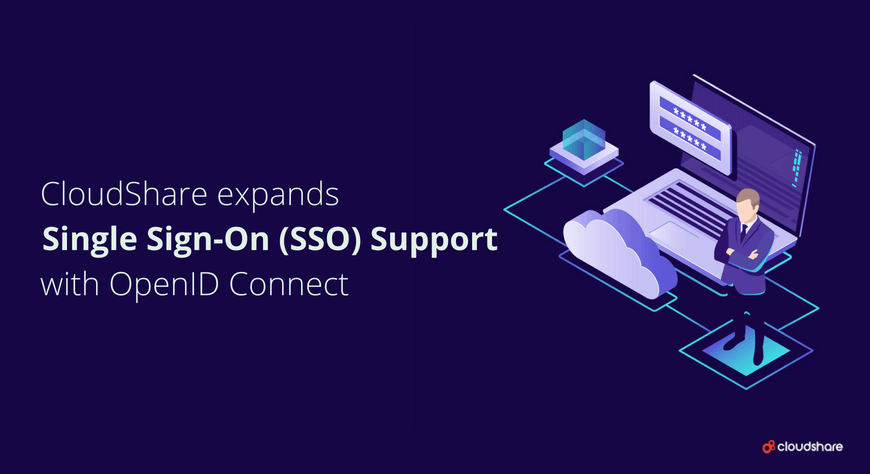 Enterprise employees typically use multiple applications and technologies during their work days, with each requiring user authorization and authentication to maintain security. The single sign-on concept was born out of the desire to streamline this process across multiple applications, making it easier for enterprises to manage access permissions and simplify the user experience so users can avoid separate login processes for each application.
SSO eases the burden of user management. It allows users to access multiple services with a single login. Rather than set each user's access to applications and data on an individual basis, SSO enables IT teams to manage all users from a central location, granting and restricting access as needed, and enabling changes to be made once and propagated across all relevant applications.
At CloudShare, we understand that enterprise customers prioritize security and need the ability to provide employees with unhindered access to the applications they need and use. By supporting SSO integration, CloudShare allows IT teams to ensure the company's security policy is applied when logging into the CloudShare platform.
While the vast majority of enterprises employ an Identity Management System, these solutions may be based on a variety of SSO protocols. In order to support the latest SSO technologies and match our customers' preferences, we're pleased to announce that we have added OpenID Connect to our portfolio of supported SSO protocols, including WS Federation and SAML 2.0.
What is OpenID Connect?
OpenID Connect is an identity layer on top of the OAuth 2.0 protocol, an industry standard used by Google, Microsoft, IBM, Amazon, ForgeRock and other top organizations.
OpenID Connect is among the most advanced and secure SSO options available, with some notable benefits over existing protocols, including:
Faster login
Significantly easier implementation and integration
Support for REST/JSON message flows
Support for native apps and mobile applications, in addition to web-based applications
CloudShare is a business-critical application for our customers, whether they use us for delivering hands-on technical training, sales demos and POCs, and sandboxing. SSO integration makes CloudShare a seamless part of our customers' business processes.
By supporting a wide range of SSO protocols, we ensure that our customers can choose the one that best suits their security and business needs.
---
What you should do next…
1. Subscribe to our newsletter:
Subscribe to our newsletter below for the latest news, advice and thought-leadership for software professionals. Or visit our blog to browse our most recent articles.
2. Learn how virtual labs can grow your business:
To learn more about how CloudShare helps software organizations grow revenue, increase efficiency and improve quality, visit our resources page. You'll be able to browser dozens of valuable white papers, eBooks, webinars, case studies, and brochures.
3. Get a FREE, no obligation demo:
Discover just how easy it is to create your cloud environment—in minutes! One of our friendly virtual labs experts will be happy to:
Show you the platform in action
Calculate pricing for your business
Set you up with a 14-day free trial
Answer any questions you have
No pressure or obligation