The Importance of Customer Onboarding in Reducing SaaS Churn
To get articles like this free in your inbox, subscribe to our newsletter.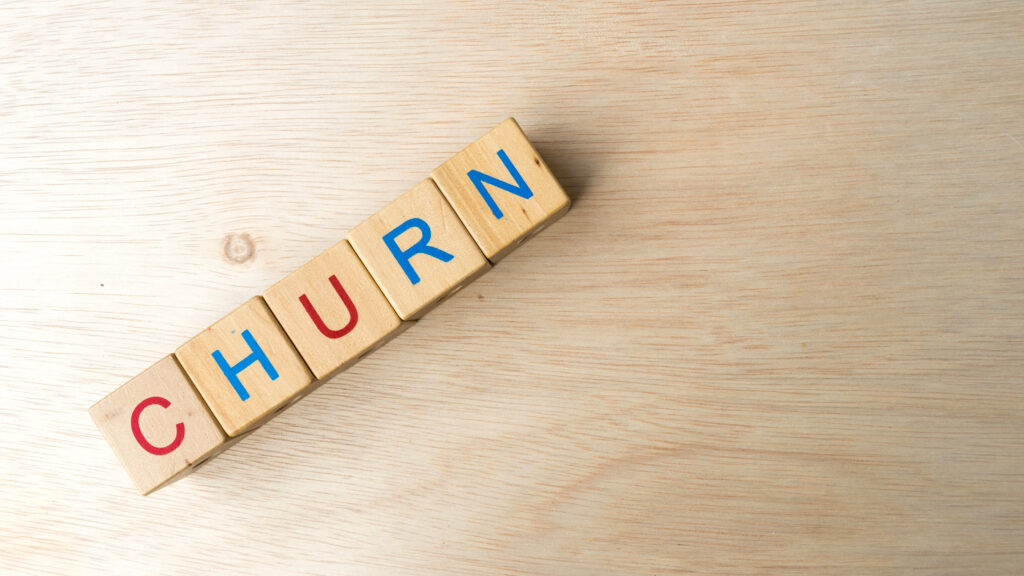 Customer acquisition is an important part of a successful SaaS company's sales strategy, but it also cannot be your only focus. High sales numbers may keep your SaaS business afloat in the short term, but eventually those numbers will plateau. If you don't have a way to reduce churn rate when that happens, you will begin to sink. 
That begins with an understanding of what causes churn, along with the role the customer onboarding process plays in retention. 
Understanding Churn Rate in SaaS
When a customer terminates their relationship with your company, you lose the recurring revenue stream that customer represented. Churn rate measures those losses over a given period of time — typically a month, quarter, or fiscal year. Expressed as a percentage of total subscribers, churn rate can be an excellent barometer of your company's overall health, particularly if contextualized against its growth rate. 
Particularly in B2B, customer churn and revenue churn are also closely related, and should generally be measured alongside one another. 
What's a Good Churn Rate? 
Userpilot notes that a good churn rate for smaller SaaS companies is between five and seven percent annually, and less than five percent annually for larger companies. The average churn rate in 2022 was 5.9 percent for customers and 7.7 percent for revenue. Note, however, that this is the average for all SaaS companies — each niche has its own average, and what constitutes a positive churn rate in one sector might be abysmal for another.

Why Does Churn Rate Matter?
It costs between five and 25 times more to acquire a new customer than it does to retain an existing customer. With a high churn rate, you not only lose recurring revenue, but you also need to spend more on customer acquisition. Conversely, increasing customer retention by only five percent can increase profits by as much as 95 percent.
The Benefits of Customer Onboarding
Customer onboarding and customer retention go hand-in-hand —  onboarding is essential in combating churn. A strong onboarding process shows customers that your company is committed to their success by helping them get as much value out of your software as possible. Remember that per Wyzowl, 86 percent of people tend to stay loyal to a business that invests in onboarding, customer enablement, and customer education. 
Effective onboarding can also reduce the amount of time your sales and success teams spend on each lead, driving sales growth while also creating new upsell opportunities through increased customer engagement.

Key Elements of Effective Customer Onboarding Process
A great customer onboarding experience is about maximizing the customer's return on investment for your software. It's also the bedrock of customer relationships, as a well-educated customer is more likely to recommend your company to professional colleagues and rely on your products and services. Effective client onboarding is generally: 
Targeted.

Identify which specific features of your software are most valuable to your customer, and focus your attention there. 
Streamlined.

The less time a customer needs to spend learning about your product, the better — onboarding should thus be as simple and painless as possible. 
Hands-On.

You can only learn so much through knowledge bases and product demonstrations. Giving your customers a live virtual environment in which to experiment is invaluable. 
Continuous. 

Even once a customer is fully confident in using your product, make sure there are additional training materials available to them. There's always more to learn, after all. 
Addressing the Most Common SaaS Churn Reasons
According to Hubspot, the two most common reasons for customer churn are a lack of understanding and a lack of value. We've already discussed how onboarding heads off both of these problems. A well-educated customer not only understands how your product works, but also knows exactly how to derive value from it. 
Other reasons for churn include: 
Lack of customer engagement. 

Poor customer support. 

The product is unreliable, with frequent bugs and constant downtime. 

A competitor has emerged with better pricing and/or features. 

The product is too difficult to use. 

Pricing.

The product doesn't meet the customer's needs. 
How to Reduce Churn in SaaS: Best Practices
Some churn is inevitable. There will always be customers for whom your company isn't a good fit. There will always be customers who leave for a lower-priced alternative. There will always be competitors who poach a customer here and there. 
With that said, there are many steps you can take to reduce avoidable churn. 
Understand Your Sales Funnel:

Identify every single touchpoint in the customer journey, and note the best ways to engage with the customer at each one. The goal is to provide consistent, cohesive experience from beginning to end. 
Define and Track Your KPIs:

Determine what success means to your SaaS company, and set your objectives based on that definition. Identify the

sales, success, and training metrics

required and ensure you've a means of tracking them. 
Automate Customer Onboarding:

There's a great deal of unnecessary manual work in the onboarding process. The more of that work you can offload to automation, the more time your team has to focus on what matters — your customers.  
Provide an Experience:

Implement an all-encompassing

customer experience training program

that focuses on teaching your employees to empower both existing and prospective customers. 
Focus on Success:

Don't just serve your customers. Take a proactive approach to customer enablement, cultivating a strong relationship with each client through a dedicated

customer success team

.
Next Steps: Learn How VILT Can Reduce Your SaaS Churn Rate
We talked a lot about customer enablement and customer education today. But there's still a great deal more to be said on the topic, particularly with regards to virtual training. To that end, if you're interested in learning more about both VILT and self-paced training, we recommend downloading The State of SaaS Virtual Training. 
By interviewing the top SaaS training leaders in the US, our ebook takes a comprehensive look at the role training plays not just in customer onboarding, but also in sales enablement and retention. You'll also gain insight into how your company can overcome some of its most significant training challenges, the importance of learning management systems in customer retention, and how to assess and lower the dropout rate for your training. 
Finally — and most importantly — you'll gain a window into how and why to integrate hands-on training into your customer retention strategies.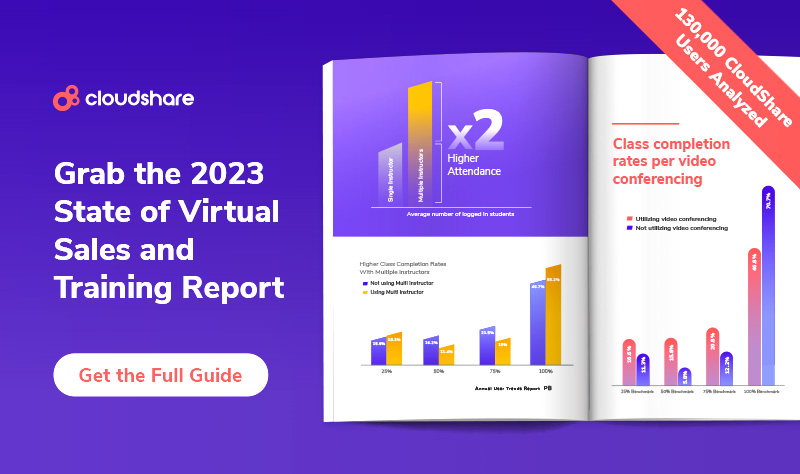 ---
What you should do next…
1. Subscribe to our newsletter:
Subscribe to our newsletter below for the latest news, advice and thought-leadership for software professionals. Or visit our blog to browse our most recent articles.
2. Learn how virtual labs can grow your business:
To learn more about how CloudShare helps software organizations grow revenue, increase efficiency and improve quality, visit our resources page. You'll be able to browser dozens of valuable white papers, eBooks, webinars, case studies, and brochures.
3. Get a FREE, no obligation demo:
Discover just how easy it is to create your cloud environment—in minutes! One of our friendly virtual labs experts will be happy to:
Show you the platform in action
Calculate pricing for your business
Set you up with a 14-day free trial
Answer any questions you have
No pressure or obligation