Webinar recap: Building and delivering a VILT course in under 60 minutes
To get articles like this free in your inbox, subscribe to our newsletter.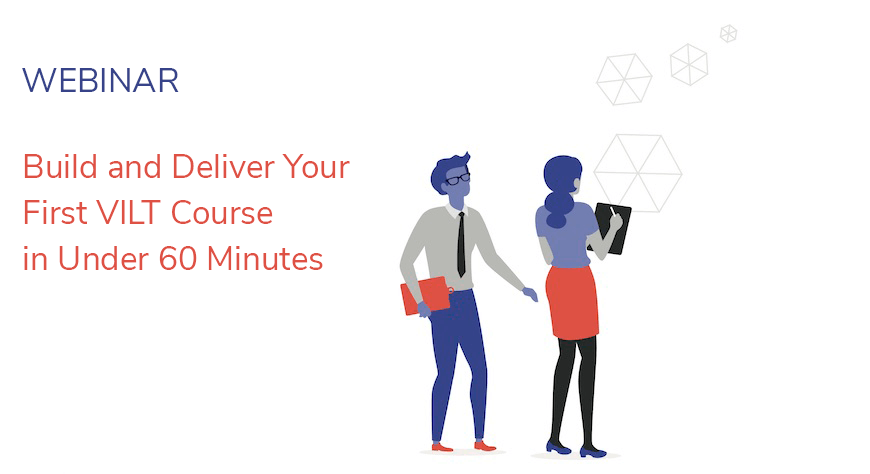 CloudShare recently announced results of a survey we commissioned in Q2 to understand training challenges brought about by COVID-19 and the potential solutions. When asked what technology would see increased investment in order to improve virtual learning, 35% of respondents said virtual IT labs, second only to virtual conferencing, far ahead of augmented reality, gamification and more.
Virtual conferencing alone isn't enough for enterprises that handle complex technology like software. In particular, user training – whether it involves customers, partners or staff – requires real-world, interactive experiences and a lot of hand holding for education to take hold. With social distancing, virtual instructor-led training (VILT) is stepping in to close the resulting personal gaps.
Perhaps, then, it's not surprising our most recent webinar was one of the most heavily attended this year. Held last week, "Product Demo: How to Build and Deliver Your First VILT Course In Under 60 Minutes," attracted close to record numbers of instructors, learning and development (L&D) pros, training managers and decision makers.
What was somewhat surprising, though, was a poll early on that showed many attendees weren't using virtual IT labs – yet. Word has clearly gotten around about how VILT can free up budget previously reserved for travel and deliver the impact of face-to-face software training. And, in less than a single hour, participants saw for themselves the technology's power and ease of use for creating courses that increase engagement and learning.
Keep it simple
"How to Build and Deliver Your First VILT Course In Under 60 Minutes" was led by CloudShare's Sharon Schnitman and Lee Berkman, both virtual IT labs experts with tech backgrounds focused on supporting customers.
The duo began with a discussion of the CloudShare end-user portal to provide context about what a student should experience. Key to adoption of any platform is simplicity. Discussed were such things as the need for connectivity involving only a browser and internet connection, intuitive navigation, ensuring assets (tutorials, videos, materials, quizzes) are in a central place and the benefits of a customizable interface.
Also covered were critical functions for instructors, including thumbnails of desktops and chat so they can check on student progress and assist when it's needed. Further, the presenters urged training leaders to include workshop feedback from students that would enable them to tweak and improve courses.
A blueprint for success
When it came to creating a VILT course, attendees were walked through the building of templates in CloudShare. Basically, these allow the creation of environments that encompass all the necessary virtual machines (VMs), operating systems, networking configurations, resources and more. These can be used on our business acceleration cloud or run on top of a public one like Azure, Google Cloud or AWS.
The template provides a detailed summary of these environments. This makes it easy for instructors to fully understand what the student experience will be and easily modify elements accordingly. From there, the duo showed how you can take a snapshot of the template, which in turn acts as a blueprint that makes replicating and distributing the right environment for the right group a breeze.
Nothing but class
Schnitman and Berkman proceeded to show attendees how to maximize and distribute courses. That meant a close look at functions like setting policies to control how much time a student has access to an environment and controlling resource consumption. Also covered was the need to spin up environments quickly so students wouldn't be waiting and scaling on the fly to accommodate additional attendees.
From features to look for in an instructor console to how to prepare students in advance to creating isolated environments for "hands-on learning" that won't impact others, the webinar featured a slew of useful tips. By the time it was over, less than 60 minutes later, attendees had a new understanding of VILT and how they could focus more on their lessons and less on wrangling with tasks and technology.
Interested in how you can create better courses, faster? Check out "How to Build and Deliver Your First VILT Course In Under 60 Minutes!"
---
What you should do next…
1. Subscribe to our newsletter:
Subscribe to our newsletter below for the latest news, advice and thought-leadership for software professionals. Or visit our blog to browse our most recent articles.
2. Learn how virtual labs can grow your business:
To learn more about how CloudShare helps software organizations grow revenue, increase efficiency and improve quality, visit our resources page. You'll be able to browser dozens of valuable white papers, eBooks, webinars, case studies, and brochures.
3. Get a FREE, no obligation demo:
Discover just how easy it is to create your cloud environment—in minutes! One of our friendly virtual labs experts will be happy to:
Show you the platform in action
Calculate pricing for your business
Set you up with a 14-day free trial
Answer any questions you have
No pressure or obligation