2019 Virtual IT Labs Predictions: Multi-cloud and multi-step to advance training industry
To get articles like this free in your inbox, subscribe to our newsletter.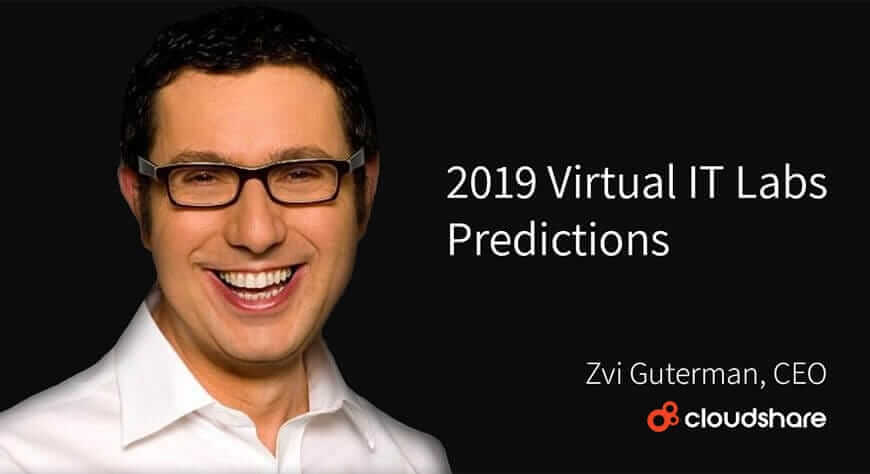 As the year draws to a close, it's natural to wonder what the next one will bring. When it comes to making predictions, I always liked the quote by Scottish writer Andrew Lang:
"An unsophisticated forecaster uses statistics as a drunken man uses lamp posts – for support rather than for illumination."
That said, as I assess the past 12 months and try to project what's ahead, I'll skip the numbers and reflect more on the changes we've seen and developing trends that can shed light on how you might proceed in the year ahead.
The rise of niche providers: multi-cloud and specialized offerings
The big cloud vendors – AWS, Microsoft and Google – will continue to dominate the public cloud market but there is evidence of the growing opportunity for smaller, more specialized service providers to dominate in their respective industries.
There's room for everyone in the cloud.
Gartner predicts that "a multicloud strategy will become a common strategy for the majority of enterprises." This is for many reasons, but the bottom line is that the economics of public clouds are too good to ignore. Instead of asking whether they should move to the cloud, enterprises are asking how and where.
As result, smaller MSPs, PaaS and niche providers will gain in popularity because every cloud strategy and migration decision a company makes is based entirely on their own individual needs and digital business requirements. These smaller providers can build out infrastructure, domain expertise and offer services tailored precisely based on industry and use cases – something the public cloud giants don't necessarily want to pursue in earnest.
Multi-step virtual IT training
Training and development is an area of critical importance for any organization looking to retain talent and manage a multi-generational workforce. As a result, training instructors and lab environments are continually evolving to meet these workplace demands. One of the most popular training initiatives we see across our enterprise customer base is the multi-step class environment.
In the past year, we've seen users create more sophisticated environments and as a result, multi-step classes and training initiatives are trending up. It's powerful when virtual instructors can seamlessly guide students from level to level in a logical way without adding additional complexity and time-intensive resources.
Expect multi-step classes to become standard in 2019.
Advanced analytics and sales
Predictive analytics and AI are more prevalent than ever before within sales enablement, as companies seek to create more personalized B2B selling experiences. Sales ops and enablement teams gain immediate visibility into their customer data and sales process with advanced analytics.
In 2019, we expect that proof of concept (POC) and demonstration areas will see increased adoption.
With POC analytics, you can now understand who at a company is trialing your product, monitor their engagement and get data on their usage. Then, you can take action to be certain they experience full value, identify hot button features, ensure sure key capabilities aren't overlooked and receive help if they become hung up.
Hands-on virtual IT labs event training makes a splash
hands-on training during events like sales kickoffs, partner conferences, product launches and company meetings requires a lot of legwork. One of the biggest complaints for coordinators is the time and expenses that go into arranging the necessary technology, only to spend the first day of a conference wrangling with equipment vendors and training themselves so things go smoothly.
You only have one chance to make the impression you want and there's a lot on the line.
Providing event training without major infrastructure, easily scaling to accommodate as many users as possible, and the ability to conduct up to 10 classes simultaneously, greatly extends the ROI of events. Add in pre-event planning and day-of support, as well as analytics that assess results and calculate ROI, and success is more likely and measurable.
Customer-driven success: A trend that's always in vogue
We don't believe in technology for technology's sake, and it's our customers that provide us with the most critical, effective guidance.
Our customer partnerships are what drive us forward on a daily basis, and will continue to do so in 2019, to ensure our mutual, ongoing success. This is a trend we can always get behind.
For more about our work with customers and virtual IT labs, visit our resources page.
---
What you should do next…
1. Subscribe to our newsletter:
Subscribe to our newsletter below for the latest news, advice and thought-leadership for software professionals. Or visit our blog to browse our most recent articles.
2. Learn how virtual labs can grow your business:
To learn more about how CloudShare helps software organizations grow revenue, increase efficiency and improve quality, visit our resources page. You'll be able to browser dozens of valuable white papers, eBooks, webinars, case studies, and brochures.
3. Get a FREE, no obligation demo:
Discover just how easy it is to create your cloud environment—in minutes! One of our friendly virtual labs experts will be happy to:
Show you the platform in action
Calculate pricing for your business
Set you up with a 14-day free trial
Answer any questions you have
No pressure or obligation