Theoretical demonstrations can't even scratch the surface of a complex IT solution when it comes to selling a new software product to prospective customers. Sales teams are left struggling to articulate in-depth capabilities that are really best shown, not explained. For a guaranteed shot at a sale, companies need to allow users to 'kick the tires', and get fully hands-on inside a real-world replica of their own infrastructure, only possible using a sales enablement cloud platform.  
Successful cloud sales enablement services rely on three things:
Customizable POCs – so users get an accurate understanding of the software

Hands-on experiential sales demo environments – for an immersive and practical experience, and

Visibility and control – to recognize the warning signs of churn ahead of time.
CloudShare facilitates remote sales enablement that provides all three, while easily replicating real-world environments on the public cloud, and significantly improving the success rate of your sales team.
Support Complex Demo Environments on a Sales Enablement Cloud Platform
Simulate a precise customer infrastructure, complete with routers, switches, scripts, and additional network elements. The CloudShare Wizard allows both business and technical staff to create an exact demo environment, replicated to as many users as needed.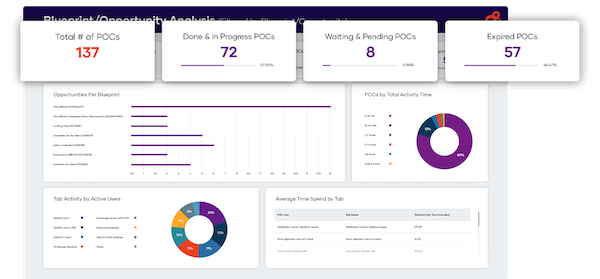 Allow for Cross-platform Sales Enablement from one Dashboard
No need to use multiple platforms or additional sales enablement solutions to demo or explain your software across different public clouds. Just toggle between tabs to show your solution running on AWS, Azure, or GCP.
Handle Cost Control and Budget for Remote Sales Enablement
Set up quotas for usage behind the scenes, allowing prospects to play and test unaided, in a safe, isolated sandbox environment while you control the costs. When the POC is over, or the demo environment is no longer needed, it will automatically be torn down per your set policies.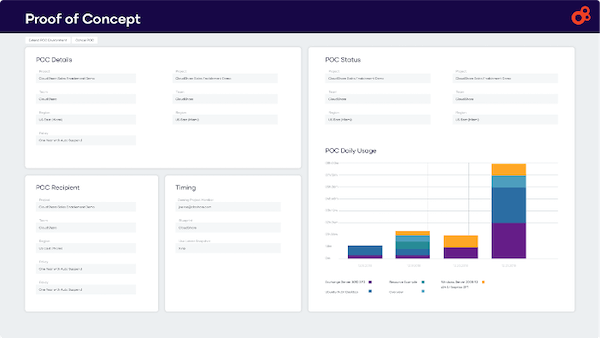 See Extremely Quick Time to Value
Pre-populate data once, and then edit only what you need for specific demos or customer solutions. If your public cloud provider makes a change, or you have a feature update to your software – no need to start from scratch, just use a saved blueprint.
Gain Insight into Abandoned POCs in Real-time
Monitor specific information about remote sales enablement, including daily usage of POCs, status of open demos, invites and more. Automatically generated reports will display which items are 'high-risk', allowing you to follow up and prevent churn.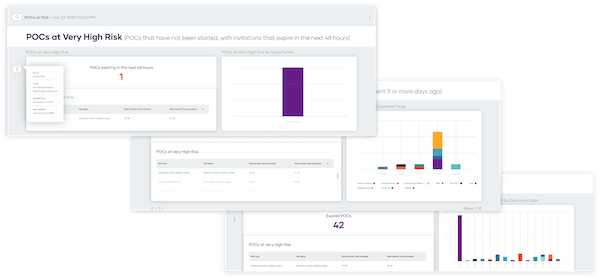 Sales Enablement as a Service – Ultimate Ease of Use
CloudShare works where you are; that's why you can easily create a POC environment or sales demo from within Salesforce, allowing for easy integration with your existing CRM and systems of record. Just head to the Opportunities tab to find the feature.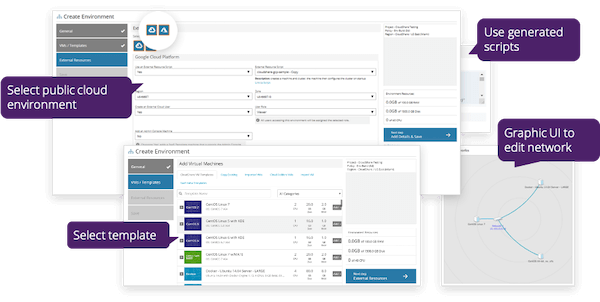 Increase Product Stickiness with Real-time Engagement Stats
Track the progress of your demos and automated sales POCs as they happen, giving unique insight into where you need to accelerate communication or provide 'over the shoulder' support. Built-in performance analytics give you a heads up for any challenge before it causes user frustration.
Improve your Sales Enablement Cloud Platform by Leveraging User Data
Track metrics such as the point of abandonment, utilizing accurate, high-quality data to tweak your remote sales enablement for better success rates. Automatically generated reports add AI and Machine Learning capabilities to your business strategy.
CloudShare's SaaS Sales Enablement Cloud Platform is the simplest and most efficient way to spin up cost-effective, immersive remote sales enablement tools on AWS, Azure and GCP. Think immersive and customizable customer demos, real-time analysis and insight into POCs, and incisive visibility and control.