The acid test of any cloud infrastructure is not only what you can effectively do with it, but also how far you can stretch it.
---
Easily create nested virtualization in CloudShare
Just because your application has a complex architecture including nested virtualization, doesn't mean you can't realize all the benefits of the cloud. CloudShare's advanced IT labs include full support for nested virtualization – letting you accurately replicate your production environment without being slowed down by third-party translation technology or modifying your solution. With our expertise under the hood and an intuitive VM import tool, it's easy and fully self-serve.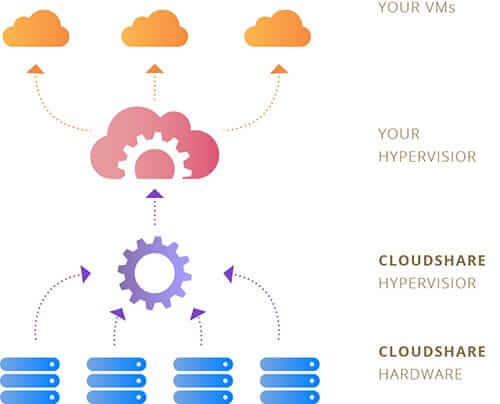 ---
Replicate any type of on-premise application, no matter how complex
You've worked hard to build your complex applications and we've worked hard to enable you to bring them to the cloud unchanged. Regardless of how your network is set up on-premise – network adapters, CIDR blocks, complex topology – you can import it and replicate it on CloudShare exactly as is.
CloudShare supports many complex networking features which aren't possible on the large commodity clouds without modifying or re-architecting your application. WhileAnd the features they do support often require the purchasing of large amounts of disk and RAM resources. With CloudShare, you don't need to invest in resources you don't use to get the complex networking features you want.
While our deep technology and ease of use attract software and cybersecurity giants such as Palo Alto Networks, Check Point, Atlassian and ForgeRock, you don't have to be a giant to get our complex networking features. But be warned, by using us, you just might become one.
---
We've got what you're looking for.
Why settle for less?
Support for Layer 2 networking, and specific IP and MAC addresses

Intuitive visual interface to easily edit even the most complex topologies

Elastic load balancing and NAT (network address translation) capabilities included free of charge

Advanced connectivity options including public IP addresses, API tokens and direct connect

Support for private networks, multiple networks, and subnets

Network appliance support

Nested virtualization support

Promiscuous mode support
Find out what you can do with CloudShare's virtual IT labs.