3 Corporate Training Mistakes That Keep Your Department Sweaty, Stressed & Small
To get articles like this free in your inbox, subscribe to our newsletter.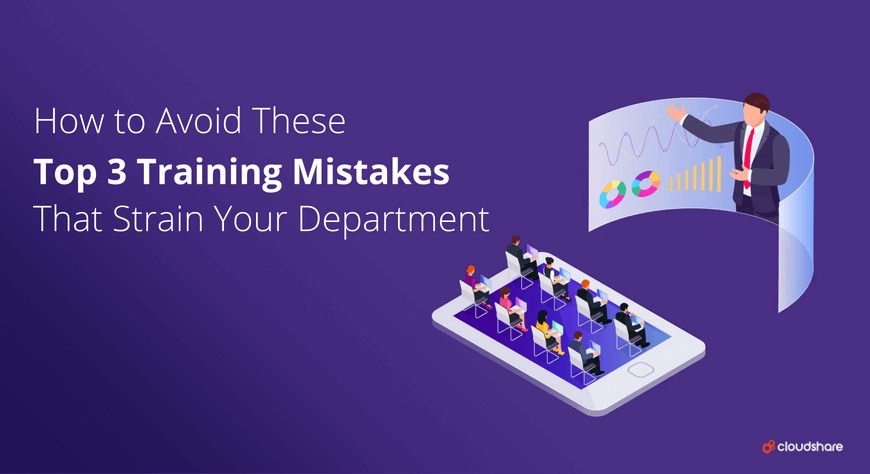 It's the middle of the year, and you've got an assessment coming up, and you know it can affect what your department can do next year. If you're like many heads of corporate education and training, you're probably overextended and sweating from stress, even in air-conditioned rooms.
But it doesn't have to be this way. With global training budgets expected to rise, here are three common mistakes to avoid in order to relieve some of the pressure, create more effective training and earn your team a bigger piece of the budget pie.
Mistake #1: One-Size-Fits-All Curriculums
Today's corporations are more diverse than ever before. If in the past, you could get by with creating one curriculum in one format for everyone in a certain department, now you're dealing with multigenerational teams across a variety of locations, languages, and cultures.
Developing one-size-fits-all curriculums is no longer likely to give you the kind of positive reviews and improvement in student job performance that you need to take to the C-Suite if you want your department to keep growing.
Here's why this matters: According to Grovo, for every 1,000 employees that go through ineffective training, companies are losing $13.5 million a year. That might explain why, according to Capterra, 79% of companies don't provide training for their employees.
Yet, while ineffective training is clearly costly, not providing training can be even costlier. Therefore, creating more effective training is the way to go.
To do that, consider talking to past students about what worked for them in your curriculums, and what was missing, what cultural aspects you didn't know you needed to take into consideration, and what helped them advance in their roles, versus what skills and tools they wish they would have received to be able to do their jobs better.
Then, talk to prospective students to find out what they hope to get from their training, what they feel is missing from their skill set, and make sure to integrate these topics into the curriculum.
Make sure to analyze responses by job title, seniority, age, location and other demographic characteristics to be able to adapt the curriculum to the different needs of specific groups.
Lastly, eFront had a very good idea on how to increase your students' collaboration: Tell people who've helped you adjust your trainings how you've used their feedback, and share it when you ask for feedback from new students as well. Doing so creates a culture where students are eager to help you improve because they see that their input and time investment make a difference.
Mistake #2: Poorly Fitted Learning Experiences
Adjusting your curriculum for every new training you provide is only the first step. Today's employees expect you to provide trainings on their terms – in the format that supports them most (textual, audio, visual, experiential) – and at their convenience, through virtual platforms they can access whenever they need, no matter if they're at the office or on a business trip for a client meeting.
This matters both for training your own company's employees and your clients' employees. While some generations or cultures might see this differently, it is a growing trend, with Training Industry's Sales from the Buyer's Perspective 2018 report revealing that buyers prefer to interact with vendors virtually over face to face.
To make sure you get 5 stars for the virtual training you provide, we recommend keeping the student experience as seamless as possible, by providing a consistent central access point to all your trainings. This saves your students the headache of dealing with multiple platforms and integrating your platforms saves a great deal of administrative time and avoids errors as well.
At least, that's our experience, and it's why we provide virtual training labs that integrate with the training systems companies are already using. But whatever platform you use, you'll create a more holistic experience if the link you send to students looks like your own company's brand. This way, everything feels familiar and easy, and everyone can focus on learning what will help them grow professionally.
Mistake #3: Trainings that Don't Stick
Ever read a really great book or took a really great class, that you felt taught you a lot, but a month later, when you tried explaining to someone how valuable it was, you couldn't remember any specific points that would clarify why?
This kind of thing happens in corporate trainings all the time. The trainings are really great, and they teach the team really valuable skills – they just don't include any elements to ensure the training sticks.
Fortunately, there's a lot you can do about it.
The most obvious one is to have students take short quizzes every time you wrap up a topic. But there are additional ways.
One great way to ensure trainings stick is to incorporate stories into your teaching. You can use case studies to do this. Another great way is to incorporate gamification into trainings, and have students win awards along the way to improving their knowledge and skill set.
You can also have students practice with hands-on simulations, and you can provide coaching sessions once the official training ends, to make sure they carry what they learned to their day to day work lives.
Now that You've Overcome These Challenges, There's Just One More Little Step to Take if You Want to Guarantee Yourself a Seat at the Leadership Table
Your training department can easily become your company's secret weapon when it comes to gaining a competitive advantage in the market – both in terms of innovation and profitability, and in attracting the top talent that can make it happen because you'll position your company as one that invests resources in employees' professional development.
In fact, according to Training Industry, "training is quickly becoming a key differentiator between companies competing for talent. Personal and professional development is an important focus area for modern employees when seeking employment, as well as for deciding to stay with their current employer… Employees are more motivated and successful in their roles when they receive training from their employers.
But to make it happen, you have to measure how your trainings impact business results.
Now, we know what you're thinking – 92% of companies don't measure how trainings impact business results – but that's exactly where you can stand out in the C-Suite's eyes as a leader who can prove their worth with numbers.
The more you measure, the more you can improve your trainings to drive better business outcomes, the more your training department will be perceived as a valued, revenue-driving unit of the organization, with an actual business case for investment and growth, instead of just another cost center.
---
What you should do next…
1. Subscribe to our newsletter:
Subscribe to our newsletter below for the latest news, advice and thought-leadership for software professionals. Or visit our blog to browse our most recent articles.
2. Learn how virtual labs can grow your business:
To learn more about how CloudShare helps software organizations grow revenue, increase efficiency and improve quality, visit our resources page. You'll be able to browser dozens of valuable white papers, eBooks, webinars, case studies, and brochures.
3. Get a FREE, no obligation demo:
Discover just how easy it is to create your cloud environment—in minutes! One of our friendly virtual labs experts will be happy to:
Show you the platform in action
Calculate pricing for your business
Set you up with a 14-day free trial
Answer any questions you have
No pressure or obligation