3 Reasons That Keep Your SE Department Small & Undervalued (& How to Overcome Them)
To get articles like this free in your inbox, subscribe to our newsletter.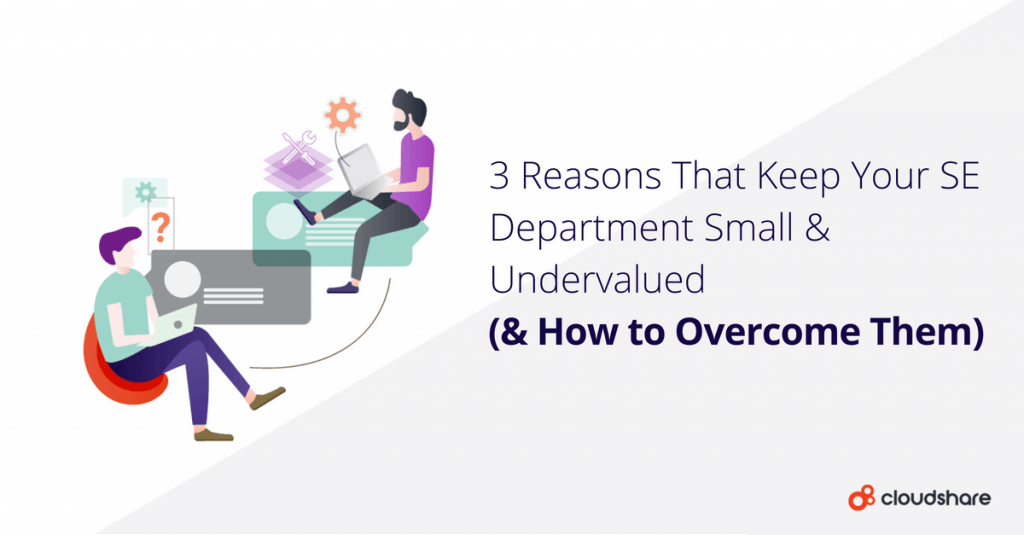 If you feel your sales engineering team is underappreciated, under-budgeted, and quick to become the target whenever your company decides to downsize, you're not alone. Based on conversations we've had with thought leaders in the industry, we know that SE managers everywhere are dealing with the exact same situation.
That's why we've decided to highlight 3 very common mistakes made by SE managers and suggest ways you can overcome them. We hope that this knowledge will equip you to start proving the value of your sales engineering team to your C-Suite, so you can grow into the best department you know you can be.
You Don't Know All That Your SEs Do in Their Day-to-Day Work
As the sales engineering manager, you have a general idea of what your sales engineers do. They create, adjust and showcase demos. They do webinars and go to client meetings. They help the marketing team understand the product. They answer technical questions from prospects that salespeople can't answer themselves.
But you probably don't know how many activities and all the types of activities they do, or when they're overextended versus when they can take on more work, or how efficient each of them is compared to the rest of the team.
How to Overcome This
Measure everything. Have your sales engineers log every activity they do and how long each activity takes. If things change quickly throughout the day, get them to log their activities every hour.
It's going to be tough at first and you might need to look for incentives to get them to cooperate, but once you get the data, you can make smarter decisions – from hiring, to training, to the pitches you make to the C-Suite when it's time to grow your team or increase their salaries.
But more on that in a bit.
You're Not Developing Your Sales Engineers' Professional Skills
No matter what anyone else says, you know that being a sales engineer requires juggling plenty of balls in the air and plenty of skills.
Nobody can master all these skills at once, especially not when their schedule is tight. But if you don't invest in your team's professional development, they'll stick to survivor mode or look for other employers who will challenge them to exceed their potential.
How to Overcome This
Once you get the data about what your sales engineers' day to day actually looks like, it'll be easier to start carving out time for training, whether it's once a week or at the quieter times of the year.
Develop trainings for all aspects of your sales engineers' work, from presentation and sales skills, to technical product knowledge.
Be sure to talk to your team about what skills they believe they need most and where they'd like to grow professionally, and develop trainings that will help them achieve these goals, so that they can be better equipped and motivated to help you reach your business goals.
You're Not Giving Your C-Suite What They Want
At the end of the day, your C-Suite wants to see business results. As long as they keep seeing sales engineers as a cost center, as employees that sometimes answer a question or perform a demo, without knowing their true worth to the organization, you won't be able to grow.
How to Overcome This
It's time to take control and prove to them how essential sales engineers really are to the sales process. Start by measuring activities and consistently training your team, then gradually move toward measuring their impact on the sales process – from how much shorter sales cycles become once a sales engineer is in the picture, to how much revenue, on average, the company can link directly to each demo or POC.
How SE Experts Prove the Value of Their Sales Engineers to the Sales Process
To help you out in making next year your year, we talked to sales engineering leaders who have generated results for their organizations to find out what they do differently.
Download our free guide to find:
5 metrics that help prove your SE department's value to the C-Suite
How tracking and reporting pays off
How to communicate your SEs' value and double your team
Tips for controlling POC costs
---
What you should do next…
1. Subscribe to our newsletter:
Subscribe to our newsletter below for the latest news, advice and thought-leadership for software professionals. Or visit our blog to browse our most recent articles.
2. Learn how virtual labs can grow your business:
To learn more about how CloudShare helps software organizations grow revenue, increase efficiency and improve quality, visit our resources page. You'll be able to browser dozens of valuable white papers, eBooks, webinars, case studies, and brochures.
3. Get a FREE, no obligation demo:
Discover just how easy it is to create your cloud environment—in minutes! One of our friendly virtual labs experts will be happy to:
Show you the platform in action
Calculate pricing for your business
Set you up with a 14-day free trial
Answer any questions you have
No pressure or obligation