4 Checklists to Assess Your Software Training Platform ROI
To get articles like this free in your inbox, subscribe to our newsletter.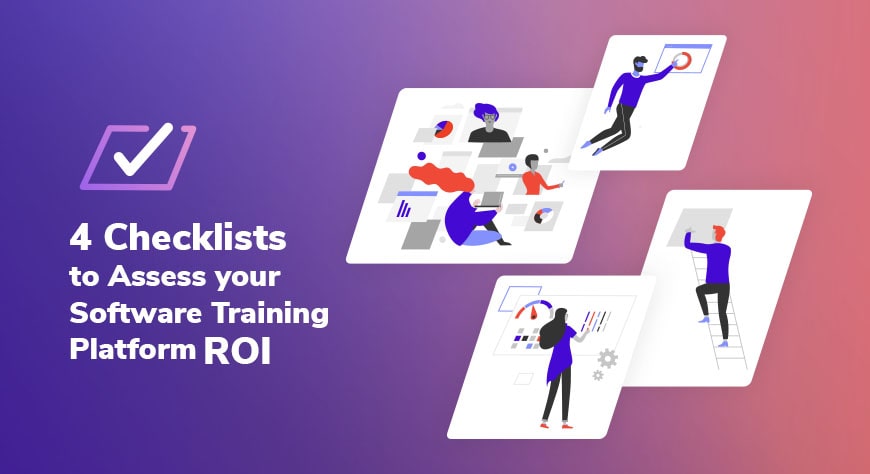 Training your staff and your customers on your complex software platform is not a simple task. It's so important to make sure that users are engaged and fully grasping every aspect of your software in order for them to truly understand its value.
Users who don't completely know your software, in and out, run the risk of becoming frustrated and dissatisfied with your software, which could lead to losing business and potentially missing out on a loyal customer base.
In order to make sure that your investments into training are not going to waste, and that your users are getting an engaging and useful training experience, there are a few important points to be aware of.
You Need To Ask Yourself These Important Questions About Your Software Training Platform
We've narrowed down the 4 most important areas to look into when assessing the ROI and success of your software training platform to ask the following questions:
Who are your users?
How is your platform being used?
How are your users engaging with your platform?
Are users generally satisfied?
To find the answers to these important questions, we've created 4 checklists that take an in-depth look at each of these, and that will help you shed light on what you might be better off doing differently.
Choose The Best Virtual Software Training Solution
If you choose the right software training platform, you can save money, time, and resources, as well as give your users a truly hands-on and engaging training experience. In the end, you will dramatically improve your training processes, outdo your competition, and significantly boost your bottom line.
Download our eBook, 4 CHECKLISTS TO ASSESS YOUR SOFTWARE TRAINING PLATFORM ROI, to see exactly what questions to ask yourself and your company about your training processes in order to make the most out of your time, money, and resources.
To learn more about how to assess and improve your software training platform ROI, get in contact with the CloudShare team today.
---
What you should do next…
1. Subscribe to our newsletter:
Subscribe to our newsletter below for the latest news, advice and thought-leadership for software professionals. Or visit our blog to browse our most recent articles.
2. Learn how virtual labs can grow your business:
To learn more about how CloudShare helps software organizations grow revenue, increase efficiency and improve quality, visit our resources page. You'll be able to browser dozens of valuable white papers, eBooks, webinars, case studies, and brochures.
3. Get a FREE, no obligation demo:
Discover just how easy it is to create your cloud environment—in minutes! One of our friendly virtual labs experts will be happy to:
Show you the platform in action
Calculate pricing for your business
Set you up with a 14-day free trial
Answer any questions you have
No pressure or obligation