4 Key Benefits a Cloud LMS Can Offer Your Company
To get articles like this free in your inbox, subscribe to our newsletter.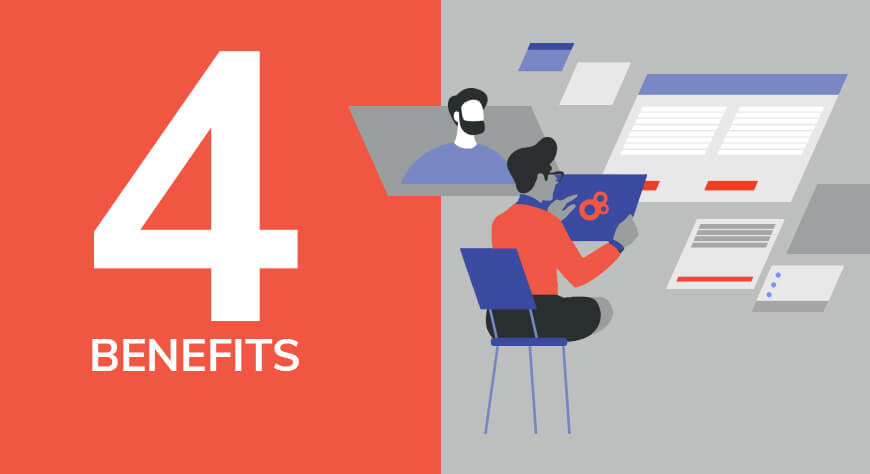 A significant part of business management is knowing how to provide the right tools, knowledge, and resources that your employees, business partners, and even clients need. A learning management system, or LMS, sets out to provide companies with education in an efficient and convenient way.
But let's say you're tasked with choosing your organization's next LMS. Should you install one locally, or do you turn to a cloud-based learning management system? While the decision depends on circumstances, industry, and other factors, the majority of companies will find the benefits of a cloud-based LMS enticing.
Let's discuss what a cloud LMS can do for your business, especially if both budget and efficiency are high priorities for you.
Defining a "Cloud LMS"
Adopting a cloud learning management system negates the need to invest in dedicated hardware and software. Your business takes advantage of an LMS without spending resources on system maintenance or updates, which your cloud provider will supply.
Many companies sell remote LMS technologies in a "Software as a Service" (SaaS) model. You pay a regular subscription fee for full access to all the features. Users can access the content through a web login using any computer or mobile device with an Internet connection.
The Benefits of Cloud-Based Training
So why do so many companies both large and small choose this arrangement over building their own LMS? There are many benefits to cloud training:
Price
Because your vendor sets up and maintains the server technology required for an LMS, the initial investment for you, the client company, is virtually nonexistent. In fact, most services only charge for the time you use the LMS.
In the long term, the automatic updates, maintenance, support, and scalability helps reduce training costs down the line.
Low Risk
Like many "as a Service" platforms, cloud LMSs usually allow a free trial period before committing to a purchase. Business managers get a chance to test the LMS and see whether it conforms to their requirements.
Free trials are especially common in cloud services, as they function as a proof of concept for the client and help build trust in the vendor.
Accessibility
There's no need to install or configure new software and hardware when using a cloud LMS. A simple login from any web-enabled device, whether a smartphone or laptop, is enough to access all the materials.
Because most workflows already exist online in some form, from Google Documents to Dropbox, adoption time is smooth and simple for a cloud LMS.
Scalability
Think about where you will be taking your cloud LMS in the future. Your business will likely grow and gain new employees, partners, and clients. What happens when you need additional training?
Expanding an on-site server system for an LMS involves buying and maintaining extra hardware. The same process in the cloud requires no effort on behalf of the client company.
Steps You Can Take Toward LMS Integration
Developing virtual IT labs for software training over the Internet usually involves the following:
Defining your learning objectives and generating course content that aligns with them
Arranging the content into individual courses
Enrolling participants and instructors if applicable
Generating feedback on course completion, engagement, and performance
Making changes to the course if necessary based on user feedback
CloudShare: An Easier Pathway to Cloud-Based Training
Thanks to cloud LMS technology, your company can focus on building effective training content, while the vendor handles technical support and maintenance.
Choosing an online learning management system is a large step towards streamlining your business's workflow and saving on costs without compromising quality.
Get in touch with CloudShare for your cloud-based needs, whether it's an LMS, a sandboxing environment, or a proof of concept platform.
---
What you should do next…
1. Subscribe to our newsletter:
Subscribe to our newsletter below for the latest news, advice and thought-leadership for software professionals. Or visit our blog to browse our most recent articles.
2. Learn how virtual labs can grow your business:
To learn more about how CloudShare helps software organizations grow revenue, increase efficiency and improve quality, visit our resources page. You'll be able to browser dozens of valuable white papers, eBooks, webinars, case studies, and brochures.
3. Get a FREE, no obligation demo:
Discover just how easy it is to create your cloud environment—in minutes! One of our friendly virtual labs experts will be happy to:
Show you the platform in action
Calculate pricing for your business
Set you up with a 14-day free trial
Answer any questions you have
No pressure or obligation