5 Key Takeaways from CEdMA Conference 2022
To get articles like this free in your inbox, subscribe to our newsletter.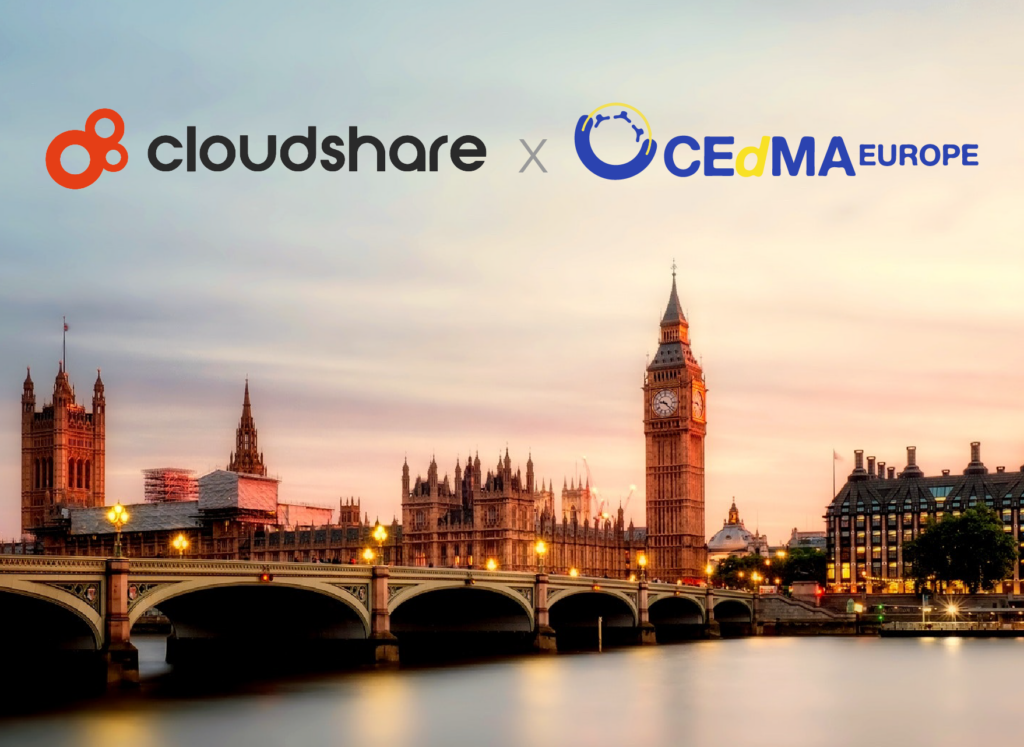 This year's CEdMA conference EU gave us an opportunity to network with old and new friends, meet customers and partners face-to-face, and learn from some of the brightest minds in training and education. 
Here are some of our key takeaways from our discussions at CEdMA conference! 
#1: Training Entities are Looking to Align with GTM Departments
How training entities within software companies can align with the Go-To-Market of the company was one of the biggest challenges we heard about at this year's CEdMA. Time and time again, we heard participants asking:
How can I measure the impact of my training content?

How can I execute and create content to align with new products and features?

How can I report on results effectively to the c-suite? 
These three challenges, finding the right metrics, executing training context impactfully, and reporting on ROI are absolutely critical for training organizations to face head-on. 
At the moment, we're seeing that training is most often housed under Professional Services, however, there is a clear shift to Customer Success. 
Getting a seat at the table for training means being able to measure the impact of your efforts via customer retention, NPS score, expansion, and renewals, not just by pre-sales metrics like initial adoption. By moving away from pre-sales efforts, training teams can become an inseparable part of the GTM strategy of the company.
So, ask yourself, "Does your training focus only on adoption, or does it support customer expansion?"
#2: Subscription Renewals are an Overwhelming Challen
ge
On Day 2 of CEdMA, every single company called out renewals as a challenge.
Customer Education and training is a core part of the strategy for getting customers to renew their subscriptions – after all, the goal of customer education is to show your users how they can succeed in their roles, with your product as the tool. 
Training has been a large part of software companies' shift to a subscription-based model over the past few years. However, it's become much more difficult to get customers to renew subscriptions and keep training their teams on a regular basis. Trainers are asking themselves, "What is the golden bullet, that holy grail of strategies that will keep subscribers coming back year after year, renewing and training?" 
This is also a challenge that can be solved by aligning with the GTM strategy of the business more widely. By aligning with Customer Success, training teams can hand these conversations to professional CSMs. These CSMs are well-versed in having to upsell and cross-sell conversations, and in explaining the value proposition of training and deepening engagement. 
#3: How to Prove ROI? Training Analytics are Necessary… But Investment Isn't Happening
Being able to prove ROI of training means having the analytics tools to look under the hood of training sessions, both granularly and as a whole. 
To get a better understanding of how training teams are channeling investment, during the conference, we at CloudShare took a live CEdMA Pulse survey of attendees at the event, asking questions about their goals, challenges, and roadmap for 2023. We compared this data to a similar survey that we did in 2022. 
While last year, analytics platforms topped the wish list in terms of investment (alongside customer experience technology and AR/VR tools), this year's results reveal a different approach. Spending priorities have changed, and our survey respondents at CEdMA are overwhelmingly interested in spending on curriculum and content creation, perhaps because of the immediate benefit they can get from onboarding customers and partners onto learning experiences. 
However, our CEdMA Pulse survey showed that training teams' top pain points are analytics, reporting, and proving the ROI of education programs. 
In contrast, zero respondents said they are investing in analytics tools this year. 
This data points to training teams who don't yet acknowledge the need to invest in technology that moves the needle on reporting, measuring and proving ROI. While analytics would undoubtedly help training leaders to get better insight into subscription renewals, align with customer success metrics, and make training part of the GTM conversation, it isn't happening in practice. 
#4: Hybrid Learning, a Mix of VILT and In-person, Isn't Delivering Results… Yet
It was fascinating to take part in many sessions and conversations about hybrid learning, something which has got a lot of air time in recent years. The data so far shows that hybrid learning isn't showing promising results right now. In fact, it can result in a lose-lose situation, where remote learners feel left out, and in-person learners feel they aren't being given enough attention, either. For instructors, who often need to skip between modalities – it can be a tough model to train on. 
For training teams who have adopted a hybrid approach, it's even more critical to measure the impact and engagement levels of training to make sure you aren't missing the mark. At CEdMA, we discussed how the most tangible measurement for whether training was a success or not, is whether learners can do things that they couldn't do before the training. This can be easy to measure, with a summative assessment for example, at the end of the course. 
#5: Training Content Needs to be Completely Reimagined
While larger companies with more resources moved their training operation to the cloud during COVID-19, we heard at CEdMA how transitioning content to support on-demand training and VILT wasn't as easy for everyone. 
Let's face it. Conveying knowledge digitally is complex. It involves getting internal IT support and aligning with R&D, Sales, Marketing and other teams. In our live survey, more than half of attendees mentioned worrying dropout rates in online courses. In fact, most people reported dropout rates of between 6% and 30%. With so much self-paced and on-demand content, digital is a hurdle for today's learning experience designers and customer training professionals. These dropout rates are the same as last year, and should raise a red flag that it's time to focus on engagement.
Reimagining training content is an ongoing challenge for learning providers, and growing engagement levels doesn't happen overnight. However, allowing users to get hands-on when training can also raise engagement levels, so it was no surprise to us that 76% of attendees who answered our survey are already using a virtual labs environment for training. 
According to our survey, digital is an essential strategy.  66% of CEdMA attendees who took the survey say that more than 25% of their training content was delivered via self-paced learning in 2022. While we are seeing a minor decline in self-paced, it is still a critical focus, alongside other modalities such as in-person training, VILT, on-demand training, and other blended learning options. 
Nailing digital content will be an ongoing challenge for training teams, and there's always a puzzle to solve! We loved joining in on discussions about how different geographies and cultures prefer different modalities. For example, learners from east Asia and the Middle East prefer traditional ILT, while those from the US are better at handling the transition to the cloud and on-demand or digital experiences. 
Key Takeaways from CEdMA Conference 2022
From our own experience at CEdMA EU, we can see a clear focus ahead for 2023. This year, customer education and training leaders should aim to: 
Align better with the GTM strategy of the business,

in terms of metrics, content creation, and analytics

Shift metrics and KPIs from pre-sale to post-sale and Customer Success

such as NPS, product adoption, churn, renewals and more. 

Adopt advanced tech that cracks open the black box

called "program efficiency" and start proving ROI.
With these strategies in mind, training and customer education can be more closely and accurately measured against critical organizational goals to get greater buy-in.
Ready to add engagement through advanced analytics and virtual IT environments? Speak to us about scheduling a demo.
---
What you should do next…
1. Subscribe to our newsletter:
Subscribe to our newsletter below for the latest news, advice and thought-leadership for software professionals. Or visit our blog to browse our most recent articles.
2. Learn how virtual labs can grow your business:
To learn more about how CloudShare helps software organizations grow revenue, increase efficiency and improve quality, visit our resources page. You'll be able to browser dozens of valuable white papers, eBooks, webinars, case studies, and brochures.
3. Get a FREE, no obligation demo:
Discover just how easy it is to create your cloud environment—in minutes! One of our friendly virtual labs experts will be happy to:
Show you the platform in action
Calculate pricing for your business
Set you up with a 14-day free trial
Answer any questions you have
No pressure or obligation