5 Reasons Your Traditional Sales Demo Solution Is Letting You Down
To get articles like this free in your inbox, subscribe to our newsletter.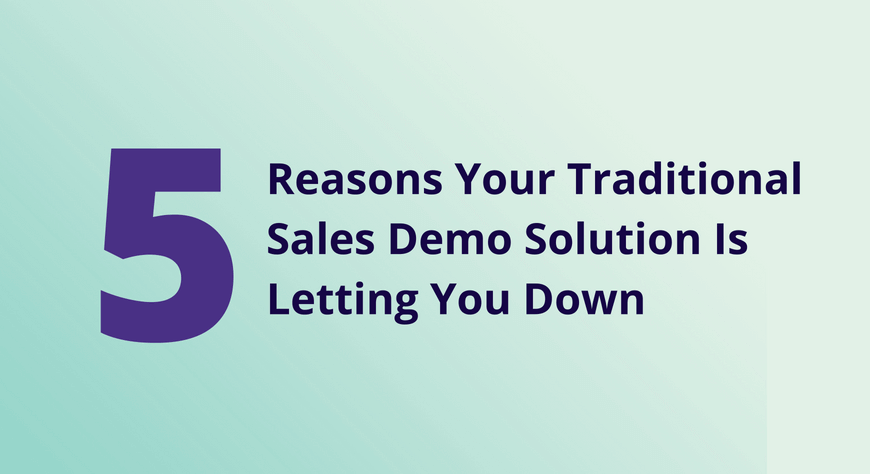 Today's IT buyers are different than those of just a few short years ago. They know what they want. They understand their own pain points, and they've spent time studying your solutions, and those of your competitors.
In fact, Gartner's CEB says your typical buyer is 57 percent of the way through the buying process before ever speaking to one of your reps.
So, when prospects connect with you, they're typically ready to see and trial your product. Even the slickest and most beautiful PowerPoints and video clips won't cut it anymore. Buyers are tired and skeptical of over-promised features and capabilities. They want to see your product as is, and then they can listen to your roadmap. Prospects also know that an intuitive user interface can make the difference between success at their organization or not.
Let's say your team passed the first stage and the prospect was excited about what they saw. Now they want to try it hands-on before making a commitment. They want to test it with their other systems. Are you really going to slow the entire process down by shipping hardware and asking their local IT resources to open firewalls and reconfigure systems? Just that entire experience can put a bad taste in a prospect's mouth before a POC even begins.
Here are 5 more reasons why your current sales demo solution no longer works:
It's not scalable. If your sales team has to dedicate extensive resources to each demo in order to meet modern customer expectations, the number of prospects you can touch is limited.
It requires local IT involvement. The need to open firewalls or change other system configurations to support demos taxes your prospect, as well. This is not an ideal way to start or nurture a relationship.
It's difficult to keep sales engineers aligned. While you need to customize demos based on prospect environments and needs, you also want your SEs using the most updated demos. Syncing updates is more challenging with outdated demo practices.
Your prospects can't trial your solution on their own. If your sales team controls the demo and there's no option to leave it behind for prospects to experiment with, you're missing an opportunity.
Your sales team doesn't gain insights into customer responses. The leave-behind demo can provide your team with valuable analytics about how prospects use your solution – or whether they use it at all. With a traditional demo/POC approach, you don't have any visibility into the prospect's side.
So how can you avoid these constraints and give your sales team the best way to please modern buyers?
This is a where a cloud-based sales demo solution makes sense
Cloud-based demos provide the means to meet today's higher level of expectations with quick and secure sharing of complex IT environments online. You are able to provide prospects with a dedicated, production-grade replica of your product, customized for the prospect's existing IT environments for extended hands-on interactions. Prospect teams simply access the environment through a link; nothing to ship and nothing to configure.
Cloud-based demos enable your sales engineers to deliver more relevant, insightful demos on demand, and:
Offer demos in-person or virtually
Connect with prospects cost-effectively
Quickly scale up to deliver more demos and POCs to more prospects
Eliminate geographical limitations
Maintain consistency with the latest product versions and flavors
Gain visibility into the POC status and usage
The demo technology your sales team needs to succeed
CloudShare's cloud-based POC and sales demo solution equips your sales team with what they need to meet the expectations of modern buyers and your management considerations:
Replication of complex architectures, enabling demonstration of critical features and real-world scenarios
Full customization with relevant industry data, collateral, logos and colors
Quick spin-up of ready-to-use environments
Controlled self-service PoCs or ongoing start/stop demonstrations
Preset lifespans that control costs and speed sales cycles
Integration with Salesforce for increased team productivity
At CloudShare, we practice is what we preach. Contact us when you are ready. We'll show you exactly what you'll get and give you an opportunity for a hands-on POC*.
Need more convincing? Read our e-book, How to Drive More Sales by Giving Modern IT Buyers What They Want
*For qualifying prospects
---
What you should do next…
1. Subscribe to our newsletter:
Subscribe to our newsletter below for the latest news, advice and thought-leadership for software professionals. Or visit our blog to browse our most recent articles.
2. Learn how virtual labs can grow your business:
To learn more about how CloudShare helps software organizations grow revenue, increase efficiency and improve quality, visit our resources page. You'll be able to browser dozens of valuable white papers, eBooks, webinars, case studies, and brochures.
3. Get a FREE, no obligation demo:
Discover just how easy it is to create your cloud environment—in minutes! One of our friendly virtual labs experts will be happy to:
Show you the platform in action
Calculate pricing for your business
Set you up with a 14-day free trial
Answer any questions you have
No pressure or obligation