5 Thank You's for this Thanksgiving Season at Cloudshare
To get articles like this free in your inbox, subscribe to our newsletter.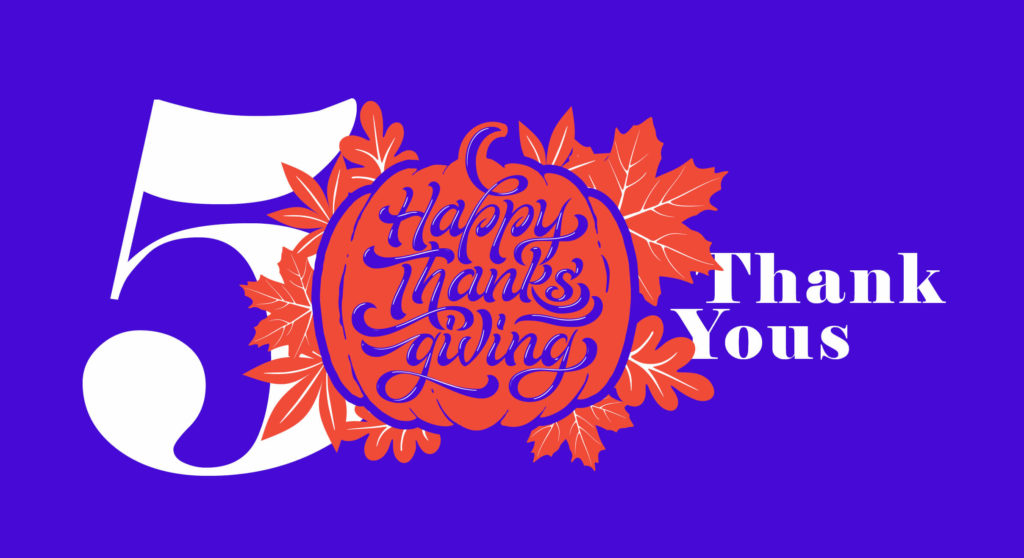 There's no doubt that 2020 has been a rollercoaster of a year. So, will you take a moment to reflect with us? Imagine yourself sitting around the CloudShare Thanksgiving dinner table, holding hands with our team members (pass the hand gel first, of course), and sharing in our gratitude for all of our amazing customers and their own wins, however unusual this year may have been.
Thank you for business continuity
Cast your mind back to March, when the word pandemic was still reserved for dramatic in-flight movies, and the idea of an in-flight movie wasn't quite so distant in and of itself. When lockdown hit, many of our customers had to quickly train their own employees and end users on working from home and getting the most out of software solutions, to enable business as usual.
Here at CloudShare, we were proud to help so many organizations hit the ground running, and by April 2020, we were experiencing a 31% rise in virtual labs usage, year on year. We even helped organizations like Aderant to move their in-person event virtual, complete with hands-on labs experiences that mimicked their traditional workshops. Feedback like this, from Brenna Strickland, Aderant's Director of Global Training, has shown us that the training industry is seeing a real shift in mindset. "We used to go to bat with clients to say 'we can't do this remotely, we absolutely have to fly in.' Now it's been turned upside down. We're telling clients 'We absolutely can do this remotely' and we're watching them grow in confidence in the remote tools, and believe us."
It's fantastic to be part of helping so many organizations add efficiency and productivity to their remote working realities. We have no doubt that the technologies and tools onboarded will continue to support training and sales teams, even when lockdown becomes a distant memory!
Thank you for keeping our employees and customers happy
Learning is the #1 reason why candidates join organizations, and the reason why a staggering 94% of employees would stay at a company. To put it in seasonal language, a job without the right opportunities for learning and development is like grandma's turkey without the stuffing and cranberry sauce. Dry and tasteless.
We love being part of the learning journey for our customers, this year more than ever, when face to face training became impossible. We were so happy to see more than 800 registrants for our webinar with Training Industry, covering 7 tips for remote training.
Thank you for being part of a greater ecosystem
78% of channel partners cite their top priority as "increasing engagement with vendor partners for help to weather the crisis". Simply put, your channels needed your support more than your pumpkin pie needs an additional handful of mini-marshmallows this year. What a great time for us to launch CloudShare for Channels – providing your channel partners, distributor, reseller and VAR channels with an always accurate version of your software to sell on your behalf, even when face to face sales enablement is off the table.
At the back-end, the solution also focuses on giving the vendor and the partner visibility into customer activity. This is more than just the whipped cream on that aforementioned pumpkin pie, as 58% of partners reported a second priority of reducing customer churn during COVID-19. With CloudShare for Channels, you can follow those prospects anywhere. Stay tuned for the official announcement.
Thank you for making us feel that bit closer to one another
Who hasn't needed a bit of added companionship this year, or missed the warm feeling of a group of friends getting together? No masks, no social distancing, just pure connection. Let's put it on our Xmas wish list. While we wait for Santa to get back to us, we know that CloudShare can't quite provide that level of togetherness. However, we do recognize the importance of collaboration and support, and we've tried our best to make sure that no one feels like they're going it alone, even if that's only during a training session.
Examples include our unique collaborative training environment, where users can be split into teams from within a single class, and our webinar-mode, adding videoconferencing to your hands-on training lab classes, helping participants to work better together. We know, it's not quite Thanksgiving Pictionary with your college best friends, but hey – if they're Lions fans, you might not want them around the table this year, anyway.
And one more big thank you to YOU, our amazing CloudShare customers…
Thank you for helping us look ahead to a brighter 2021
Virtual training is set to grow by a CAGR of 13% between 2020 and 2027, showing that you can't keep growth and development down, and that we're all going to continue to find new ways to adapt, evolve, and succeed, no matter what the universe throws our way! A recent CloudShare webinar poll has shown that 35% of people will continue to work from home permanently, so co-operation and smart technologies are more important than ever.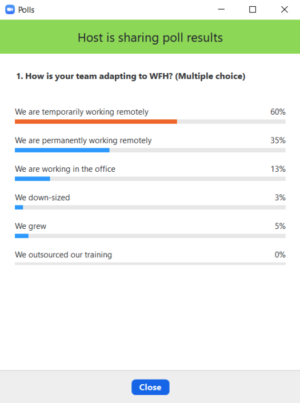 Here at CloudShare, we are so grateful for all of our awesome customers, employees, partners and users, and want to take this opportunity to share our own gratitude to you all, for being part of our continued growth. We are so happy to be a small part of your success. Here's to 2021, and looking ahead to next year's holiday season, when we can finally join family and friends around the globe once again.
Any questions about the CloudShare solution? Get in touch here.
Learn how to solve the Rubik's Cube or use the online solver to calculate the steps needed.
---
What you should do next…
1. Subscribe to our newsletter:
Subscribe to our newsletter below for the latest news, advice and thought-leadership for software professionals. Or visit our blog to browse our most recent articles.
2. Learn how virtual labs can grow your business:
To learn more about how CloudShare helps software organizations grow revenue, increase efficiency and improve quality, visit our resources page. You'll be able to browser dozens of valuable white papers, eBooks, webinars, case studies, and brochures.
3. Get a FREE, no obligation demo:
Discover just how easy it is to create your cloud environment—in minutes! One of our friendly virtual labs experts will be happy to:
Show you the platform in action
Calculate pricing for your business
Set you up with a 14-day free trial
Answer any questions you have
No pressure or obligation