5 Tips to Create Engaging Virtual Training Sessions
To get articles like this free in your inbox, subscribe to our newsletter.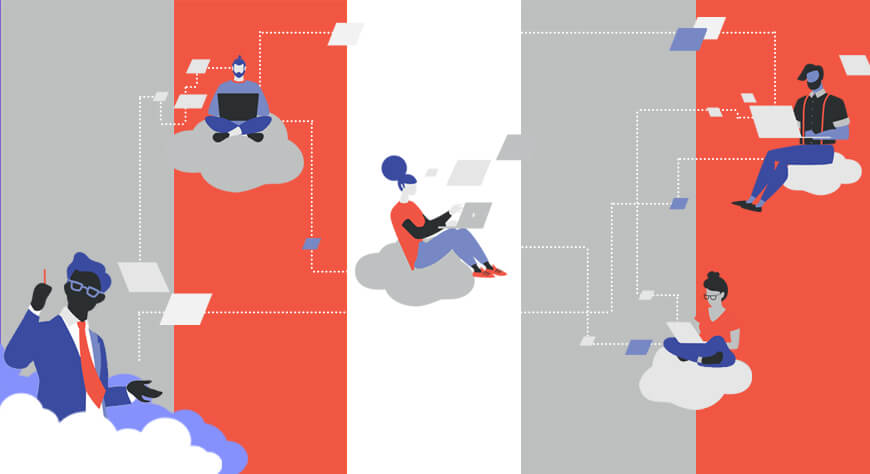 As more and more businesses and schools are switching to online-only training, it's more important than ever for classroom facilitators to understand how to organize a successful virtual class. But how do you keep up engagement and effectiveness when all your participants are so far away from each other?
Whether you're offering tech sales training for a business or need to move your college course to the web, here's our guide to taking on some of the virtual training challenges when delivering your own online class.
What Is Virtual Training?
We should start by discussing what exactly a virtual training environment entails and how the concept differs from a webinar.
A webinar, as its name suggests, is a web-based seminar. It uses video conferencing to deliver information to its participants. Like a real seminar, a webinar is a two-way route for communication and often includes interactive elements like quizzes.
Virtual training rooms are web-based classrooms. Students can interact with each other and engage with the material as a group. Virtual training typically involves an instructor and specific learning objectives. Compared to a webinar, virtual training is more interactive and has a smaller participant-to-instructor ratio.
Now that you know what virtual training is—here are five ways you can make it even more engaging for your users.
1. Take Advantage of the Technology
Modern cloud-based training labs have several features to improve the experience. Be aware of how to use all the ones that will work with your class.
These include screen sharing, where instructors can share the content on their displays in real-time, and live recordings, which allow users to rewatch classes later on their own time.
2. Know Your Objectives
Even the fastest runners can't win a race if they don't know where the finish line is. Having a specific objective in mind is what separates many webinars from virtual training.
It's much easier to create structured content when your objectives are set in stone. Doing so also gives learners a better sense of what's in store.
51 Best Practices to Boost Customer Software Training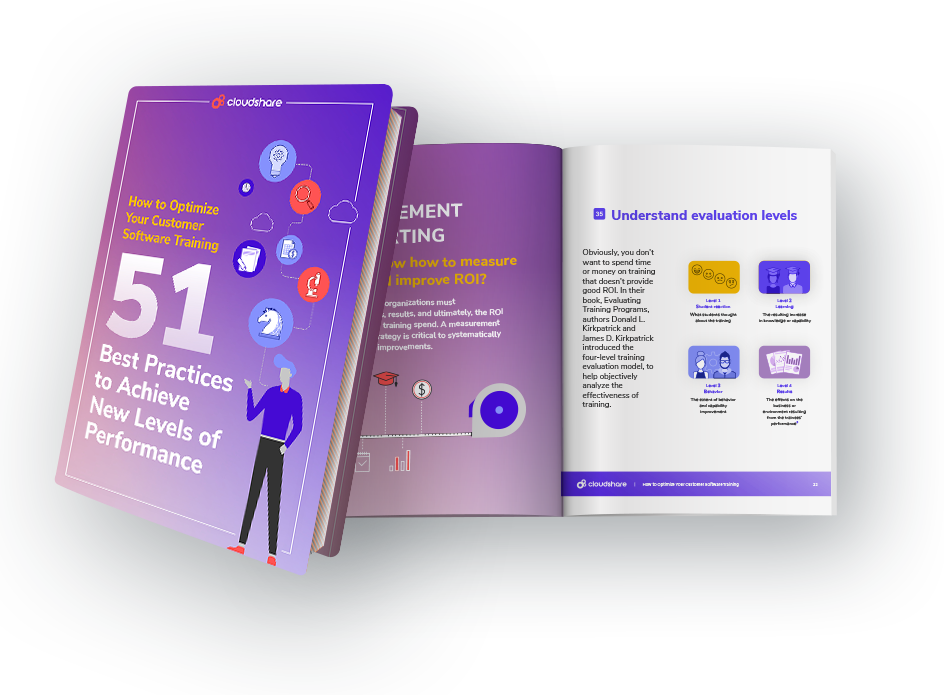 3. Encourage Interaction
It can be a challenge to stay focused during a remote class, so do your best to engage the audience. Interactive elements like quizzes help you not only gauge individual progress but also make the class more interesting. Allow students to ask questions and make comments in the live chat during class too.
Don't forget the use of breakout rooms, a common feature of many virtual training labs. These are private meetings for smaller groups of students to discuss amongst themselves. Encouraging group work is the key to promoting success online.
4. Reduce Network Load
Not everyone has a great Internet connection, so look for ways to reduce the bandwidth usage of your video streams. Text chat is one alternative if you're experiencing lag during class. Look to reduce the resolution of images if necessary.
5. Improve Audio
Invest in a good microphone or a hands-free headset. Features like a mute switch give you more control over your audio. Participants will have an easier time understanding you, resulting in a more authentic course delivery.
Looking for the Right Platform? CloudShare Can Help
Modern businesses have many online services to choose from for their sandbox training needs. The one you select must be reliable enough and have all the features you need to serve as the foundation of your course.
CloudShare takes sandbox training to a new level. Our platform is easy to use, feature-rich and offers high-quality technical support.
Don't take our word for it though, see for yourself. Book a demo with one of our virtual training specialists today,
---
What you should do next…
1. Subscribe to our newsletter:
Subscribe to our newsletter below for the latest news, advice and thought-leadership for software professionals. Or visit our blog to browse our most recent articles.
2. Learn how virtual labs can grow your business:
To learn more about how CloudShare helps software organizations grow revenue, increase efficiency and improve quality, visit our resources page. You'll be able to browser dozens of valuable white papers, eBooks, webinars, case studies, and brochures.
3. Get a FREE, no obligation demo:
Discover just how easy it is to create your cloud environment—in minutes! One of our friendly virtual labs experts will be happy to:
Show you the platform in action
Calculate pricing for your business
Set you up with a 14-day free trial
Answer any questions you have
No pressure or obligation