A Special New Year's Address from CloudShare's CEO
To get articles like this free in your inbox, subscribe to our newsletter.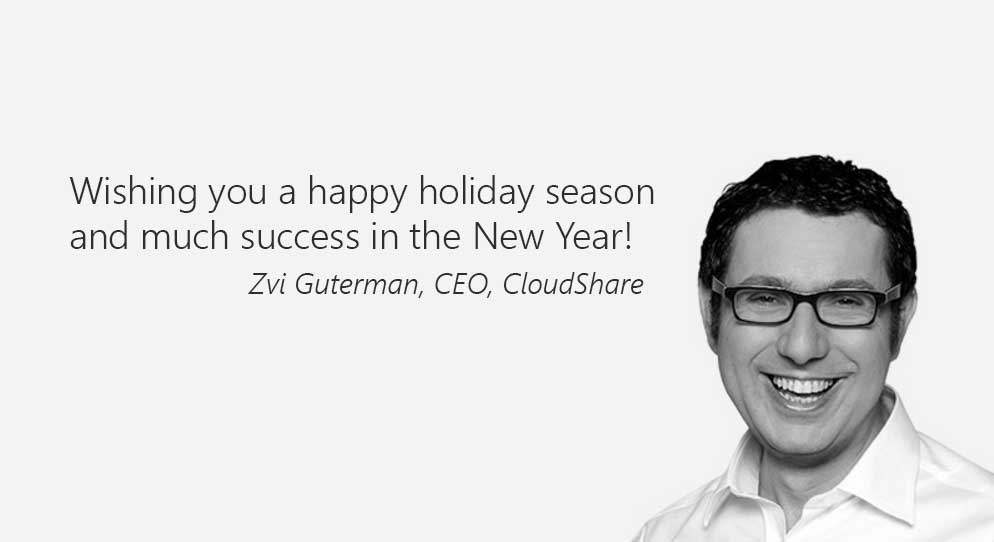 Dear CloudShare clients, partners, and friends –
As 2016 comes to a close, it seems like the perfect time to take a brief look back at the year gone by and share a glimpse of what lies ahead for CloudShare.
2016 in Review
Continued growth and progress – This year we successfully continued our momentum in growth and profitability – both externally (with a growing list of over 500 customers) and internally (with our team growing by over 40%). Thanks to our support for complex environments, effortless provision of isolated environments for sandboxing, and our proven track record in working with the cybersecurity industry, I'm honored to say it has become almost rare for IT security vendors not to use our services.
Expanded global footprint – During 2016, we expanded our global footprint with two additional data centers in EMEA and APAC – offering our international client base substantially improved performance, reduced latency, and a superior user experience from virtually anywhere in the world.
New product features and enhancements – 2016 has also seen the addition of over 50 new features and product enhancements – including a brand new and completely customizable end-user environment viewer, the debut of Docker support, and the introduction of numerous environment and VM templates. And we don't intend to stop there. We continue to develop exciting new ways to help our customers automate their tasks and complete their daily work more easily.
Cloud trends and our place in the market – There's no doubt that the cloud has hit Main Street by now, with organizations ready for services like CloudShare to make their cloud consumption simpler, more visible, and easily controlled. And while Amazon, Microsoft, and Google continue to lead the public cloud, CloudShare has successfully turned into one of the most prominent companies leading the "2nd wave cloud," with turnkey IT lab services for Training, Dev & Test, and Sales Enablement.
Looking Ahead to 2017
In 2017, CloudShare will continue to aim yet higher, and relentlessly push forward to deliver the best premium IT labs to our customers.
Our goals are to:
Make the user interface even more powerful, yet simple and intuitive
Automate more and more workflows
Enable new scenarios and additional integrations
Push our uptime and availability to five 9s
We will do all that (and more), because we intend to continue leading the market of premium cloud for IT in 2017 and in the years to follow.
I'd like to thank you for giving us the opportunity to stay in touch. We deeply value your time and interest, and we will keep doing our best to keep you updated and informed with valuable content to make it worth your while.
In the meantime,
Wishing you a happy holiday season and much success in the New Year!
Yours sincerely,
Dr. Zvi Guterman, CEO
CloudShare
---
What you should do next…
1. Subscribe to our newsletter:
Subscribe to our newsletter below for the latest news, advice and thought-leadership for software professionals. Or visit our blog to browse our most recent articles.
2. Learn how virtual labs can grow your business:
To learn more about how CloudShare helps software organizations grow revenue, increase efficiency and improve quality, visit our resources page. You'll be able to browser dozens of valuable white papers, eBooks, webinars, case studies, and brochures.
3. Get a FREE, no obligation demo:
Discover just how easy it is to create your cloud environment—in minutes! One of our friendly virtual labs experts will be happy to:
Show you the platform in action
Calculate pricing for your business
Set you up with a 14-day free trial
Answer any questions you have
No pressure or obligation