Bridge the Gap: How to Align Customer Training with Company Go-To-Market Goals
To get articles like this free in your inbox, subscribe to our newsletter.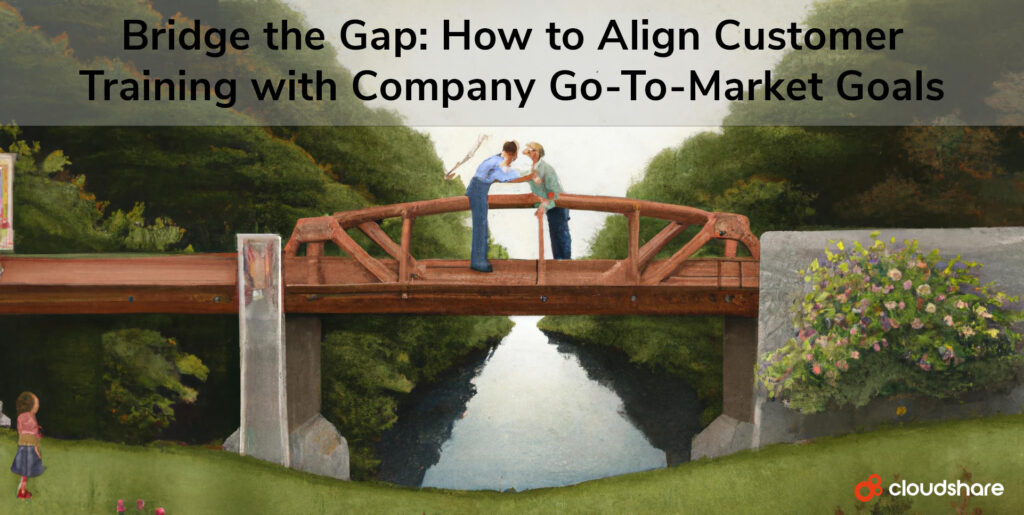 The Go-To-Market (GTM) function in any organization coordinates cross-functionally with other departments such as Sales, Marketing and Product to deliver the roadmap for the business. As Customer Training is a critical part of the organization, and delivers a direct impact on key business metrics such as revenue and renewals, don't you think you deserve a seat at the GTM table?
Here are three ways you can align with the GTM of the company, and ensure that you're part of the action. 
1. Collaborate on Messaging and Positioning
Ideally, customer training materials will be well-aligned with the sales and marketing efforts, so ask yourself — what's happening on the GTM team? For example, if you have a software product, and your Sales teams are struggling with that all-important first 90 days, Customer Training teams can add support with an onboarding course that walks the customer through their early interactions with the product. 
This could include self-serve webinar content or on-demand playgrounds where users can test the platform and try features without risk. This approach encourages stickiness with the product, and also reduces the time that Sales or Customer Success has to spend having repetitive onboarding conversations. 
One great tip is to move away from "onboarding" as the goal, and consider the goal of reducing first-time-to-value. The quicker a customer can see value with your software, the more likely they are to start making it part of their everyday work. To follow this North Star, you need to be able to define what value is for your product. For HubSpot, it might be a customer that launches their first campaign, while for a Cybersecurity tool, it could be a customer that runs a full security validation test. 
Knowing what value looks like means Customer Training teams can offer the right courses and education to get users there faster, and support Sales, Success, and Marketing in reducing early-stage churn. 
2. Participate in the GTM Strategy of the Business
Once you understand the goals and objectives of the business, you can start to build out a plan for how training can add support. To stay aligned, however, you need an invite to the GTM meetings. Without being part of the GTM strategy, you can quickly become misaligned. For example, a Product or new feature launch could occur, and if you weren't in the loop, your team might not have created complementary training or knowledgebase assets to answer customer queries. When a new feature has just been released, this is exactly when there will be the greatest need for customer training, so you don't want to miss the boat. 
Once you're in, don't be shy about where you can add value! If a new product release deserves its own learning path or online course, explain how long this will take, and what you can achieve by the launch date. Look for quick wins like offering cloud-based lab environments where training teams can get up to speed quickly on new technical competencies so that you don't need to delay critical releases. 
Don't forget to celebrate the wins of other departments by reflecting those in training courses and materials. If a particular feature has seen a spike in adoption this quarter, make it a highlight video to showcase the Product team's work, or if CSAT and NPS scores are through the roof — use it in training content to reiterate what a great job Success, Marketing and Sales are doing. 
3. Share Insights and Customer Feedback
Customer Training teams are often closer to the customers than many other departments in the business. One of the most valuable services you can provide to the GTM departments is access to your insight and feedback. Where are customers struggling to see value in the product? Is there any friction involved in new features, or with change management from a previous tool or technology? What do customers absolutely love, and wish they could do even more with? 
The GTM arm of the company will often be working off market and competitor research, but as the Customer Training team — you can gather and analyze the actual feedback from users of the software itself, and this is critical in creating an accurate and impactful roadmap for the future of the business. 
Think about ways to collect both qualitative feedback such as how many users are completing training courses, and CSAT or NPS score on their satisfaction, as well as qualitative feedback — which could be anything from social media reviews to in-training comments provided via chat to an instructor, or in group sessions. 
Of course, ask for feedback from other teams as well, which can help inform what your next training session will be based around, or how to build out wider options for customer education in the business. 
Customer Training Should Be in the Thick of It!
When Customer Training is involved and aligned with the Go-to-Market of the business, great things happen. Training is aligned with releases from the Product team, objectives work seamlessly to satisfy the needs of Sales and Success, and content can support Marketing teams in getting the right message to customers at the right time. 
So go on, request that seat at the table — the GTM departments will wonder what they ever did without you!

Looking to include hands-on training environments to keep pace with the GTM arm of the business? Speak to us to learn more. 
---
What you should do next…
1. Subscribe to our newsletter:
Subscribe to our newsletter below for the latest news, advice and thought-leadership for software professionals. Or visit our blog to browse our most recent articles.
2. Learn how virtual labs can grow your business:
To learn more about how CloudShare helps software organizations grow revenue, increase efficiency and improve quality, visit our resources page. You'll be able to browser dozens of valuable white papers, eBooks, webinars, case studies, and brochures.
3. Get a FREE, no obligation demo:
Discover just how easy it is to create your cloud environment—in minutes! One of our friendly virtual labs experts will be happy to:
Show you the platform in action
Calculate pricing for your business
Set you up with a 14-day free trial
Answer any questions you have
No pressure or obligation