An Interview with Daniel Quick – The Impact of Gamification on the Future of Virtual Training
To get articles like this free in your inbox, subscribe to our newsletter.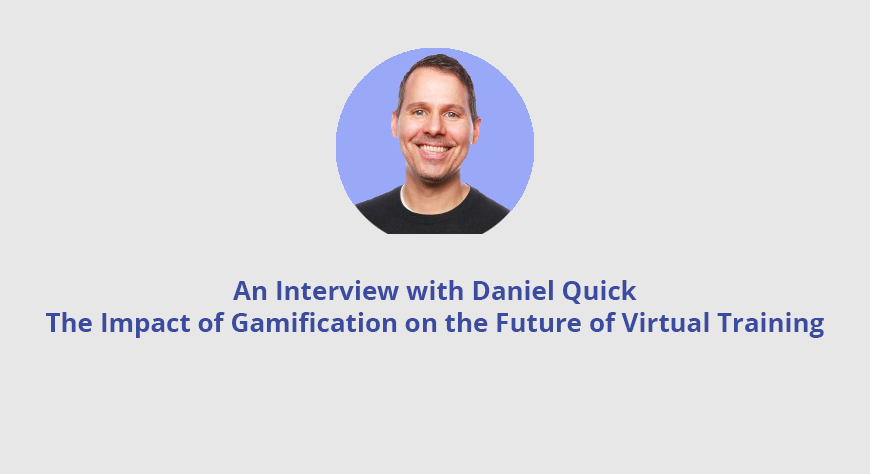 If you caught Daniel Quick's hit session at this year's CEdMA conference, you'll know how passionate he is about gamification in learning initiatives. As the Senior Director of Product Experience at Thought Industries, he had a lot to share, and so we were delighted to sit down with him to ask him some further questions. Here are his thoughts on the future of customer education, as well as how gamification can support growth in VILT.
Let's start by talking about 2020. Have you seen an impact on the training experience as a result of the pandemic?
What we've seen in Thought Industries is an increased interest in online training as a way to help customers achieve success with products. Companies without an LMS are scrambling to implement one, and companies already with an LMS in place have seen significant rise in virtual training enrollment rates. When I was at Asana we didn't do anything differently once the pandemic hit, and yet we saw enrollment in our Asana Academy increase by 20%.
Yes, we saw the same rise in numbers here at CloudShare. What would you say was the main driver? 
A number of reasons. More flexible schedules means it is easier for people to make time for online training. The psychology of working from home gives people an excuse to try out new training methods or initiatives. There is more urgency in suddenly needing to use remote collaboration tools and become more digitally native. Either way, we definitely saw an uptake in customer's engagement with their academies, and this is still happening. As a result, there is a lot more interest in the market for solutions that will help companies to deliver online training. 
Have you seen organizations looking for temporary solutions, or do you think the move to virtual online training will be more long-term? 
I've long been an advocate for online training experiences. It's a healthy way to scale your training function in your organization, and that doesn't stop just because we find a cure to the pandemic. A lot of companies who have a new VILT program or have heavily invested in one to see them through 2020, they'll find that the investment has paid off, it has allowed them to more efficiently deliver training experience all around the world, and they'll realize that it will continue to pay off even post-pandemic. In addition, a lot of innovation around delivering virtual training has recently taken place (by necessity), so it's become a more robust solution across the board. 
How can gamification support this growth?
I spoke at CEdMA about how you can't apply gamification to motivate someone to do something that they don't already want to do. You have to really understand the psychology of motivation and understand how a particular activity is going to feel intrinsically motivating for the end-user. 
In Self-determination Theory, there are three innate needs that act as intrinsic motivators: competence, autonomy and relatedness. With competence, people need to experience mastery at something. With autonomy, they need to feel like they have control over a situation and its outcomes. And when it comes to relatedness, they need to feel connected to other people and interact with them. 
And do people need all three motivators? 
If you're creating an effective gamification strategy, you probably want to consider all three of the core motivators. That said, individuals might respond to one motivator more than others. But if you're looking for a strategy that will be compelling to as wide a variety of people as possible, you need to think of all 3.
It's important to think like a game designer and use these motivators. Ask yourself, 'What is it about this experience that will feel intrinsically motivating for the end user, and how can I set up a gamification program that will augment this motivation with extrinsic mechanics?' Without this motivation at its core, your gamification program is likely to fail. Game design thinking can help here. It helps motivate users to achieve a goal. Good games have good goals that are clear, achievable and rewarding.
Improve Your 2023 Cyber Security Training Results With These 5 Best Practices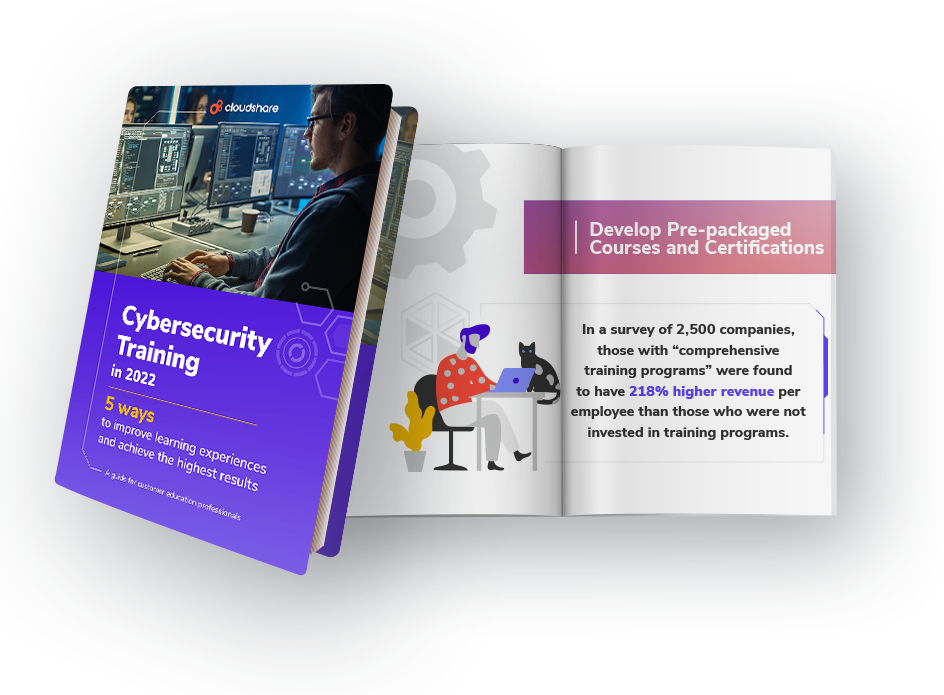 Is poor goal setting the biggest mistake you see people making with Gamification? 
Not thinking about the intrinsic motivation? Yeah, absolutely. Many people think of gamification as simply PBLs. Points, Badges and Leaderboards. But this devalues its potential in customer education, and if these elements are misused, gamification won't work. PBLs are the extrinsic rewards, and these can be very powerful, but only if your users care about what they are achieving, and are intrinsically motivated in the first place. 
Of course, your organization also needs to care about the PBL system. Don't just look at what your user wants and reward that with a badge, think about what you want your customers to achieve, and set up your PBLs to help them earn rewards for those actions. I often see companies being arbitrary about PBL, giving badges for tasks that neither the business nor the user cares about. This is the kind of gamification that doesn't work. Instead, think 'what do my users want to do, and what outcomes do we want them to achieve?'
If you have the innate motivation, why do we need the rewards at all?
Once you have the motivation, the PBL acts as a sort of nitro-boost. After all, even if you love doing something, effort is still effort, time is still time, there's always still a cost. And there are always points of friction when pushing a user from one step to another, where gamification can help them to move to the next step, as learning can be hard! The extrinsic rewards can help you make the effort feel rewarding. But they need to be linked to the underlying meaning.
I made that mistake myself earlier in my career in customer education. I tried to set up gamification for the Optimizely community. I didn't really think about the underlying motivation that I was trying to tap into by using gamification, or where it would be valuable. I just created a bunch of badges, silly badges really, that had no real meaning. 
You would get a badge for signing in a certain number of times, replying a certain number of times, posting a certain number of times. Really, think of any action you could take in an online community – you got a badge for that! I laugh at it now, as if people were interested in earning a badge for something as arbitrary as 100 replies! 
What impact did that have? 
People were earning badges, because they were engaged in the community. But the badges were a side-point. I hadn't approached the gamification strategically in a way that was effective. If I could do it all over again, I would create badges that you could earn based on the recognition that others were giving your posts. How many people accepted your posts as a helpful solution, for example. 
Then, by earning that badge, you would unlock some new community superpower. A flag on your name that showed others you were an expert, or the ability to have some kind of 'moderation lite' responsibility. That would mean something to the users, and of course be innately motivating in the three ways we've discussed. 
Can you give us an example of a company that does gamification really well?
People often describe Salesforce Trailhead as the Gold standard of gamified customer training, and you can immediately see why. Their program is guided learning tasks, and it's clear, achievable and rewarding, the three adjectives we discussed earlier in terms of good game design.
It also taps into the innate motivators really well. You choose your own trail, which is related to your interests and where you want to be an expert, which means it motivates users through their freedom of choice and autonomy. You earn points by completing challenges and making progress, and then you unlock badges which are a clear indication of mastery in a specific area. And then finally, the community aspect of Trailhead has leaderboards, social content, and the ability to connect with other experts, tapping into a user's need for relatedness. 
Do you have a bottom line for us?
There's no silver bullet, but in order to succeed in building gamification, you need to think like a game designer. That means you have to understand the motivation of your players and design for that motivation, rather than just throw a bunch of systems and mechanics at the problem. Think about the player and what's going to motivate them, and start from there.
---
What you should do next…
1. Subscribe to our newsletter:
Subscribe to our newsletter below for the latest news, advice and thought-leadership for software professionals. Or visit our blog to browse our most recent articles.
2. Learn how virtual labs can grow your business:
To learn more about how CloudShare helps software organizations grow revenue, increase efficiency and improve quality, visit our resources page. You'll be able to browser dozens of valuable white papers, eBooks, webinars, case studies, and brochures.
3. Get a FREE, no obligation demo:
Discover just how easy it is to create your cloud environment—in minutes! One of our friendly virtual labs experts will be happy to:
Show you the platform in action
Calculate pricing for your business
Set you up with a 14-day free trial
Answer any questions you have
No pressure or obligation