Be Your Own Valentine for 2021
To get articles like this free in your inbox, subscribe to our newsletter.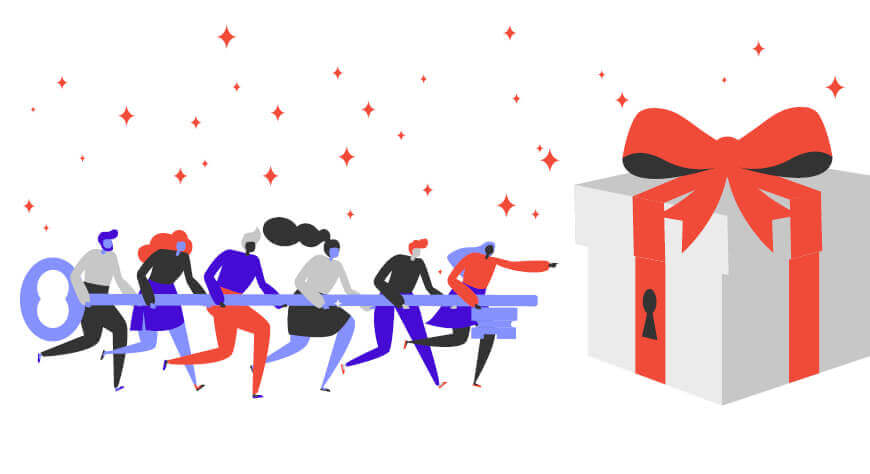 Gift your company with the best software experiences out there
Here's the thing about Valentine's. You usually celebrate it with your… Valentine. Unfortunately, this year is a little different. No theater shows, no restaurants, no vacations, no sharing your favorite chocolate lava cake. But though the majority of the world is in some form of lockdown, with many singles unable to go out and find love, and even coupled-up lovebirds finding restaurants closed, arts and culture on pause, and travel limited to the local supermarket (Date in the wine and spirits aisle, anyone?) – we refuse to ignore this holiday. In fact, if ever there was a year to be kind to yourSELF – this is the one. So we're making this year all about self-gifting.
The Real Gifts Companies Should Give Themselves this Valentine's
Now that we've made that decision, on behalf of the whole business world… Here are the 2021 must-haves when choosing the perfect corporate self-gift.
Business continuity enabler: The best gift for your company this year would be to help you get back to selling software and supporting your customers immediately, even in the thick of a remote working reality. Lucky that Cloudshare provides hands-on software experiences that deliver true business value, from anywhere in the world.
Sales cycle accelerator: Make it simpler to reach your goals this year, with technology that speeds up time to value. Cloudshare allows you to adapt environments from templates, making even complex networking requirements a cinch. Sales teams or channel partners who need lightning-fast environment creation for demos and POCs can move a customer from POC to onboarding with hardly any friction whatsoever.
It's multi-cloud time: Who hasn't increased cloud adoption since the pandemic hit the headlines? If you choose technology that comes with cloud-vendor lock-in, the only gift you're getting is a whole lot of headache. Instead, look for a solution that allows you to sell, train and test at the same time on any commodity cloud, plus your own private instances for best-in-class security that doesn't sacrifice ease of use.
Always great to make the board happy: Pick a gift that aligns with your organization's corporate goals, and your C-suite will think it's Christmas come early, never mind Valentine's Day. Here are a few goals our solution knocks out the park:
Improving engagement: Hands-on experiences are proven to aid retention and CLV
Preventing churn: Provide customers with the tools to truly learn your solution
Utilizing Big Data: Add insight to user activity with advanced reporting and analytics
Reducing costs: Create environment policies for smart cloud usage and allocation
Improving Channels relationships: Offer an always-accurate version of your software
CloudShare: The Gift Companies Can Give Themselves
This Valentine's Day, we might be stuck in our homes, either single, or loved-up (and sick of the sight of our other halves), but that doesn't mean it's time to throw gift-giving out the window.
Instead, get intimate with your organizational needs, and make sure you fulfill them with the ultimate corporate present, the most powerful software training experiences that check all the boxes. And make sure to order in for that chocolate lava cake, too (and count us in).
Are you interested in seeing CloudShare in action? Book a demo with one of our virtual training specialists today.
---
What you should do next…
1. Subscribe to our newsletter:
Subscribe to our newsletter below for the latest news, advice and thought-leadership for software professionals. Or visit our blog to browse our most recent articles.
2. Learn how virtual labs can grow your business:
To learn more about how CloudShare helps software organizations grow revenue, increase efficiency and improve quality, visit our resources page. You'll be able to browser dozens of valuable white papers, eBooks, webinars, case studies, and brochures.
3. Get a FREE, no obligation demo:
Discover just how easy it is to create your cloud environment—in minutes! One of our friendly virtual labs experts will be happy to:
Show you the platform in action
Calculate pricing for your business
Set you up with a 14-day free trial
Answer any questions you have
No pressure or obligation