Mark your Calendars! 8 Corporate Training Conferences Coming up this Season
To get articles like this free in your inbox, subscribe to our newsletter.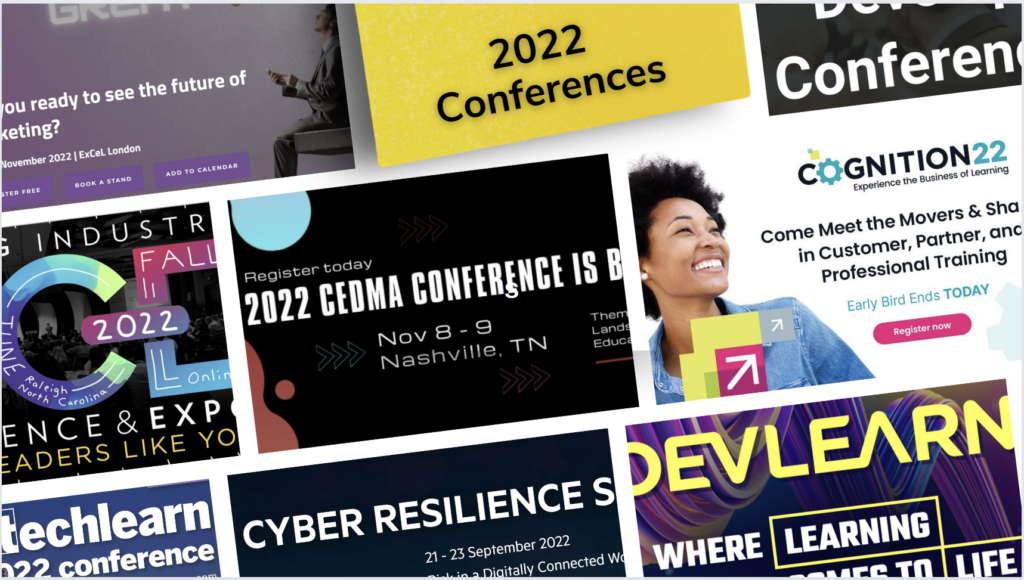 IT training conferences are a great way to network with industry professionals, learn about the latest tools and tech on the market, and take lessons from the greatest on the best practices that will supercharge your own software training or sales enablement solution. 
With social distancing a distant memory, many virtual sales conferences and training events are firmly back to face to face! Which of these will you be attending this season? 
Best for Training Techsperts: TechLearn – September 20th-22nd, Austin, Texas
TechLearn is a one-stop shop for training professionals, focusing on innovation and technology in training. This year's keynotes include 10 principles for digital leadership, and the question you must have asked yourself a million times… Does your learning have less impact than a shampoo bottle?
Fan favorites will be back, including the Training Test Kitchen, where training professionals can get hands-on with technology demos, switching every ten minutes to try up to 40 solutions. Think of it like the speed dating of sales training conferences!
Best for Cybersecurity Training: Cyber Resilience Summit, September 21st-23rd, Lausanne, Switzerland. 
Interested in training for cybersecurity solutions? Just want to see Bill Clinton? Both are fantastic reasons to head towards those gorgeous Swiss Alps and join CEOs and business leaders at the Cyber Resilience Summit, as they discuss the current cybersecurity landscape. 
There is an in-person and a digital pass available for the event, and for training professionals – sessions of interest include: 
Fostering safe digital transformation in developing economies

Building a cyber resilient workforce (panel discussion)

Tom Patterson's keynote, The future of security depends on decisions made today.
Best for Professional Training: Cognition, October 4th- 6th, Everywhere
Another virtual training conference you can't miss is Thought Industries' Cognition, an annual event with leading experts in customer, professional, and partner training. There are two tracks to sign up for, the practitioner track for hands-on tips and techniques for starting or scaling your training program from the trenches, and a leader track, for those grappling with high-level challenges, such as measuring the impact of learning and training initiatives. 
This year's theme is Journey to Excellence, and speakers include Crossing the Chasm author, Geoffrey Moore, plus Britt Andreata, CEO of Brain Aware Training. Your attendance also unlocks access to the Cognition community, where you can view exclusive content from previous conferences, and network further with all attendees. 
Best for Learning Leaders: TICE, October 12th-13th, Everywhere
The training industry conference and expo (TICE) is back again this fall for a virtual conference, after a successful in-person event in Raleigh last June. The 2-day online event will stretch the way you think about building and growing training solutions, and is a great low-risk way to learn more about improving training in your org. 
The aim of the conference is "to provide discussions, networking, and space for learning leaders to address the challenge of training the changing workforce." You'll be joined by 500+ learning leaders for 25 engaging sessions, plus virtual demos, and interactive networking aplenty. 
Best for eLearning Specialists: DevLearn, October 26th-28th, Las Vegas, Nevada
DevLearn markets itself as "where learning comes to life", and it's 3 days of immersive content for all eLearning professionals, whether you're a Chief Learning Officer, an instructional designer, or a learning systems analyst. It's probably the only training and learning conference where you'll get keynotes from brain scientists and physicists as well as Chief Creative Officers and Director of Demos! 
BYOD sessions allow you to bring your laptop or mobile, install the software on the spot and try hands-on solutions, while morning buzz is a daily networking event for early birds. With various tracks to help attendees self-select the right content, you can cover anything from emerging tech or instructional design, to VR and AR, management and strategy, or tools and development.
The conference is a fun-loving look at the state of learning, guaranteed to send you back to work both energized and informed. 
Best for Sales Strategy: Tenbound Sales Development Conference – November 4th, Austin, Texas
Sales enablement conferences don't come much more exclusive than Tenbound! In fact, it's the only conference that's 100% dedicated to sales development. Taking place this year at the Hyatt Regency, Austin, it's a one-day palooza of strategies, tactics, and tips for boosting your sales enablement processes. 
Tenbound is known for supporting B2B SaaS companies with their sales pipelines, and their events are a core part of that strategy, offering next-level sales training, practical guidance to improve your sales techniques, and of course – plenty of networking with the top minds in sales enablement and development. 
Best for Customer Education: CEdMA – November 8th and 9th, Nashville, Tennessee
CEdMA is back in person this year, and is still the #1 event for training professionals, especially if you're interested in creating or growing a customer education program in your technology company. This year's theme is The changing landscape of customer education and speakers include customer education GOATs such as Debbie Smith, Dave Derrington, Daniel Quick, and Heather Appell. 
For those of you who prefer milk in your tea, don't forget CEdMA Europe, coming up on November 22nd and 23rd, in London, UK. The theme is How is education's go-to-market changing?
Best for Sales Networking: Sales Innovation Expo, November 22nd and 23rd, London, UK
While you're at CEdMA Europe, pop into Excel London, and check sales enablement conferences off your list too by attending Sales Innovation Expo. Sales innovation gets seriously futuristic at this 2-day event, where 6,000+ sales professionals network and learn, and try out the latest tools and tech for skyrocketing software sales. 
You'll find 150+ speakers, 200+ exhibitors, masterclasses, panel debates, and plenty of networking rooms to cultivate relationships and learn from your peers. 
No need to book a flight to try CloudShare's software training solution hands-on. Request a demo here and you could be giving it a whirl this afternoon. 
---
What you should do next…
1. Subscribe to our newsletter:
Subscribe to our newsletter below for the latest news, advice and thought-leadership for software professionals. Or visit our blog to browse our most recent articles.
2. Learn how virtual labs can grow your business:
To learn more about how CloudShare helps software organizations grow revenue, increase efficiency and improve quality, visit our resources page. You'll be able to browser dozens of valuable white papers, eBooks, webinars, case studies, and brochures.
3. Get a FREE, no obligation demo:
Discover just how easy it is to create your cloud environment—in minutes! One of our friendly virtual labs experts will be happy to:
Show you the platform in action
Calculate pricing for your business
Set you up with a 14-day free trial
Answer any questions you have
No pressure or obligation