Are You Still Doing On-Premises IT Sales Demos?
To get articles like this free in your inbox, subscribe to our newsletter.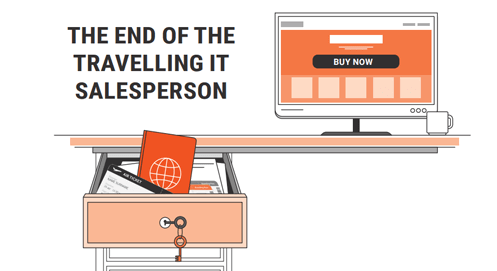 IT Sales Engineers of the world:
Do you like spending your time waiting for delayed airplanes?
Do you enjoy travelling hundreds of miles to present your product to leads you suspect are never going to convert?
Is it okay for you to know that most buying decisions are made when clients do their own internal evaluation of your product – not your slick slideshow?
Yep – we find it kind of crazy, too!
So many information technology salespeople and sales engineers have no choice but to devote their lives to the airport circuit, spending hours setting up complex technology on their clients' systems or dragging numerous machines around to present their product to a team of skeptical IT managers. Not only is this whole approach both costly and time-consuming, but it's not even that effective.
A recent study from Altify—which asked buyers and sellers about their perspectives on sales pitches—found that buyers believe sales meetings to be around 40% less useful than sales people do (sorry to prick your egos, salespeople!)
What's going on and what can be done?
In the last few years, something big has happened in the technology buying process. Where once upon a time sales engineers were the experts on a product, today—thanks to the internet—the buyer tends to be far more informed, tech-savvy and demanding than ever before.
An oft-cited Think with Google and CEB study found that the average B2B buyer now only engages with salespeople once they're 57% of the way though the purchasing decision. That means that you're now dealing with harder customers, greater awareness of competitors and a much more demanding sales process in general.
57% – That's how far through the buying decision customers are before they even contact you 
In 2016, Richardson, a sales training business, interviewed and surveyed hundreds of salespeople about the challenges of B2B sales—and picked up on some key comments from sales professionals:
"We need to constantly demonstrate what our differences are. The bottom line is that there really are none, and the customers know, so they drive us on price".
What does all of this mean? Well, the key message is this: the era of the travelling technology salesperson is dead. Does that mean you're out of a job? Absolutely not!
Quite the opposite is true, in fact. We are now entering a new era of technology sales which offers you more opportunities, will improve your chances of closing deals and will help you make a massive contribution to your company's bottom line. This era will be defined by using the cloud to provide smarter, more tailored and more effective sales demos, POCs, evaluations and post-sales deployments. So how will it work?
Say goodbye to on-premises demos
IT as a Service (ITaS) allows you to present your sales demonstration in the cloud and then show your tool to potential leads over the internet:
They're in the comfort of their own office.
They see your product.
You show them all its awesome features.
They ask questions and you answer them.
Imagine that you bailed on an on-premise demo and saved thousands of dollars and tens of hours because you didn't have to leave your office.
With IT as a Service, customers get the same demo. They can still go on and evaluate your product on their own time and ask all the questions they want as they normally would—you just don't have to be in the same physical room while doing so. And this all means you have more time to follow up your other leads, present even more demos and close even more deals. Awesome!
So, why aren't you using the cloud yet?
Using ITaS makes so much more sense than the traditional resource-intensive method of carrying out enterprise IT sales, and we think it's going to completely revolutionize the sales process in the next couple of years. If you're not using the cloud for sales demos, POCs and evaluations, now is the time to explore the options open to you.
Ready to find out more about how using ITaS for sales actually works and what the benefits are for you? We've put together an awesome whitepaper explaining everything you need to know to help your company's sales process shift into top gear. So, what are you waiting for?
---
What you should do next…
1. Subscribe to our newsletter:
Subscribe to our newsletter below for the latest news, advice and thought-leadership for software professionals. Or visit our blog to browse our most recent articles.
2. Learn how virtual labs can grow your business:
To learn more about how CloudShare helps software organizations grow revenue, increase efficiency and improve quality, visit our resources page. You'll be able to browser dozens of valuable white papers, eBooks, webinars, case studies, and brochures.
3. Get a FREE, no obligation demo:
Discover just how easy it is to create your cloud environment—in minutes! One of our friendly virtual labs experts will be happy to:
Show you the platform in action
Calculate pricing for your business
Set you up with a 14-day free trial
Answer any questions you have
No pressure or obligation