Build a Killer Cloud Proof of Concept (POC) with CloudShare
To get articles like this free in your inbox, subscribe to our newsletter.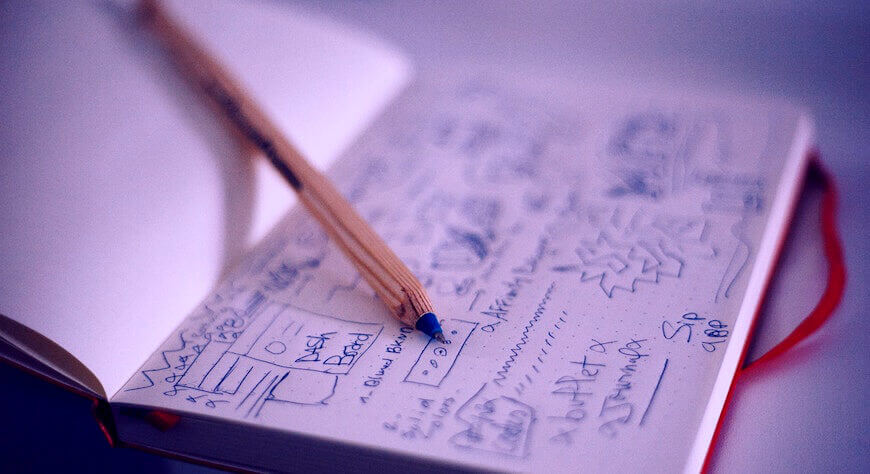 Is a POC environment a key component of your sales process? When it comes to POC creation, especially a technical POC, visibility is everything. You can't just send your prospects off with a proof of concept for your software and hope for the best that they will get to grips with it on their own, and find the value quickly and seamlessly. However, in reality – you've probably found that's exactly what happens. In many ways, traditional POCs are like a 'black box' – you never really know what's going on inside after inviting your prospect to try your product.
This blog will walk you through three simple steps you can use to gain that all-important visibility, and take your POC creation to the next level with the help of a software experience platform. Learn how a cloud POC enables full control for organizations by giving them transparency into the usage of the environments, and how it can positively impact the business by shortening the sales funnel through real-time data and feedback.
Why is a Technical POC So Important?
Spinning up production-level environments quickly, access to the software and hardware you need, and integrating customer's data are critical to B2B technology sales. Your prospects want to experience a complete product, and virtual IT labs are the perfect technology for these kinds of technical POCs, especially in a fast-changing SaaS or software environment, where releases happen every few weeks.
We have written in the past about the ever-changing IT landscape and the importance of a cloud-based proof of concept versus traditional POCs. Running a POC in the cloud enables vendors to react on-the-fly to adjusting requirements and allows customers to use and abuse the environment with no effect on real data. It also offers both vendors and prospects the ability to measure the usage of the POC environments and make clear decisions based on the metrics. For example, you might see that at a particular point – multiple prospects churn from the POC. You can target education for channel partners or prospects themselves at that point in the user journey to support the potential customer through a complex part of onboarding. Taking it further, you can even compare data with customer product usage, and feed that information back to the product team to include in-application guiders or support that can help existing customers. 
When a Technical POC has gone well, this kind of visibility can also help Sales teams to reach out at the right time or to the right person. You now know that one member of the prospect's organization has finished the POC in record time or with particular ease, or has spent more time testing and playing in the environment than any other. The chances are that this prospect is well-placed to be a brand advocate for the rest of their team, as they have found particular value from your product. This is the contact to reach out to and ask how you can help them with the next stage of onboarding. 
Seeing inside the black box – finally
So, how do you get this kind of visibility? Our  Sales Enablement offering is the easiest way to  open the POC black box and enables you to closely track and understand your POC environment engagement levels so you can easily view critical points in your POC process:
Know exactly when to follow up with a prospect

Know when there is little (or no) engagement, and where friction occurs

Know how much time a prospect commits to the POC

Know how long a prospect interacted with the VMs used by your product

Know when the POC was completed, and it's time to get in touch for next steps
This power, knowing what's happening behind the curtain, puts you in control of your POC. Once a cloud POC has been sent using CloudShare, you can see in real-time who the heaviest user of the POC environment is, and you can pick up the phone to reach out to them instantly, with the knowledge that they will have feedback for you. Not only that, but you'll have an understanding of whether you're going into the conversation to support challenges and pain points, or whether they are likely to be the champion inside the organization who will help you complete the sale.
3 simple steps to a powerful POC environment
Once you have built the environments to show off your proof of concept, use CloudShare's snapshot feature to create the image your prospects will be using to test out the POC. From there, it's just three easy steps:
Step 1. Create the Cloud POC
CloudShare has a specialized proof of concept creation wizard that allows you to invite prospects to try out your software while ensuring ROI through tight resource controls.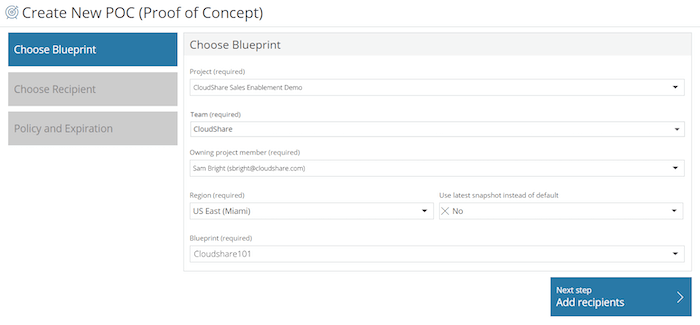 Choose blueprint of environment to share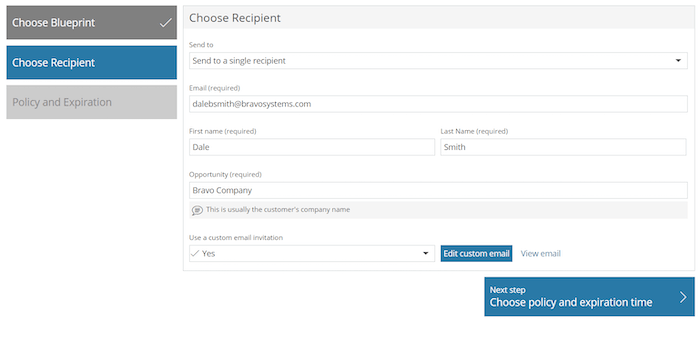 Send to recipients (use a CSV file for multiple recipients)

Enable specific policies for POC access
Step 2. Manage all POC environment users from a single view
Use the simple POC view to track every prospect.  You can benefit from the easy-to-use filters, including status, Opportunity and more.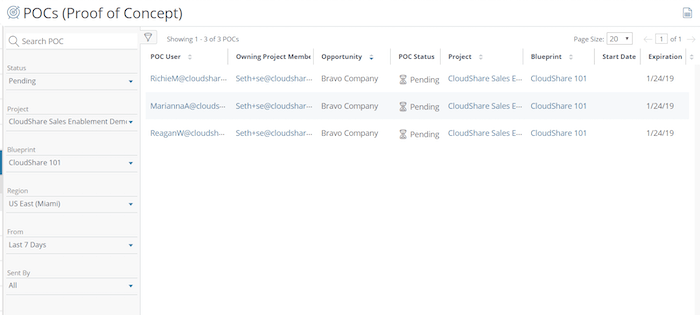 Group view of POC users
Step 3. Track and measure your POC creation with user analytics
View the behavior of any user in depth. See how much time they invested per machine drilling down to single days, and know exactly when it's time to follow-up as a result of friction, churn, or completion.
CloudShare's dashboards provide Opportunity progress levels, metrics on engagement (including VM statistics), details on Blueprints and Environments used, historical behavior and more — all with extensive filtering and drill-down options. These advanced, intuitive Sales Enablement dashboards continuously track and analyze every prospect's level of engagement.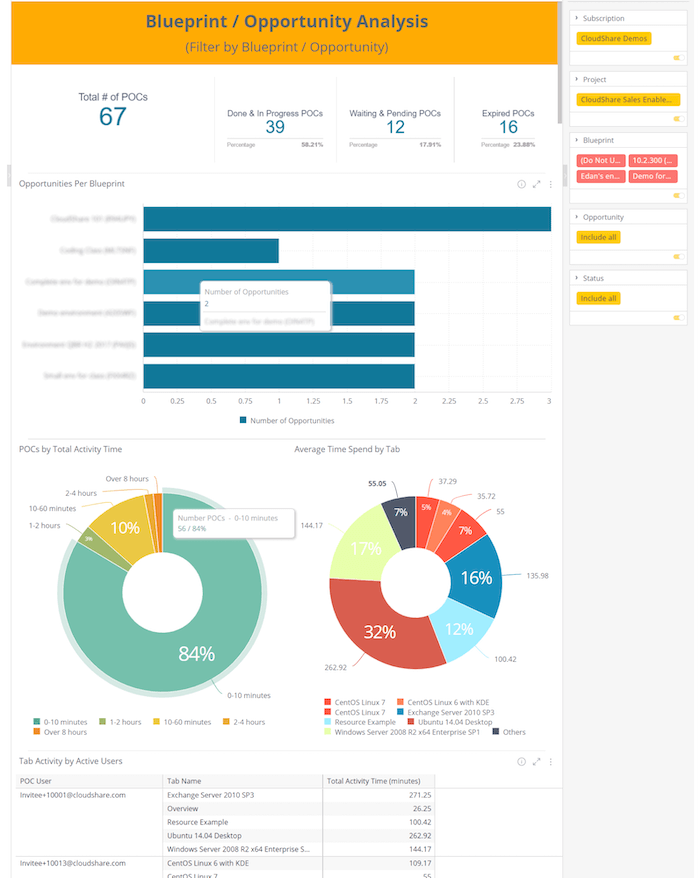 Detailed metrics on POC environment usage
Create Cloud POCs directly from Salesforce
To make this process even smoother for your sales engineers, CloudShare has built-in Salesforce integration enabling engineers to create and send POC invitations directly from within Salesforce and then track end-to-end progress and user engagement within CloudShare.
Overcome the black box of POC tracking in your sales funnel and make your cloud POC a soaring success with CloudShare's software experience platform.
---
What you should do next…
1. Subscribe to our newsletter:
Subscribe to our newsletter below for the latest news, advice and thought-leadership for software professionals. Or visit our blog to browse our most recent articles.
2. Learn how virtual labs can grow your business:
To learn more about how CloudShare helps software organizations grow revenue, increase efficiency and improve quality, visit our resources page. You'll be able to browser dozens of valuable white papers, eBooks, webinars, case studies, and brochures.
3. Get a FREE, no obligation demo:
Discover just how easy it is to create your cloud environment—in minutes! One of our friendly virtual labs experts will be happy to:
Show you the platform in action
Calculate pricing for your business
Set you up with a 14-day free trial
Answer any questions you have
No pressure or obligation