Looking to Improve Partner Enablement? Cloud Development Environments are a Low Maintenance Approach that's Paying Dividends
To get articles like this free in your inbox, subscribe to our newsletter.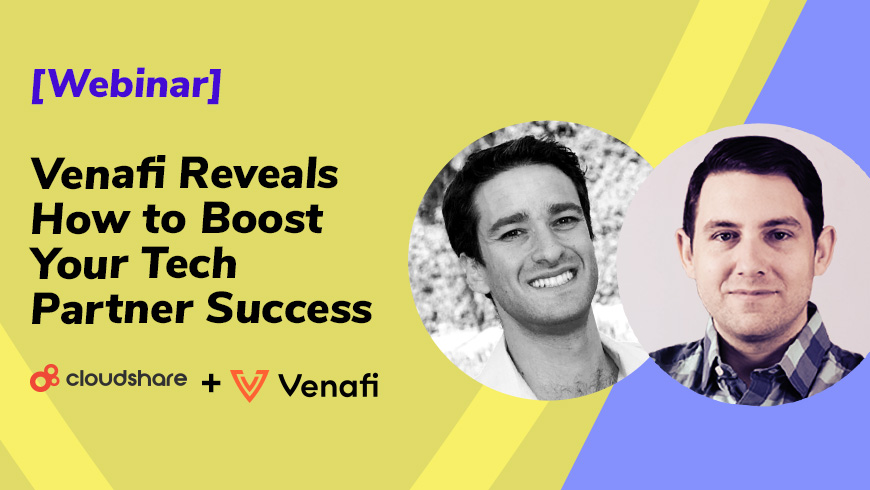 We recently sat down with Paul Cleary, Sr Ecosystem Architect at Venafi to discuss challenges in working with technology channel partners, and how implementing a virtual test environment can make all the difference. 
If you missed the live event, we've got you covered! You can watch the webinar here, or keep reading for the highlights. 
Working with Technology Partners has its Own Unique Challenges
Integrations are key to any software platform that utilizes partners to bring added value to the software customers use every day. An easy way to create and improve integrations is to give your technology partners access to your platform for testing. 
However, this is often easier said than done. For Venafi, some of the top challenges included:
High maintenance and cumbersome technology:

A home-grown solution is complicated to use, and was slowing down development time for partners and developers. Each environment needed to be built from scratch, and involved a complex communication process that started with Customer Success. 

A true lack of visibility into progress and activity:

Venafi didn't know who was using what environment, as there was a black box in the development environments. Teams knew that environments had been created, and could verify that they were sent to the partner, but then the information dropped off a cliff. 

An expensive solution, with unnecessary added costs:

Without the visibility, environments couldn't be shut down accurately, and many environments remained open on the cloud, costing the business heavily in data usage costs. These costs took directly from the bottom line. 
One key challenge that Paul discussed was how multiple teams and processes handled partner enablement—elevating resource costs. Without a dedicated workflow, requests were coming through multiple channels including Customer Success. And with so many customer fires to put out, spinning up on-demand environments sunk to the bottom of the list. 
Paul explained, "we were spending anywhere between 24 hours to a week waiting for these environments before we could give the credentials to tech partners."
(Webinar) How to Use Virtual Env. to Boost Your Tech Partner Success?
Join this live session featuring Paul Cleary and learn how the Venafi team:
Increases partner activity
Slashes setup and maintenance costs
Improves visibility into real-time partner interaction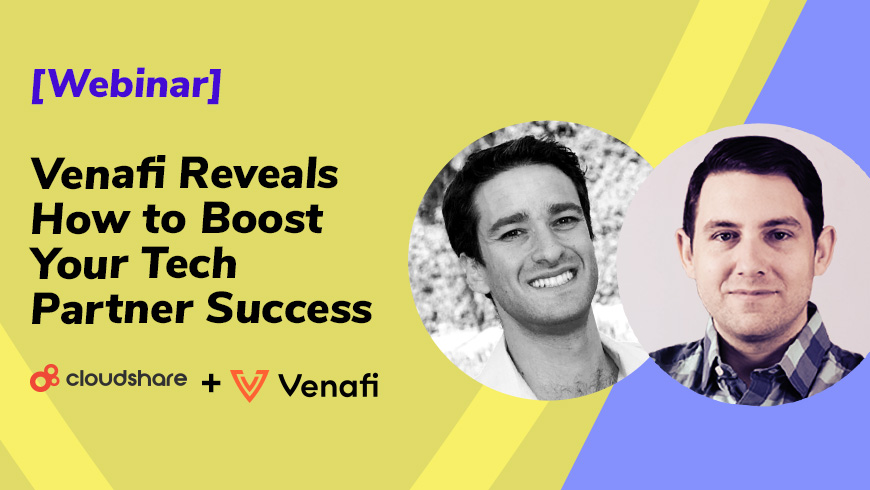 Virtual Test Environments: A Cost-effective Approach for Enabling Flexible Integration Partner Solutions
By onboarding CloudShare, these problems became yesterday's news. Previously, Venafi had to wait for Customer Success to forward the information, and for engineers to build custom environments using a homegrown solution. Now, partners can start working on their integration in the space of a couple of hours. Venafi has transitioned from a lead time of  24-48 hours (at best), and a week (at worst) to less than a day. Development environments can now be spun up in a matter of hours, allowing technology partners to move faster and create better results. 
"We support 8 different versions of our software at any given moment, and we can now provide a snapshot of any of these to our partners, sending any environment to a specific developer using any blueprint." "When we develop new versions of the platform, we can create a new blueprint immediately. This flexibility is essential, and has really made all the difference." 
Venafi also noticed that the partners are getting more support, because they can reach out and provide technical troubleshooting in real time. 
We loved listening to how simple the process is for Venafi since onboarding a POC environment for its users through CloudShare. Paul explained it so simply, saying, "Now that we've got CloudShare, as soon as the partner is interested, I can provide them with a POC environment in 30 seconds. If they have an issue, I can just log in, look over their shoulder and fix it for them, without any bottlenecks and overhead."
Without relying on Customer Support or Success, Venafi architects now have granular visibility into:
Which developers are logging in
Where they spend their time in the development environment 
After all, "there is no reason to have environments running when they aren't in use." 
The business has set up auto-suspend policies based on real-world usage of environments. They have ascertained that 3-6 months is the right amount of time to give to partners to get the job done. Email alerts streamline the process—so if developers need an extension, they can do it with a click or two from the CloudShare dashboard. 
With an all-inclusive pricing model, costs are kept to a minimum. All cloud spending is attached to business results. Ultimately, this is giving Venafi better insight into the ROI of partner enablement as a whole.
This webinar was a home run! Watch the full recording for: 
A live demo

of the Venafi partner development environment, showing how simple it is to send and manage environments for partners or developers on the fly.

Additional use cases

for the CloudShare platform. What started with partner enablement spreads value across Venafi's whole organization. 

6 simple results of virtual test environments

that boost partner sales efficiency and add value to the business, from more throughput of integrations to visibility and control.
---
What you should do next…
1. Subscribe to our newsletter:
Subscribe to our newsletter below for the latest news, advice and thought-leadership for software professionals. Or visit our blog to browse our most recent articles.
2. Learn how virtual labs can grow your business:
To learn more about how CloudShare helps software organizations grow revenue, increase efficiency and improve quality, visit our resources page. You'll be able to browser dozens of valuable white papers, eBooks, webinars, case studies, and brochures.
3. Get a FREE, no obligation demo:
Discover just how easy it is to create your cloud environment—in minutes! One of our friendly virtual labs experts will be happy to:
Show you the platform in action
Calculate pricing for your business
Set you up with a 14-day free trial
Answer any questions you have
No pressure or obligation