CloudShare Announces Quick VM Import Tool for VMware vSphere and Oracle VirtualBox
To get articles like this free in your inbox, subscribe to our newsletter.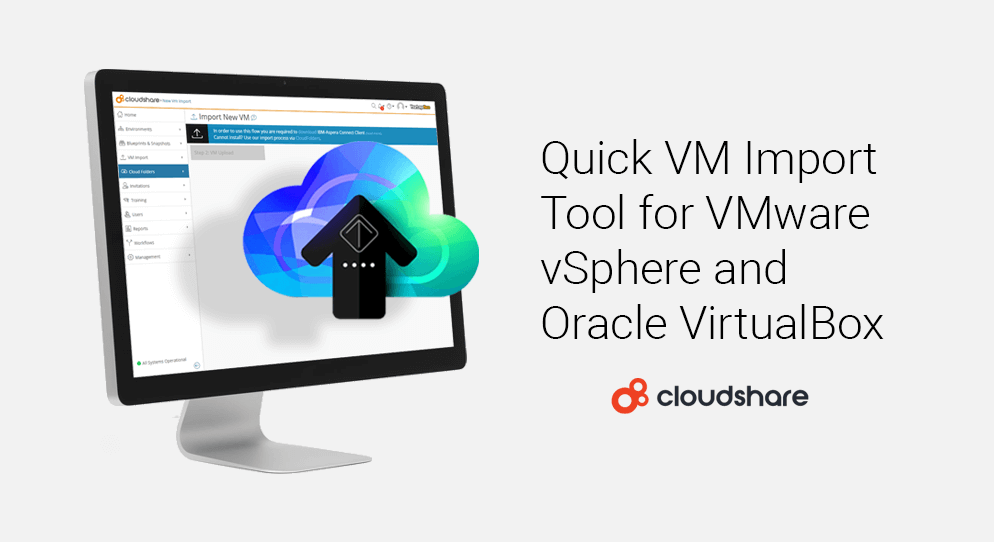 We're happy to officially announce CloudShare's new, quick VM Import tool for both VMware vSphere and Oracle VirtualBox.
While we pride ourselves on our extensive library of customizable virtual machine templates, with built-in licensing for SharePoint, Linux, Docker and many other applications and operating systems, there are times when the most convenient solution is to import existing VMs and recreate your unique environment in the cloud.
This is where our new quick VM Import tool comes in very handy. Our new VM Import tool makes it a snap to upload and connect virtual machines using VMware and Oracle hypervisors, so you can easily recreate your own environment in the cloud, regardless of the complexity.
Our new tool eliminates many of the challenges usually associated with uploading VMs to the cloud, such as grappling with conversion tools, FTP issues, error notifications that appear after hours of waiting, and unclear or non-existent instructions for resolving them.
What's In It For Me?
So, for those of you who want to cut to the chase, here's what you get:
Faster and more reliable upload than FTP
Automated error correction
Intuitive process improves self-service capabilities, reducing demands on IT resources
Multi-hypervisor support (VMware vSphere and Oracle VM VirtualBox)
Easy migration of complex environments to the cloud without the need to re-architect or restructure on-premises applications
We, at CloudShare, knew that we could provide our customers with a better experience, after all, we continuously strive to make the cloud a friendlier, more human environment. So, we implemented a high-speed data alternative to FTP, analyzed the most common errors and automated corrections. We can confidently state that we offer the simplest process for migrating your existing VMware and VirtualBox VMs to the cloud (additional hypervisor support coming soon). Not only does VM Import make it easy to bring your VM into CloudShare, but we provide all the connectivity too, making it easy for you to easily replicate your exact environment, that you can clone, train with, test with, and reuse without limit.
So, whether using our specialty cloud environments for training, sales demos and POCs, development and testing, support, recruitment testing, or any other purpose, our smart VM Import tool allows you to be more productive and more independent. We know that the faster you can get your systems on the cloud, that faster you can start using CloudShare for the purposes you desire.
What It's All About
Our VM Import tool speeds and simplifies the way you migrate virtual machines to CloudShare. Instead of dealing with FTP, grappling with conversion tools, or seeking out special assistance, you simply upload your VMs to CloudShare using our step-by-step VM Import tool.
Our import wizard validates your OVF file, immediately alerts you to any file issues, allowing you to correct them immediately, and then starts the upload process, which runs in the background allowing you to continue working on other things. Progress information is available at a glance.
CloudShare creates a VM template with default networking already set up. You can add your new VM template to any environment, making it easy to recreate and scale complex environments in the cloud.
We work hard to simplify the cloud for our customers. Our VM Import tool is another example of these efforts, allowing technical and non-technical users to take full advantage of the cloud's power for training, sales demos and POCs, and development and testing.
How It Works
It's really pretty simple. Here's an overview of how it works:
Prepare your VM for import.
CloudShare validates your OVF file very quickly and tells you straight away if there's a problem.
CloudShare uploads your VM files in the background.
CloudShare connects the VM automatically to Cloud Folders and the CloudShare network.
CloudShare Makes It Easy
CloudShare's friendly interface makes it super easy and intuitive to use our VM Import tool. After preparing your VM, simply select VM Import from the menu.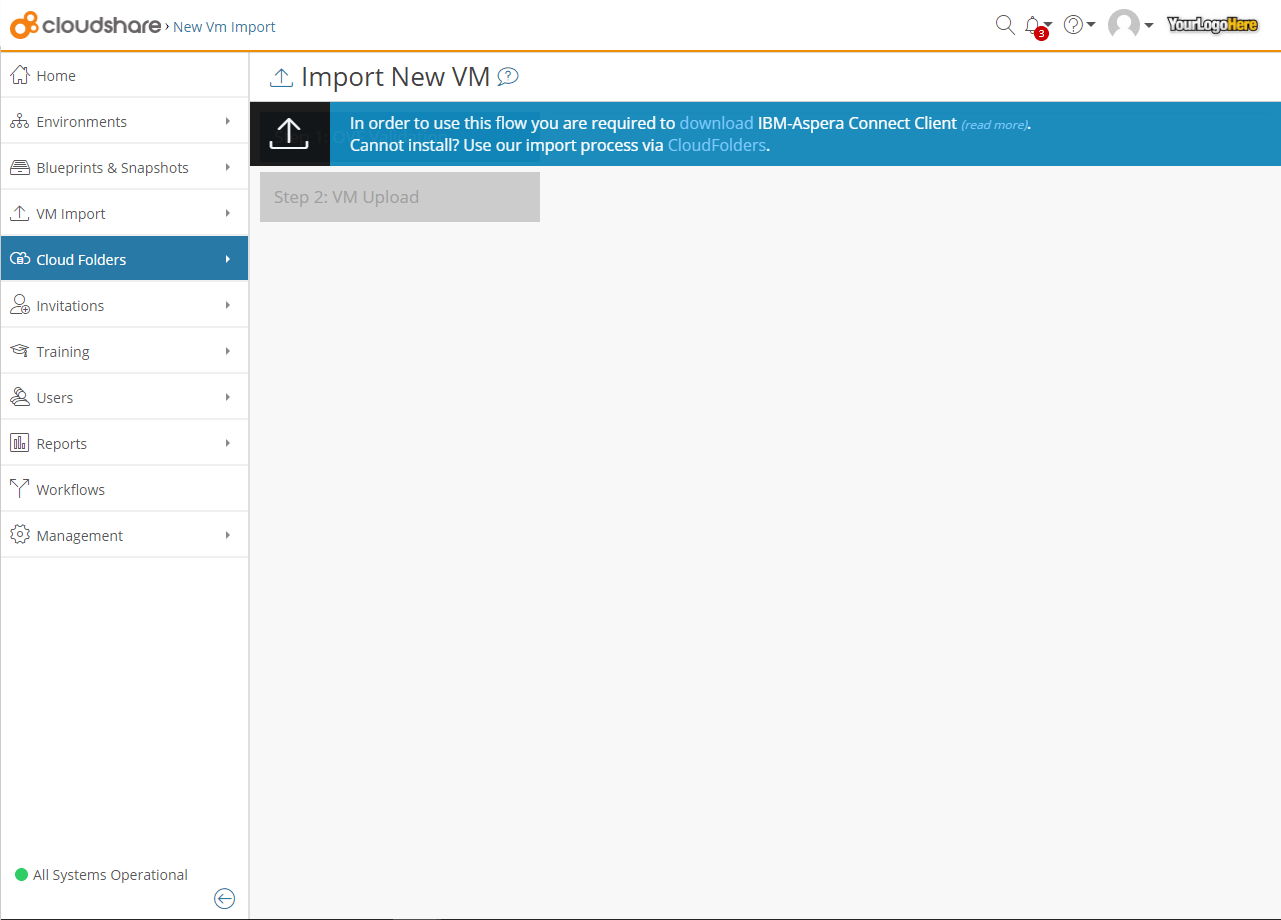 Then upload your OVF file for quick validation.

CloudShare checks the .ovf file to verify the compatibility of the VM that is being imported. This typically takes up to one minute.
If validation is complete and successful, you'll see a success message.

If the validation fails, you'll receive an error message with the failure reason along with suggested corrections. Our unique auto-correct feature may offer to make corrections for you, which you can accept or override.
Upon successful validation, click the Upload your VM button.
CloudShare then asks for a few details, including machine and project names, and starts uploading the VM.
The upload runs behind the scenes so you can work on other tasks until it is complete. Yet, you can check in on the progress whenever you want.

CloudShare automatically assigns an IP address to the new VM template and connects it to the CloudShare network.
That's It! It's Done.
For more information, contact one of our virtual lab experts, today!
Liked this post? You might also be interested in reading about:
Vmware ESXI Nested Virtualization
---
What you should do next…
1. Subscribe to our newsletter:
Subscribe to our newsletter below for the latest news, advice and thought-leadership for software professionals. Or visit our blog to browse our most recent articles.
2. Learn how virtual labs can grow your business:
To learn more about how CloudShare helps software organizations grow revenue, increase efficiency and improve quality, visit our resources page. You'll be able to browser dozens of valuable white papers, eBooks, webinars, case studies, and brochures.
3. Get a FREE, no obligation demo:
Discover just how easy it is to create your cloud environment—in minutes! One of our friendly virtual labs experts will be happy to:
Show you the platform in action
Calculate pricing for your business
Set you up with a 14-day free trial
Answer any questions you have
No pressure or obligation