How Multilingual Capabilities Deliver Smooth Virtual Training Experiences
To get articles like this free in your inbox, subscribe to our newsletter.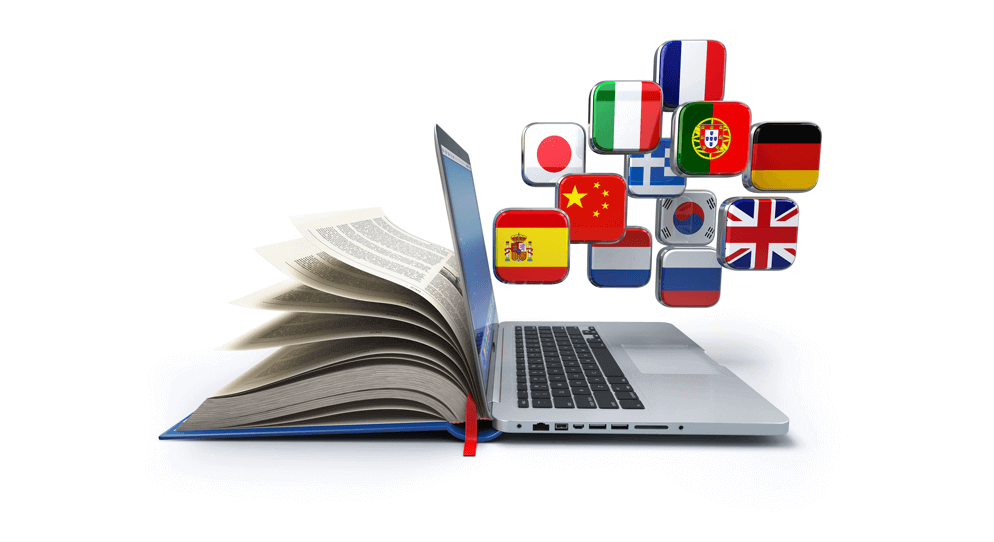 German and Japanese Added to CloudShare's Growing List of Languages
In today's globalized world, many training professionals and organizations know that delivering a better-localized experience is key to increase traction for their businesses. In fact, Nelson Mandela expressed this beautifully when he said, "If you talk to a man in a language he understands, that goes to his head. If you talk to him in his language, that goes to his heart."
Despite the fact that it is often overlooked, providing students with a localized viewer experience is a significant step in the right direction for training organizations wishing to gain a competitive advantage.
And yes, sometimes, it's not only about hearts…localizing your training solution enables you to:
Expand your global reach to non-English speaking countries.
Remember, English is "only" the third largest language by a number of native speakers, after Mandarin Chinese and Spanish. 
Demonstrate cultural sensitivity.
Being able to navigate, understand, and interact with the instructor in their native tongue automatically puts the learner in a "cultural comfort zone," enabling them to concentrate better on the content you are delivering.
Increase training revenues.
Every additional language added to your training offering has the potential to increase sales. Think bottom line when you add two, even three, languages to your global training offering.
Gain a step up on competitors.
In today's competitive environment, multilingual solutions give you the opportunity to effectively target new markets and provide training on your products and services to a much amplified and diversified audience. Think of the business advantage in reaching these new markets ahead of your competition.
Introducing CloudShare's multi-lingual environment viewer
In the past year, CloudShare clients delivered over 10,600 classes worldwide via our global data centers. Our customers rely on us both for our technical expertise in providing cloud-based training labs for software and IT training, as well as our ability to provide specialized features to support their business goals.
In this light, this week we've released our new multi-lingual environment viewer to better support our customers' global training and sales initiatives.
The viewer localization option is now available in German and Japanese with more languages to follow soon.
While instructors have always had the ability to reach students and prospects around the globe with CloudShare, the multilingual viewer makes it easier for learners and prospects to understand instructions and navigate in their local language.
Users simply choose their language from the language button in the toolbar (see the circle in the image).
The Overview page, Actions panel, and In-viewer notifications all appear in the user's familiar tongue.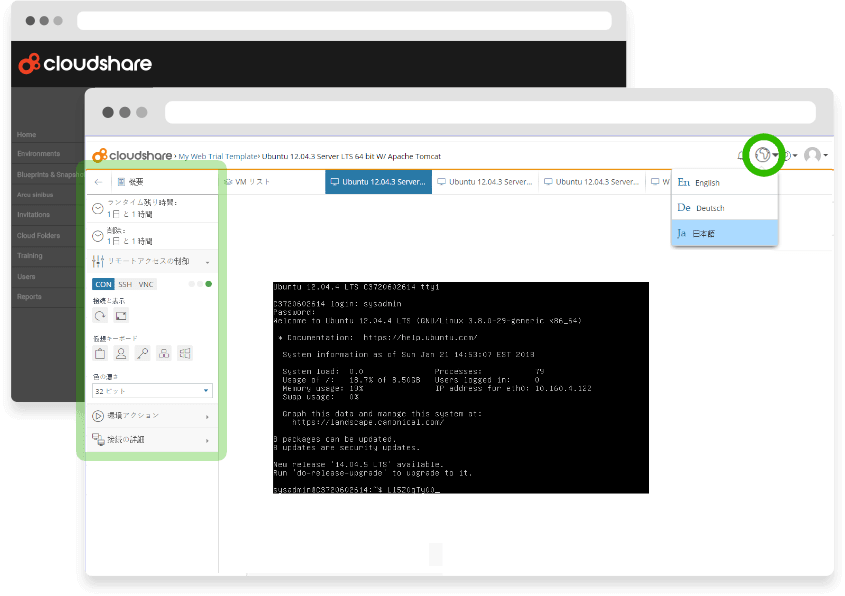 More Features That Support Global Initiatives
In addition to today's viewer release, other recently deployed features to enhance global training capabilities include:
Fast copy of snapshots between data centers.
When using virtual labs in different regions around the world, the challenges of making sure that all your regions are in sync and using the latest version of your environments are understandable
CloudShare's automatic snapshot copying feature is designed not only to make this process simpler and faster, but also to ensure users always spin up the right environment.
The minute you create a new snapshot in one region, CloudShare automatically identifies it and suggests copying it to other regions.
With a simple click, CloudShare copies the snapshot to every region, notifying you every step of the way.
In-viewer actionable speed test.
Unfortunately, sometimes students around the world experience latency issues.
Now, you are able to test and help them achieve the optimal VM viewing experience. The test recommends solutions to help fix any connection issues and automatically suggests the right adjustment for optimal performance-quality balance.
Speaking Users' Language is Key to Global Success
If you're in the business of boosting your organization's success, going local is the key. By speaking your students' and prospects' language, not only are you able to communicate better, you are able to form stronger bonds.
There's no need to wait. Localization is scalable. Start with one additional language and then another. First with your training environment, your trainers, and then your images and product. And remember – to create a fully optimized local experience, you must understand your users' culture as well. Wishing you happy localizing!
---
What you should do next…
1. Subscribe to our newsletter:
Subscribe to our newsletter below for the latest news, advice and thought-leadership for software professionals. Or visit our blog to browse our most recent articles.
2. Learn how virtual labs can grow your business:
To learn more about how CloudShare helps software organizations grow revenue, increase efficiency and improve quality, visit our resources page. You'll be able to browser dozens of valuable white papers, eBooks, webinars, case studies, and brochures.
3. Get a FREE, no obligation demo:
Discover just how easy it is to create your cloud environment—in minutes! One of our friendly virtual labs experts will be happy to:
Show you the platform in action
Calculate pricing for your business
Set you up with a 14-day free trial
Answer any questions you have
No pressure or obligation