CloudShare Grows With You! – Announcing Multiple Environments
To get articles like this free in your inbox, subscribe to our newsletter.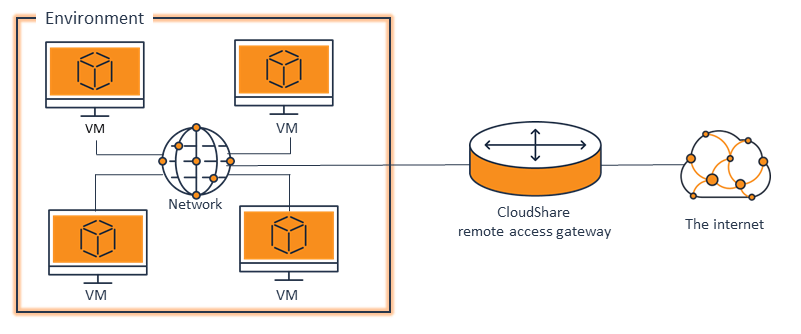 Now your CloudShare account can grow with you and your organization. Have as many environments as you need when you need them. Assign environments to developers. Control who sees what environments. Grant and remove access with ease. CloudShare is very excited to announce the ability to have multiple environments under a single account.
October 30th 2011 marks the launch of Multiple Environments and a few other changes. Here is what is new:
1.) Ability to purchase multiple environments under a single account
2.) Ability to assign environments to team members from your homepage
3.) Ability to purchase several subscriptions at once
4.) Share a copy has moved
5.) My Account page has changed
This change comes with a few new terms:
Subscription: Subscriptions are licenses to use Cloudshare Environments. Subscriptions can be purchased individually or in bulk and are applied to individual environments as needed. When you create a new environment subscriptions you have already purchased will be automatically applied. If you do not have enough subscriptions available you will be entered into the purchase subscription screens. If you are utilizing a shared copy of an environment you cannot apply a subscription until you "Take Ownership" of that environment. The blue box below will tell you how many subscriptions you own, how many have been applied to environments, and how many have not yet been applied. Subscriptions are billed monthly or yearly, this is called the subscription term. Once you have selected a term upon your first subscription purchased all subsequent subscriptions will share this term. You can change the term for all your subscriptions under the "My Account" tab, and click "Change".
Assign: The "Assign team members" button allows you to grant other individuals access to specific environments. The recipient will only see the environments he/she has access to and does not have to be a paying ProPlus user to access them. They will have full control of the environment except for deletion rights. Assignment is available only for environments you own. This feature used to be available under "Invite Others".
Copy: The new "Share a Copy" button allows you to easily send to a recipient an independent copy of your environment. Anything they do, will not be visible to you. By default the recipient will have the environment for two calendar days. If they take ownership of the environment they will have it as long as they are subscribers. This feature was formerly apart of the "Invite Others" button.
Existing ProPlus users will notice the subscription box, and the new "Assign Team Members" button in place of the "Invite Others button". "Invite others" is now two separate options "Assign Team Members" button, and the "Share A Copy" button in the View Environment page.
Now organizations can scale CloudShare as needed. The various ways organizaitons are doing this is by developer, by project, by shared resource or some combination thereof.
Some organizations choose to purchase independent environments by developer. Allowing develoeprs to have their own independent sandboxes. While others tend to have multiple developers on a single project will purchase environments per project and assign multiple developers to the environment. Some organizations also have a concept of shared resources. For example a Shared TFS server, SQL Server, or other resource. For this they will have one or more environments for the shared resources that everyone on the team has access to, and an environment per developer or project in addition. As you can see the flexibility is endless and we find many organizations want a combination of per developer, per project, per share resource all under a single billable account! The ease of creating the environments and assignment make the process of provisioning IT infrastructure even easier. Also this new feature allows members to only see what they have access to, hence security is easy to administer.
To start using the new multiple environment features simply click "Create New Environment" or the "Purchase Subscriptions" button.
Enjoy the new flexibility that multiple environments brings you. Happy Cloud Sharing!
---
What you should do next…
1. Subscribe to our newsletter:
Subscribe to our newsletter below for the latest news, advice and thought-leadership for software professionals. Or visit our blog to browse our most recent articles.
2. Learn how virtual labs can grow your business:
To learn more about how CloudShare helps software organizations grow revenue, increase efficiency and improve quality, visit our resources page. You'll be able to browser dozens of valuable white papers, eBooks, webinars, case studies, and brochures.
3. Get a FREE, no obligation demo:
Discover just how easy it is to create your cloud environment—in minutes! One of our friendly virtual labs experts will be happy to:
Show you the platform in action
Calculate pricing for your business
Set you up with a 14-day free trial
Answer any questions you have
No pressure or obligation