Thanks to our incredible customers… CloudShare scored a G2 hat-trick!
To get articles like this free in your inbox, subscribe to our newsletter.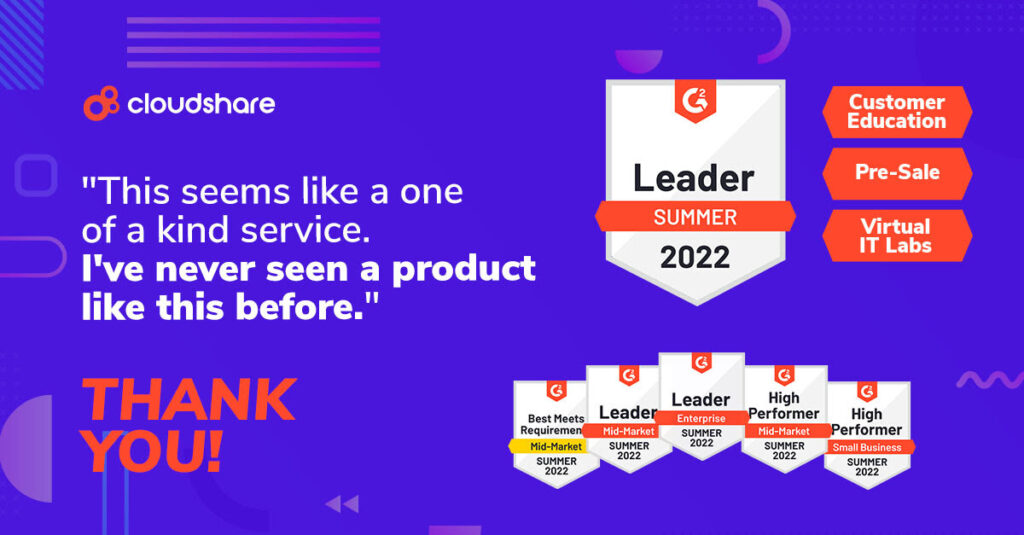 It's always great to get industry recognition, but there's something extra special about the validation that comes directly from our customers!
CloudShare has received a number of G2 awards over the past few years, but we're delighted to announce that we have been announced leaders in all three of our listed categories for 2022, pre-sales, customer education, and virtual IT labs. 
We are so grateful for the support of our customers, and committed to using this position as market leaders to continue to offer you the best virtual experiences possible. Simply put — we couldn't have come this far without you! 
Sales Enablement in a new word: Challenges, Skills and Tech - Webinar
Why Virtual Experiences are Here to Stay
When you look at all three of our listed categories, the common thread that runs through them all, and that truly brings them all together as one, is virtual experiences. 
Pre-sale, our customers use the CloudShare platform for immersive and customizable demo experiences that prove the value of the product earlier in the sales cycle. 
In Customer Education, virtual labs are used for speeding up onboarding on complex software, upsell and expansion opportunities with new features and updates, and for boosting engagement with eLearning and online courses. 
Finally, with virtual IT labs, software training can improve customer and partner training by providing hands-on experiences, supporting more accurate certification and assessments, and offering a truly engaging experience for any user. 
Welcoming in the Product Experience Category
If you have Google alerts set up for "learning experiences", (No? Just us?) then you've likely heard about an emerging category coined by Garner as Product Experience. 
This is a category that is focused on the accelerated growth of sales technology, and has been partly triggered by trends in the market towards a rep-free demo experience. Gartner describes the category as automation that supports a demo delivery that can be offered both live and on-demand. 
This is an essential category, because while service, sales and success interactions are increasingly touchless, the demo is still a critical part of the pre-sale and even post-sale experience. 
According to Gartner, "50% of buyers surveyed cite demos as one of the most valuable materials during the buying cycle", and "58% of buyers cite "demonstrations" as a call to action they would respond to in a marketing campaign", for example when an organization is marketing an upsell or expansion opportunity. Whether it's pre-sale or post-sale, effective demos are must-haves. 
However, with the market moving towards fewer in-person human interactions, today, you have to be able to let the product do the talking. 
Despite this category still being in its infancy, we are delighted to already be making waves across our customer base and software industry as a Sales Experience Platform, and for customer training — a Learning Experience Platform (LXP), too.
What's Next for CloudShare?
By listening to our customers, we are always working to support the needs of the industry. Offering virtual experiences isn't enough in and of itself. To keep those 5-star reviews flowing, we need to be able to continue to deliver optimal engagement from end-users by allowing our own customers to provide exactly what they need, when they need it most. From our research, that means: 
Virtual sales experiences: The demand for virtual POC environments grew by 368% in 2021, and the drive for interactive demos is self-evident from the Gartner research above.
VILT and self-paced learning: Self-paced learning jumped 365% last year, proving the need to support hybrid and blended experiences. 
Engagement features: Multi-instructor and video conferencing have both been winning features that we have practically seen drive measurable business impact. 
Customer experience as King: The top spending priority for training budget in 2022 is Customer Experience. We're continually looking to add interactivity and engagement to the platform.
To our amazing customers who have supported us all the way — thank you again, and watch this space! 
Right around the corner, we'll be launching a whole new concept for virtual product experiences that is going to disrupt both the Sales Experience and the Learning Experience categories, bringing more interactive features, enhanced analytics, and greater engagement opportunities to boost your business growth. Stay tuned…
Sign up to our mailing list here, and be the first to know when new features and products have dropped.
---
What you should do next…
1. Subscribe to our newsletter:
Subscribe to our newsletter below for the latest news, advice and thought-leadership for software professionals. Or visit our blog to browse our most recent articles.
2. Learn how virtual labs can grow your business:
To learn more about how CloudShare helps software organizations grow revenue, increase efficiency and improve quality, visit our resources page. You'll be able to browser dozens of valuable white papers, eBooks, webinars, case studies, and brochures.
3. Get a FREE, no obligation demo:
Discover just how easy it is to create your cloud environment—in minutes! One of our friendly virtual labs experts will be happy to:
Show you the platform in action
Calculate pricing for your business
Set you up with a 14-day free trial
Answer any questions you have
No pressure or obligation