Now Available: CloudShare Training Solution for SaaS to Ensure Immediate Customer Value
To get articles like this free in your inbox, subscribe to our newsletter.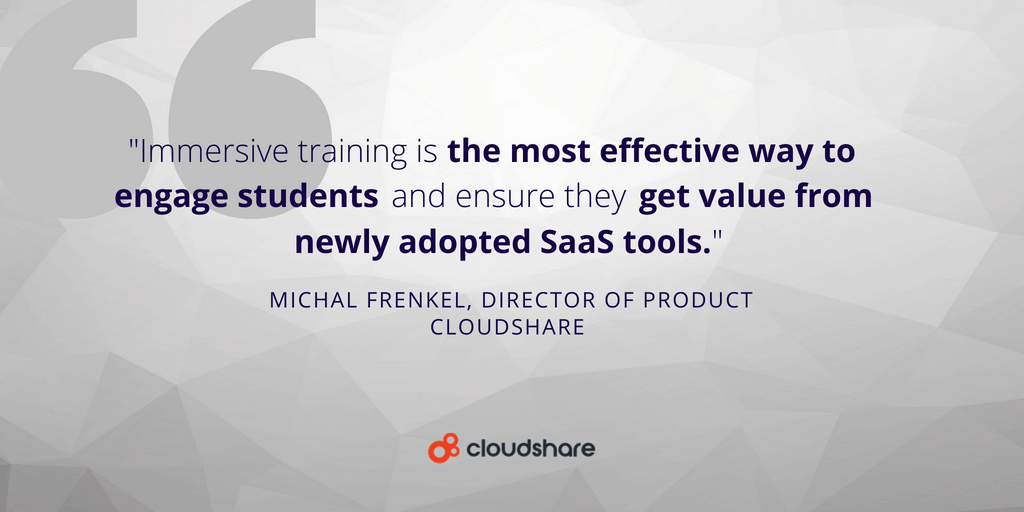 The market for SaaS applications is booming, with a high point of $71 billion predicted this year. It's not hard to figure out why organizations are allocating more budget for SaaS. These applications have a lower cost of entry as compared to on-premise options, and the vendors do the hard stuff: managing upgrades, ensuring uptime and providing security. However, SaaS applications are also easy for organizations to turn away. If users aren't adopting the technology as expected, the pay-as-you-go model invites cancellation.
Retention is why training is so critical to success for SaaS vendors, and it's why we built CloudShare Training Solution for SaaS, which is now available.
Training helps customers fall in love with SaaS solutions
One of the primary reasons organizations walk away from complex SaaS applications is because their employees fail to adopt and use these solutions in a way that enables the organization to realize their full value. And one of the primary reasons for that is a lack of training.
During the past decade in which we've delivered award-winning cloud-based training solutions, we've learned that the most effective technology onboarding depends on hands-on, instructor-led classes. Today's general availability of CloudShare's Training Solution for SaaS enables vendors to deliver this interactive, high-value training mode, regardless of the cloud where the application resides. Our new offering also supports a hybrid mode, letting you combine SaaS applications with VMs in the same CloudShare environment. This enables you to easily simulate real-life scenarios for endpoint security, Internet of Things (IoT), and other complex applications.
Students access the virtual classroom with a single click from any browser, without installing any software or doing any setup work.
On the instructor side, SaaS trainers get a full-featured console from which they can:
View an entire class from a single screen;
View student progress in real time;
Answer student questions and assume control to assist students as needed
Our comprehensive solution also makes it easy and quick to set up and invite students to class. And pre-built dashboards and rich analytics capabilities make it simple to measure usage by instructor, product, region and more, so you can continuously improve your training delivery.
Make SaaS stickier with superior training experiences
Even the best products can fail if the intended users never learn to rely on them or apply their capabilities. An immersive learning environment makes SaaS tools stickier, ensuring customer retention and a bigger piece of the growing market for efficient, effective technology that is remotely managed.
Your instructors can get start running classes in minutes with CloudShare Training Solution for SaaS Applications. When they do, they'll help move customers from wanting your SaaS offerings to needing them.
---
What you should do next…
1. Subscribe to our newsletter:
Subscribe to our newsletter below for the latest news, advice and thought-leadership for software professionals. Or visit our blog to browse our most recent articles.
2. Learn how virtual labs can grow your business:
To learn more about how CloudShare helps software organizations grow revenue, increase efficiency and improve quality, visit our resources page. You'll be able to browser dozens of valuable white papers, eBooks, webinars, case studies, and brochures.
3. Get a FREE, no obligation demo:
Discover just how easy it is to create your cloud environment—in minutes! One of our friendly virtual labs experts will be happy to:
Show you the platform in action
Calculate pricing for your business
Set you up with a 14-day free trial
Answer any questions you have
No pressure or obligation