Customer Training is More Important Than Ever – But Are You Investing in the Right Tech?
To get articles like this free in your inbox, subscribe to our newsletter.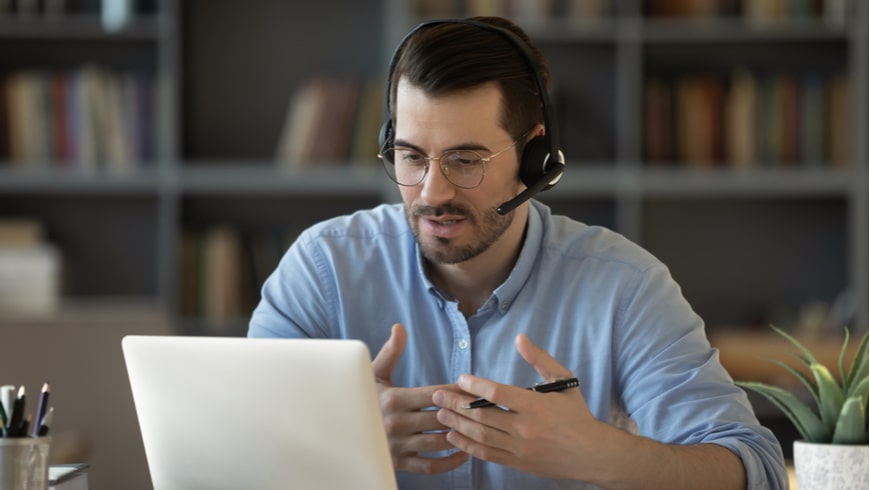 Four years ago, just over three-quarters of companies had virtual customer training tech in place. In 2020, that number shot up to 98%. It's no longer a question of whether or not you just invest in virtual training tech for customer education. Now, it's a question if you're getting the most out of your investment.
The pandemic has left organizations with new challenges to solve; chief among them is effective customer training in a new remote world.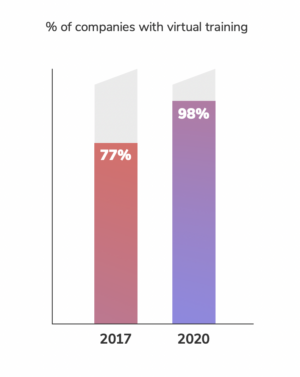 Training tech for customer education continues to play a vital role in giving your engineers, sellers and support reps what they need to get customers up to speed quickly. But getting technology spend right, identifying which training solution will work best for your org, and convincing stakeholders to give the green light isn't simple.
3 Reasons Virtual Training Tech is Becoming So Popular
The rapid adoption of virtual customer training platforms wasn't a short-term response to a newly remote world. Instead, it was a shift to a more innovative approach to customer training.
Why?
1. First, virtual training can be far more effective and efficient than other modes of education. Ken Blanchard Companies found that virtual training reduces instruction time by up to 60% and reduces costs by 50%, when compared to classroom training. Virtual training software has established itself as a key fixture in organizations today—just as email, productivity, CRM and ERP platforms have in the past.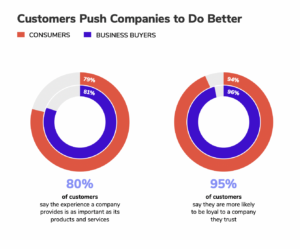 2. Second, delivering exceptional experiences is essential, given new buyer expectations. 8 out of 10 customers say their experience is just as important as the product they're using or service they're paying for (see our 2022 report below for more detail). Even more telling, 95% of customers say they are more likely to be loyal to a company they trust. What better way to build trust with new customers than by providing them with a fantastic onboarding experience and virtual training environment?
3. Third, sales organizations need a new way to provide customer training. 8 out of 10 organizations use more than four different training technologies, and nearly 4 out of 10 use more than 8. At the same time, only 10% of these same organizations say they're confident about the integration between all these platforms. If the past few years have been about adoption of virtual training tech, the next few years will be defined by consolidation and optimization in the right tech.
Learn More About Your Training Tech Options
Are you looking to adopt new tech for your 2022 software training program?
Virtual training has given business continuity to software companies during COVID-19. In 2022 and beyond, it's now a must-have for any software company looking to elevate key training metrics.
There's only one problem: with so many tools and technologies out there, how can you tell which customer training platform you need to keep up with the new virtual norm?
On top of expanding the data we hinted at above, "The State of Virtual Training Technology" industry report includes 12 step-by-step tactics to find the right technology for your organization. 
No matter what your role is in your organization's training operations, this is one report you HAVE to read.
---
What you should do next…
1. Subscribe to our newsletter:
Subscribe to our newsletter below for the latest news, advice and thought-leadership for software professionals. Or visit our blog to browse our most recent articles.
2. Learn how virtual labs can grow your business:
To learn more about how CloudShare helps software organizations grow revenue, increase efficiency and improve quality, visit our resources page. You'll be able to browser dozens of valuable white papers, eBooks, webinars, case studies, and brochures.
3. Get a FREE, no obligation demo:
Discover just how easy it is to create your cloud environment—in minutes! One of our friendly virtual labs experts will be happy to:
Show you the platform in action
Calculate pricing for your business
Set you up with a 14-day free trial
Answer any questions you have
No pressure or obligation