How To Effectively Train Staff Virtually To Use and Understand Your Medical Device Security Software
To get articles like this free in your inbox, subscribe to our newsletter.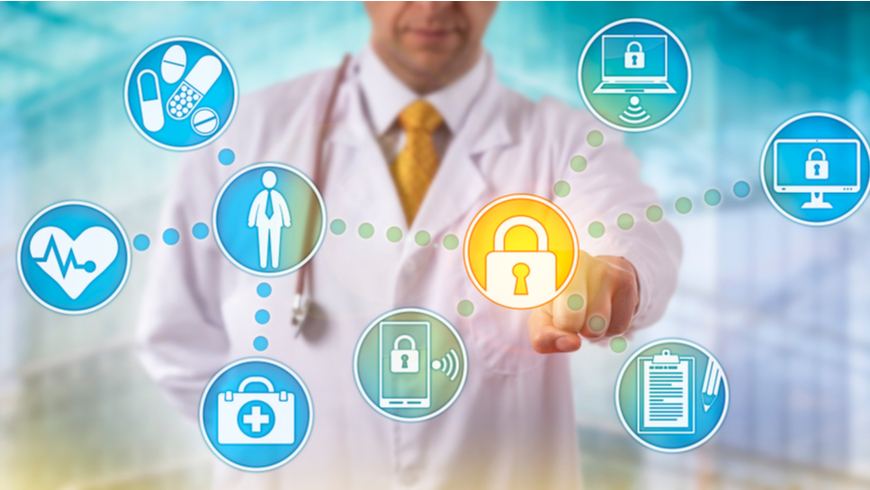 Medical device training is daunting for even the most tech-savvy medical staff, let alone getting them up to speed with the right cybersecurity training for those devices.
Training your team on how to use and interpret complex medical device cybersecurity software can be a nightmare, especially when users are located globally and may be less tech savvy than you'd hope.
Here are 9 tips on how to train your staff virtually to use and understand even the most complex medical device software.
1. Create an Open Communication Environment
When done well, virtual training should create a sense of community and help build trust. When training your staff, you have to make sure that everyone feels comfortable asking questions that may seem obvious or elementary.
It's important to create an environment where no question is a bad question and everyone feels comfortable voicing their concerns.
Keep these three tips in mind when planning your next virtual training session:
Host the training on a platform where you can share your screen while talking to the attendees. This will allow you to demonstrate the software and answer questions as they come up, which builds trust and confidence in the tool.
Make sure the attendees know how to use the platform's chat feature so they can ask questions during your presentation. Keep an eye out for questions so you can address them during your presentation or answer them at the end of your training session. It's important that everyone feels heard!
Encourage feedback throughout your training session. Asking attendees questions helps everyone stay engaged and prompts constructive feedback about your presentation or their experience with the training material.
2. Create a Positive Experience for Your Audience
In addition to ensuring your audience feels comfortable communicating and engaging, you need to also show them how much you value their hard work and dedication. When training on new medical software, it's easy for people to become frustrated. It's important that your trainees know to be as patient with themselves as you are going to be.
The best way to do this is by acknowledging the fact that they're taking time out of their busy schedule to learn how to use new software. This will make them feel appreciated and respected, which will in turn help them feel more comfortable asking questions during medical device training sessions.
Be empathetic toward your staff's learning curve.
This is especially true if you're training people of differing age groups and experience levels. It's important not to rush through any part of the training process with medical cybersecurity training, and your patience will be rewarded when your team fully grasps what you're teaching them.
3. Make Healthcare Cybersecurity Training Accessible
When training your staff virtually, you need to make sure you are doing it in a way that is easy and accessible for everyone. This can be done by using a wide variety of platforms and resources to enhance the learning experience of your employees.
Some examples of platforms and resources include
Pre-recorded videos or webinars that can be accessed at any time during the working day (and possibly at home too).
Webinar presentations which can take place during scheduled times throughout the week so everyone can attend them live if they wish to do so
Online forums or chat boards which can allow employees to discuss what they have learned from webinars, presentations, and videos, as well as seek advice from others who might already have more
4. Be Empathetic Toward your Audience's Learning Curve
Training staff to use your medical device software is a bit different than training them to utilize more traditional security products. It's a highly technical subject matter, and often requires a great deal of information to be taught to employees as quickly and efficiently as possible.
However, it can also be a bit intimidating for some employees. That's why it's important for you to be empathetic toward their learning curve when delivering the training.
Start by putting yourself in their shoes. If it were you being trained on your product, what would you want the trainer to do?
You would want the trainer to explain the most important aspects of how your product works and why it's important that they understand those functions. You'd also want them to make sure you understood all the terminology being used and provide context around it so that you can have a firm grasp on what that terminology means before moving onto more complex topics.
Remember, your staff will be diverse in their tech savviness and capabilities, and it's crucial they ALL learn your software and cybersecurity medical device regulations. It's a lot.
The best way to handle this is to make sure they feel comfortable and know how to use the technology. If you explain everything slowly but thoroughly, you'll set them up for success, which will help them in all their future virtual training as well!
5. Engage your Learners
As any medical professional will tell you, training staff to use and understand your software can be difficult. In most large organizations, it's a common struggle to get staff to attend and participate in training sessions. Add in the new challenges of staying connected remotely and training employees becomes even more difficult.
Virtual cybersecurity training sessions aren't as simple as webinars or video conferencing tools. To keep your employees engaged, consider these tips when training staff virtually:
1. Reduce as much friction as possible.
The more complicated your virtual learning environment is, the more likely people will disconnect. Use engagement tools like virtual training labs to simplify the process.
2. Make it interactive.
Training sessions work best when they are not one-sided lectures. Use surveys, polls, chat rooms and other interactive features to get your participants involved. One useful such tool is Cloudshare's Content Panel tool. Need to show your audience an additional resource other than what you're presenting? Simply add it to the Content Panel for all to see. It makes it easy to pull up supplementary materials and increase learning comprehension.
3. Set clear goals and expectations
Before you begin to train a large group of people virtually, it is important to set clear goals for what you want to accomplish. What do you want attendees to walk away with after training? What level of knowledge and skill are you trying to impart? Knowing the answers to these questions can help you create an effective online training program.
For example, if your goal is for employees to be able to use a specific function of the software, a video training session or a webinar would be effective because they give step-by-step instructions on how they can do so. If your objective is more general, such as educating employees on the importance of a subject and why it matters, then perhaps a different medium would be more suitable. Regardless of what you're presenting, know why you're doing it and what outcome you're trying to achieve. Ensure that your audience knows what and why they're learning what they are.
6. Create Medical Device Training that's On-Demand
The last thing your staff wants is to feel overwhelmed and dread participating in their required training. In order to maximize retention, it's important to create training materials that can be viewed at a time when it's most convenient for them. With an on-demand training platform, you can create and upload all training materials so that your staff can view the training whenever it is convenient for their lives, at times they're able to perform at their best.
An on-demand training platform can help you train your staff virtually by creating a single repository of all of your company's content. On-demand training also allows you to assess your staff's knowledge with quizzes throughout the course material. This allows you to test whether or not they are truly understanding what they are learning.
7. Balance Self-Guided and Group Trainings
Group training is especially useful when you have a larger team of employees that need to be trained. During these sessions, you may want to host a webinar with a live instructor or host a conference call with participants who can ask questions. Group training is best for onboarding and introducing new features.
Self-guided training is essential for employees that are not as tech-savvy and may require more time to learn how to use the software. This type of training also allows employees to work through an online course at their own pace. They can learn at their own pace and receive refresher courses on topics that only apply to them.
8. Pay Attention to Your Analytics
When you train your staff virtually, it's important to pay attention to your analytics. This is a key component of your training program and will provide you with all of the data you need to make the necessary changes when needed.
An analytics dashboard also makes it easier for you to monitor learner engagement throughout their course because all of the data about their activity is aggregated into one place. This allows you not only see what they're doing but also when they're doing it, and how it's going.
You can use your analytics dashboard to measure things like:
Completion time
Pass rate
Time spent in each section
Page views per session
Learner drop-off rates
Each of these are extremely useful metrics to pay attention to when assessing which areas your students need help in, and also when evaluating what aspects of training you could improve on yourself.
9. Bring in Help
When you're training a large group, it's important to have multiple instructors. For example, you might have one instructor in charge of the presentation slides and another do the presenting, and then switch.
You can also break up the program into smaller parts with different instructors so that your audience won't have to sit through long presentations by the same presenter.
One popular method is having one main instructor and at least one assistant instructor. This will help keep the audience engaged throughout the length of the medical device training.
The main instructor will be the primary presenter while the assistant instructor moderates questions and answers and keeps the audience interested. The assistant instructor can also provide additional information or examples when requested by the audience.
Medical Device Security Training Doesn't Have to be Difficult—or Boring
We all know that training staff, especially for specific medical security software, can be tricky. Training employees using online, virtual learning environments are proving to be the answer. It's easy, affordable, and convenient.
To ensure you do it right, follow these tips and you will be in a great position going forward.
---
What you should do next…
1. Subscribe to our newsletter:
Subscribe to our newsletter below for the latest news, advice and thought-leadership for software professionals. Or visit our blog to browse our most recent articles.
2. Learn how virtual labs can grow your business:
To learn more about how CloudShare helps software organizations grow revenue, increase efficiency and improve quality, visit our resources page. You'll be able to browser dozens of valuable white papers, eBooks, webinars, case studies, and brochures.
3. Get a FREE, no obligation demo:
Discover just how easy it is to create your cloud environment—in minutes! One of our friendly virtual labs experts will be happy to:
Show you the platform in action
Calculate pricing for your business
Set you up with a 14-day free trial
Answer any questions you have
No pressure or obligation