Five tips to get the most out of remote working and virtual training
To get articles like this free in your inbox, subscribe to our newsletter.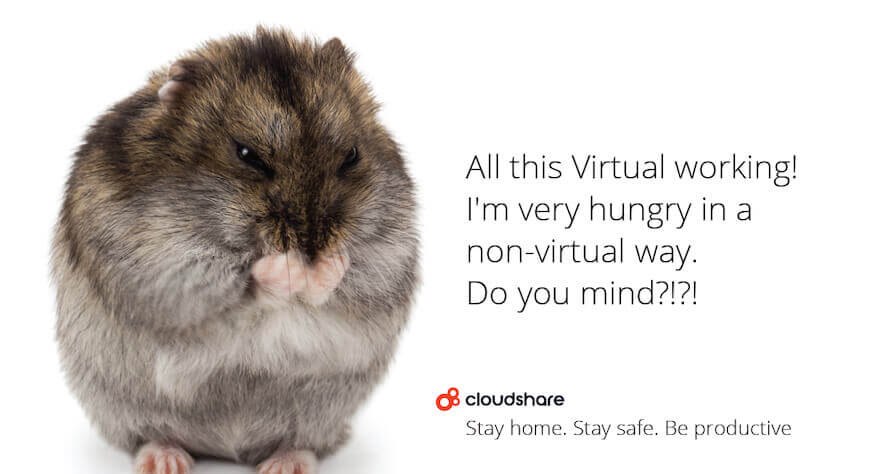 Our team is not alone in the wave of employees now working from home instead of a central location. The "new normal" means a new office – from your couch, kitchen table or bedroom desk – and it means new distractions as well. 
Kids that are home from school require attention. Parents are shifting and coordinating schedules. Pets are loving the all-day attention but confused about why their humans can't take them for more frequent walks.
You may be wondering how you can balance these new factors and still stay a productive employee. Our team is here to reassure you and share those tips that are helping us to keep moving ahead.
(WEBINAR) Students Are Bored Out Of Their Minds??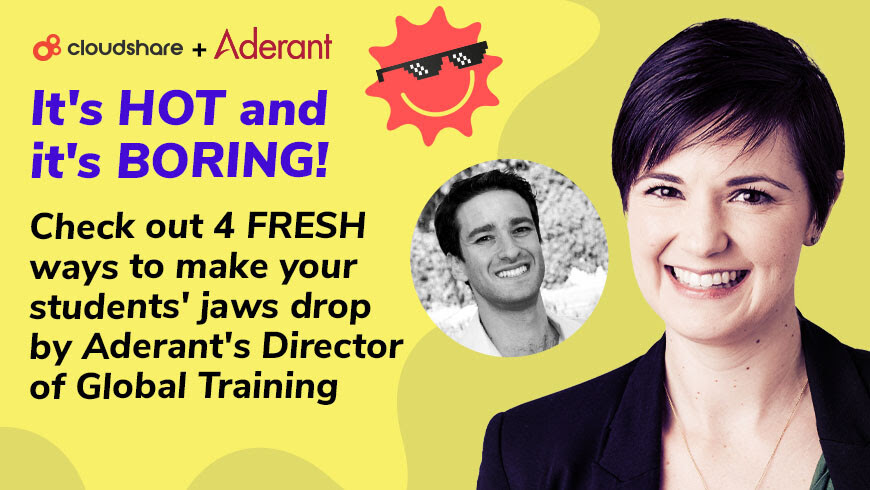 Get dressed
Home attire is not the same as work-from-home attire. Your off-hours around the living room might be the perfect venue for those comfy penguin pajamas, but the print may not be the message you want to send to coworkers on the occasional video call. The CloudShare team has committed to getting dressed and keeping a casual, but no-pajama zone.
Plan ahead
Since the team isn't attending meetings and accessing documents from the same office, \take extra precautions to ensure everyone has materials in hand for discussions and are ready to go. We simplify this by shipping all materials to everyone in advance. If the parties involved can confirm receipt, we can confirm we're all on the same page. Also, if your team is new to screen sharing platforms and virtual collaboration tools, give them extra time to work out the kinks.
Keep communication professional
As more kids start their lessons from home, we are witnessing examples of what not to do during virtual instructor led training or online meetings. The teacher may have technical issues with the video link, which causes a late start. When students don't mute themselves, the chatter or background noise distracts from the lesson at hand. When interacting with coworkers, stick to your agenda and mitigate distractions so attendees can focus on the lesson at hand. If you can get behind a closed door, put up a sign when you're in a meeting to keep from being disturbed.
Be secure
While working or training remotely, be mindful of security, since if recent events weren't dominating the headlines, the latest corporate breach would be. Working remotely means potentially forfeiting some of the more robust security measures and benefits that an office has in place. Be sure to double check that your VPN connection is secure, as is your home Wi-Fi network. Make sure proper permissions are given to documents and only approved users can access them. It's better to be too tight versus loose when it comes to permissions. 
Create camaraderie
You may start to miss the social interactions between you and your coworkers. An emoji or a Slack message may not carry the same weight as retelling a funny joke from the latest TV episode or a humorous quote from a family member. To stave off separation anxiety, CloudShare builds in opportunities to bond and stay connected. We join a video call to connect for a daily coffee in the morning. We're also continuing with our standing happy hour every Thursday, which we'll hold over Zoom instead of in the office common area, BYOB naturally.
It's one thing to work remotely by choice or because your company allows it. It's completely different when you have to do it for the greater good. As we get used to this brave new world of remote working, we should be prepared to hunker down for a potentially long haul. Keep these tips in mind to stay better engaged and productive.
Are you wondering how you can take working virtual? Here are 7 tips for remote training when face-to-face won't do.
---
What you should do next…
1. Subscribe to our newsletter:
Subscribe to our newsletter below for the latest news, advice and thought-leadership for software professionals. Or visit our blog to browse our most recent articles.
2. Learn how virtual labs can grow your business:
To learn more about how CloudShare helps software organizations grow revenue, increase efficiency and improve quality, visit our resources page. You'll be able to browser dozens of valuable white papers, eBooks, webinars, case studies, and brochures.
3. Get a FREE, no obligation demo:
Discover just how easy it is to create your cloud environment—in minutes! One of our friendly virtual labs experts will be happy to:
Show you the platform in action
Calculate pricing for your business
Set you up with a 14-day free trial
Answer any questions you have
No pressure or obligation