What to Expect in 2023: A Look into the Future of the Training Industry
To get articles like this free in your inbox, subscribe to our newsletter.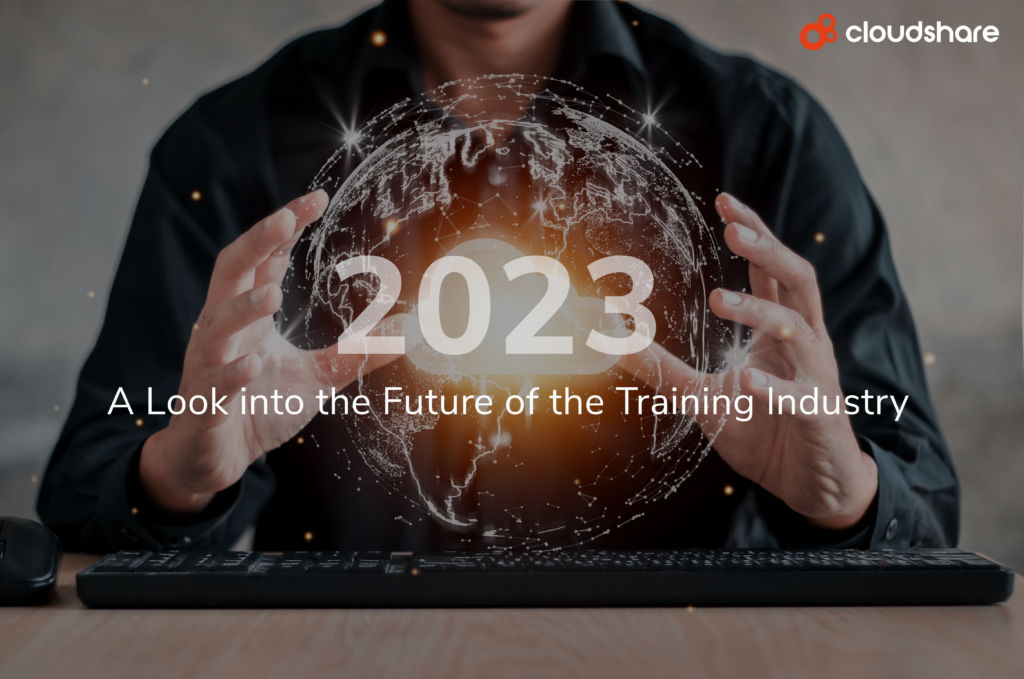 The past two years have seen a massive shift in how customer or certification training has been offered. The most prominent one has been in terms of delivery—and by that, I mean—an uptick in virtual training.
The global corporate e-learning market will be valued at $44.6 billion by 2028 growing at a CAGR of 10.5%. With this, I expect to see many new trends take over the industry in the next five years. 
But what should you expect in 2023? 
Let's look at some of the biggest trends and challenges facing training professionals today. From breaking down silos to developing new skill sets, trainers must be prepared for anything in the coming years. Here are a few observations I've made based on my interactions with CloudShare's customers and leaders in the industry.
#1: Blended learning will become the norm
Blended learning took charge this year—and will soon become the norm. By blended learning, I mean a hybrid method where you deliver in-person and virtual training. 
In-person training is great and engaging, but it's not scalable. On the other hand, self-paced learning allows employees to learn when they're most comfortable. Given that work can get in the way of learning, it's an excellent option for those who prefer it.
In 2021, 41% of training hours were delivered using blended learning methods, but many respondents indicated returning to classroom learning. As lockdown restrictions lifted worldwide, more people have returned to work from offices. It also meant that in-person training sessions were also becoming common. 
However, with many experiencing the benefits of remote learning—most employees preferred this approach. Companies began accommodating their requests to ensure employees could train using their preferred method, as the end goal was massive upskilling of their workforce. 
So, blended training offers a flexible and thoughtful option and ensures that the organization is focused on the training goal—not delivery.
#2: More companies will invest in certification training
As technology becomes increasingly prevalent and automation is expected to take up more jobs, having a workforce that can stay ahead with relevant certifications will be paramount if businesses want to remain competitive.
A recent SHRM study found that 36% of employees pursuing learning opportunities on their own are doing so because they want to acquire certifications. However, 33% of employees find it hard to stay motivated during these training sessions—indicating a need for engaging delivery methods.
Obtaining special certifications gives a competitive edge to employees, allowing them to perform the functions needed for a successful business confidently. And companies that invest in employee certification programs will benefit not only from the knowledge boost but also from better retention. 
Any company not taking advantage of certifications could find itself lost in a sea of outdated skills when it's time for them to reinvent and adapt. 
Plus, it's a win-win on both ends. Employers can filter potential candidates in the hiring process, and job seekers can market themselves effectively.
#3: Companies will begin to establish dedicated training departments
As small companies grow, they're starting to understand how crucial investing in a dedicated training department is—you can call it the light bulb moment. 
Typically, companies create training departments only when they gain volume and need to invest in resources for this purpose. But this will change as even smaller companies with 50 employees are beginning to see the value in this investment.
They will realize that offering training at scale requires a dedicated set of resources to ensure it's done effectively. And you can only do so when you have training professionals well-versed with market trends and relevant training software to administer these sessions.
Soon, companies will invest in them wholeheartedly—no matter how small they are—instead of waiting for exponential growth.
#4: Storytelling is key to an engaging learning experience
Plus, it reduces boredom among participants since it breaks up monotonous lectures with interactive elements. How many times have you attended a training session that turned out to be a yawn fest? Our guess: far too often.
Storytelling is a powerful tool for engaging learners and providing a practical training session. It captures your learners' attention, stimulates their imagination, and encourages participation. 
Through storytelling, learners assimilate new concepts and ideas much more quickly than through traditional teaching. It happens as it creates a natural learning environment that allows learners to become comfortable with their surroundings. 
By connecting stories to lessons, instructors can create an emotional connection between the material taught and the learner's experience. This encourages active involvement in the class and fosters a positive attitude toward learning.
We're going to see less bullet points on a PowerPoint presentation, and more engaging stories based on real-world scenarios.
#5: Companies will invest more in dedicated knowledge bases
Creating a training academy, virtual training platform or knowledge base for employees or customers has become increasingly popular recently, and it's not hard to see why. 
Companies that invest in this initiative can provide employees with up-to-date information on products or services while improving customer service and increasing loyalty.
If not a training academy, at the very least, they'll invest in creating a central repository like a knowledge base. It allows them to easily share relevant and helpful content with employees and customers—keeping them connected with the brand.
Only a third of companies offer some self-service either through a knowledge base, FAQ, or help center. Moreover, 69% of customers want to solve as many issues as possible on their own. 
Having an organized source of information also makes it easier for customers to find what they need without engaging customer support every time.
Plus, companies don't have to worry about travel costs associated with in-person too many employee training sessions and can accommodate the needs of different employees too. 
By having access to a centralized source of information that is always up-to-date and easy to use, companies can ensure that their customers have an efficient experience while equipping their staff members with the necessary data required for optimal performance.
Final thoughts
As we move into 2023, training and development departments need to consider these predictions for the industry. 
Blended learning will become more popular as companies understand its benefits, certification training will see a surge in interest and investment, and storytelling will be critical to engaging learners. Moreover, companies will create dedicated training departments and knowledge bases to improve employee and customer retention rates. 
While nobody can't truly predict what lies ahead, these observations are a necessary reminder for training professionals for what's to come.
Despite the predictions we've listed, one thing is certain: the ones who succeed will be those who offer interactive and engaging learning experiences. 
CloudShare is uniquely positioned to provide such an experience with our experiential virtual labs, which enable learners to get hands-on training in a safe environment.We can help you create interactive and engaging training experiences for your customers and employees using our virtual lab environments. If you're looking to get ahead of the curve next year, invest in CloudShare today.
---
What you should do next…
1. Subscribe to our newsletter:
Subscribe to our newsletter below for the latest news, advice and thought-leadership for software professionals. Or visit our blog to browse our most recent articles.
2. Learn how virtual labs can grow your business:
To learn more about how CloudShare helps software organizations grow revenue, increase efficiency and improve quality, visit our resources page. You'll be able to browser dozens of valuable white papers, eBooks, webinars, case studies, and brochures.
3. Get a FREE, no obligation demo:
Discover just how easy it is to create your cloud environment—in minutes! One of our friendly virtual labs experts will be happy to:
Show you the platform in action
Calculate pricing for your business
Set you up with a 14-day free trial
Answer any questions you have
No pressure or obligation