How Do the Big Retailers Turn Black Friday into Serious Sales? 
To get articles like this free in your inbox, subscribe to our newsletter.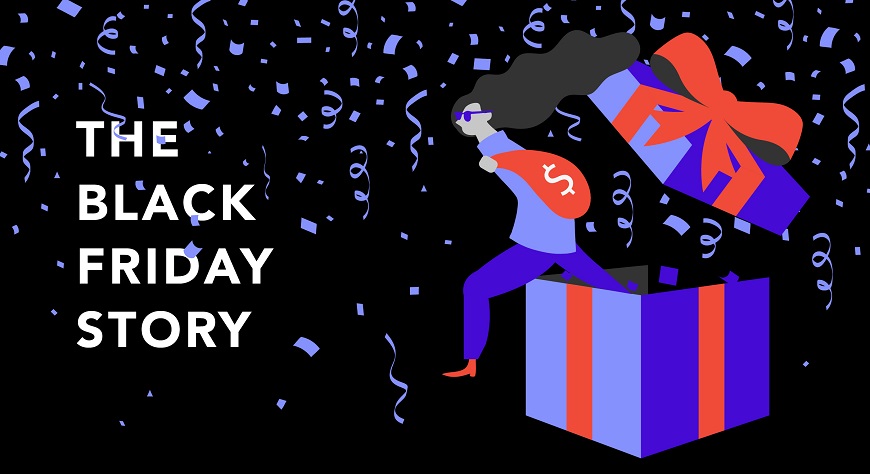 It's everyone's favorite shopping holiday– Black Friday! While traditionally, Black Friday was reserved for in-store discounts, and Cyber Monday continued the deals online, over the past decade Black Friday Retailers have thrown the rulebook out the window, and you'll see deals 'aplenty both in bricks and mortar stores (where lockdown rules allow, of course), and on the web, too.
We think that there's a lot to learn from the giants of retail. Here's how we can take those Black Friday best practices, from retailers who made more than $29 billion (or 20% of their total holiday revenue) over the Black Friday weekend last year, and turn them into messages that we can use more widely in sales enablement success.
Build up Some Buzz
There's no retailer out there that understands promoting themselves better than Amazon. They even created their own shopping holiday – Prime Day! From Prime Day through to Black Friday, Amazon publicizes its Holiday Dash Event, allowing shoppers to get in the mood ahead of Black Friday itself.
Getting people talking about your product or service is every organization's holiday wish, providing free marketing through word of mouth, referrals, and leveraging existing customer loyalty. That's one of the reasons that Amazon benefits heavily from its customer reviews, too.
What can we learn from this approach that will help in software sales, you ask? Customer engagement is key. Creating a customer advocacy program can help you to upsell within an organization, to build customer stories, use cases, and case studies that can be used to encourage other prospects, and also build excitement around a new software release or feature update.
Go for a Hybrid Approach
Costco is splitting its Black Friday offerings between in-store and online, offering a little something for everyone. They're also extending the holiday season, with deals that started as early as November 5th, and lasting all the way through to November 30th. This idea of casting a wide net is one that we can all learn from, even outside of retail. You might meet a prospect in person initןally, but you will then want to have tools in place that mean you can follow up on the phone, or online. If your software solution can only be demoed effectively face to face, you're going to struggle, especially in today's remote working landscape.
The other interesting approach that Costco is taking is an element of mystery! While they list in the catalog certain Black Friday deals, they also hint to others without giving actual prices or deals in detail. If you want to see what deals they have on Apple products, for example, you need to head in-store from November 26th. For solid leads, why not use this element of mystery in your sales enablement? Provide a knowledge gap about features or updates, and then track the results to see how your prospects interact.
Sales Enablement in a new word: Challenges, Skills and Tech - Webinar
Don't Just Set it and Forget it
The best sales tactics involve some element of control over the process. This year, Target is offering to match their lowest sale prices all the way until Christmas Day, to avoid the last minute scramble for the most reduced items. Customers can buy ahead of time, with the confidence that they won't miss a great deal. On the back end, Target can avoid spikes in demand that they struggle to fulfill, especially when the coronavirus pandemic may impact deliveries and fulfillment. (Laptops, we're looking at you.)
If you're looking to sell software rather than home goods, the same principles of being prepared and in control applies! This starts by ensuring you have the capacity for any spikes in demand, but not in footfall – in terms of bandwidth and availability. The great thing about the Target deal is that it also shows customers that the retail giant still cares about the customer, even after they have made the sale. To translate this to software sales, make sure that you follow through with all the support your customer needs – including making sure you have technology in place to help with onboarding, customer training and education moving forward.
Lastly, it's about knowing your customer. For Target, this means recognizing a lot of their customer-base will be Christmas shopping, especially as this year, Black Friday falls closer to the Winter holidays than usual. What do your customers want from your software solution, and how can you prepare ahead of time to make it more likely that they will convert?
Provide Value Above All
There's a reason why you head to your favorite retailer to check out their Black Friday deals. It's because they've already shown you that they have proven value. It's that much harder to get a customer's attention if they don't already know your products, but imagine how difficult it would become if they had tried you out, and had been met with a negative experience?
The Wall Street Journal peeked behind the curtain at some of the large Black Friday retailers and found that they actually increased the price of their sale items prior to Black Friday, only to make it look like they were more heavily discounted on the day. Surprisingly, they report that buyers don't mind the trickster tactics, as long as the results live up to the hype.
Years of poor-quality products, or badly built items specially designed for Black Friday have led to shoppers being a lot more cautious, and the same is true in software purchasing. If you advertise vaporware, or have a software product that over-promises, or is specious, you're not going to succeed in the long run, however much buzz you manage to create. To build loyal customers who tell their friends, turn to you for business outcomes, and get excited about your new releases, you need to have depth, not just smoke and mirrors.
Looking to shorten your software sales cycle and profit more in 2021? Get your free CloudShare demo and see how our platform makes selling your software a breeze.
---
What you should do next…
1. Subscribe to our newsletter:
Subscribe to our newsletter below for the latest news, advice and thought-leadership for software professionals. Or visit our blog to browse our most recent articles.
2. Learn how virtual labs can grow your business:
To learn more about how CloudShare helps software organizations grow revenue, increase efficiency and improve quality, visit our resources page. You'll be able to browser dozens of valuable white papers, eBooks, webinars, case studies, and brochures.
3. Get a FREE, no obligation demo:
Discover just how easy it is to create your cloud environment—in minutes! One of our friendly virtual labs experts will be happy to:
Show you the platform in action
Calculate pricing for your business
Set you up with a 14-day free trial
Answer any questions you have
No pressure or obligation