How to Grow Your Business with a Hands-On Training Approach
To get articles like this free in your inbox, subscribe to our newsletter.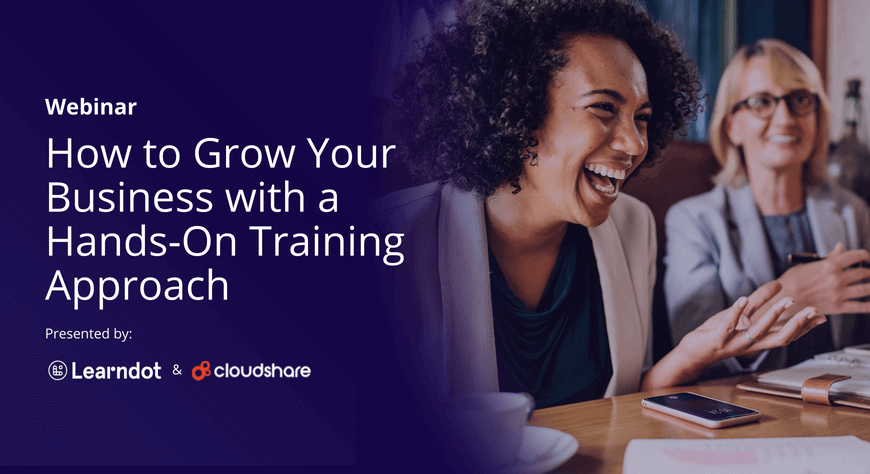 There's a webinar for that!
You're tasked with delivering training for your software products. You face a lot of challenges right off the bat. Your students have short 8-second attention spans, get bored easily and then there's the Forgetting Curve. An article in Learning Solutions explains, "research on the forgetting curve shows that within one hour, people will have forgotten an average of 50 percent of the information you presented. Within 24 hours, they have forgotten an average of 70 percent of new information, and within a week, forgetting claims an average of 90 percent of it."
So if you can help combat these issues with your training, then you've already conquered a large part of the battle. So, the good news is – there's an answer for that! Whether you are providing training for end customers, partners, or your own employees, hands-on training will wake them from the training coma and turn them into active learners. This is where cloud-based training labs come in. You can use virtual training labs to provide Instructor-led training, virtual instructor-led training, self-paced courses, certification programs and even use them for training at your customer events.
By now you might well have heard of virtual training labs, or even worked on them yourself, but how do you know how well they work and how easy or difficult they are to implement? Well, you've just hit the jackpot because – there's a webinar for that!
We've joined forces with Learndot, the leading LMS for software customer training, and software giant Atlassian to explain the 4 proven reasons why software companies must implement virtual training labs and let you hear first-hand from Atlassian's global training delivery manager, Robert Bleeker about his success.
Join our webinar:
A new approach to software training and how Atlassian does it
When? Wednesday, July 18, 2018 at 10:00am PST
---
What you should do next…
1. Subscribe to our newsletter:
Subscribe to our newsletter below for the latest news, advice and thought-leadership for software professionals. Or visit our blog to browse our most recent articles.
2. Learn how virtual labs can grow your business:
To learn more about how CloudShare helps software organizations grow revenue, increase efficiency and improve quality, visit our resources page. You'll be able to browser dozens of valuable white papers, eBooks, webinars, case studies, and brochures.
3. Get a FREE, no obligation demo:
Discover just how easy it is to create your cloud environment—in minutes! One of our friendly virtual labs experts will be happy to:
Show you the platform in action
Calculate pricing for your business
Set you up with a 14-day free trial
Answer any questions you have
No pressure or obligation