Support, Marketing and Sales: How Hands-on Virtual Training Experiences are Making Impact Across the Business
To get articles like this free in your inbox, subscribe to our newsletter.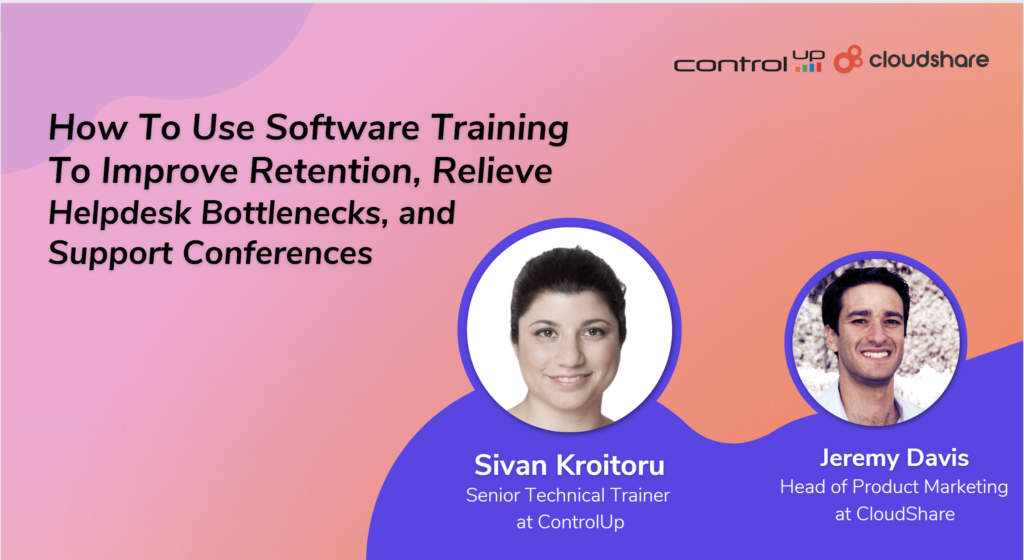 When we talk about how a remote software training platform can enable growth, Digital Experience Management platform, ControlUp, is one of the best examples we can give.
In our recent webinar, we talked to Sivan Kroitoru, Senior Training Specialist at ControlUp, who talked to us about three key organizational goals across three different departments in the company. 
In all three, she has seen how hands-on virtual training experiences have moved the needle for the business in 2022, or more accurately — sent that needle spinning out of control. 
Improve customer and employee retention
Onboarding is an essential time, both in the customer journey and in getting new employees comfortable. But, when you have a technical product, it can be hard to get the hand-holding right. 
It's a fact of life that getting started is tough! Customers can be scared to get involved with your product, worried they will break something, or it can seem like too high a learning curve to get started. 
Even those initial steps of installing the product and understanding the initial value can be a deterrent. For employees, the stakes are even higher. They want to succeed, but they may not have a technical background — and until they are ready to jump in and support customers, you're losing out on revenue and productivity. 
ControlUp had an initial innovative solution for the onboarding challenge, a point-and-click adventure! This software simulation walked new customers and new employees through the product, but the feedback was that users needed a more immersive, active experience, with some users directly asking for a hands-on lab. With so many of us navigating blind spots around what drives customer satisfaction when users ask for something directly — you gotta call that a gift!
(Webinar) How To Use Software Training to Improve Retention?
Join this upcoming webinar to learn:
What challenges were ControlUp looking to solve with a software training solution
How they leverage CloudShare for customer training, support, internal onboarding, and live conferences
How CloudShare helped boost employee retention and relieve helpdesk bottlenecks
Real-world walkthrough of ControlUp's class environments on the CloudShare platform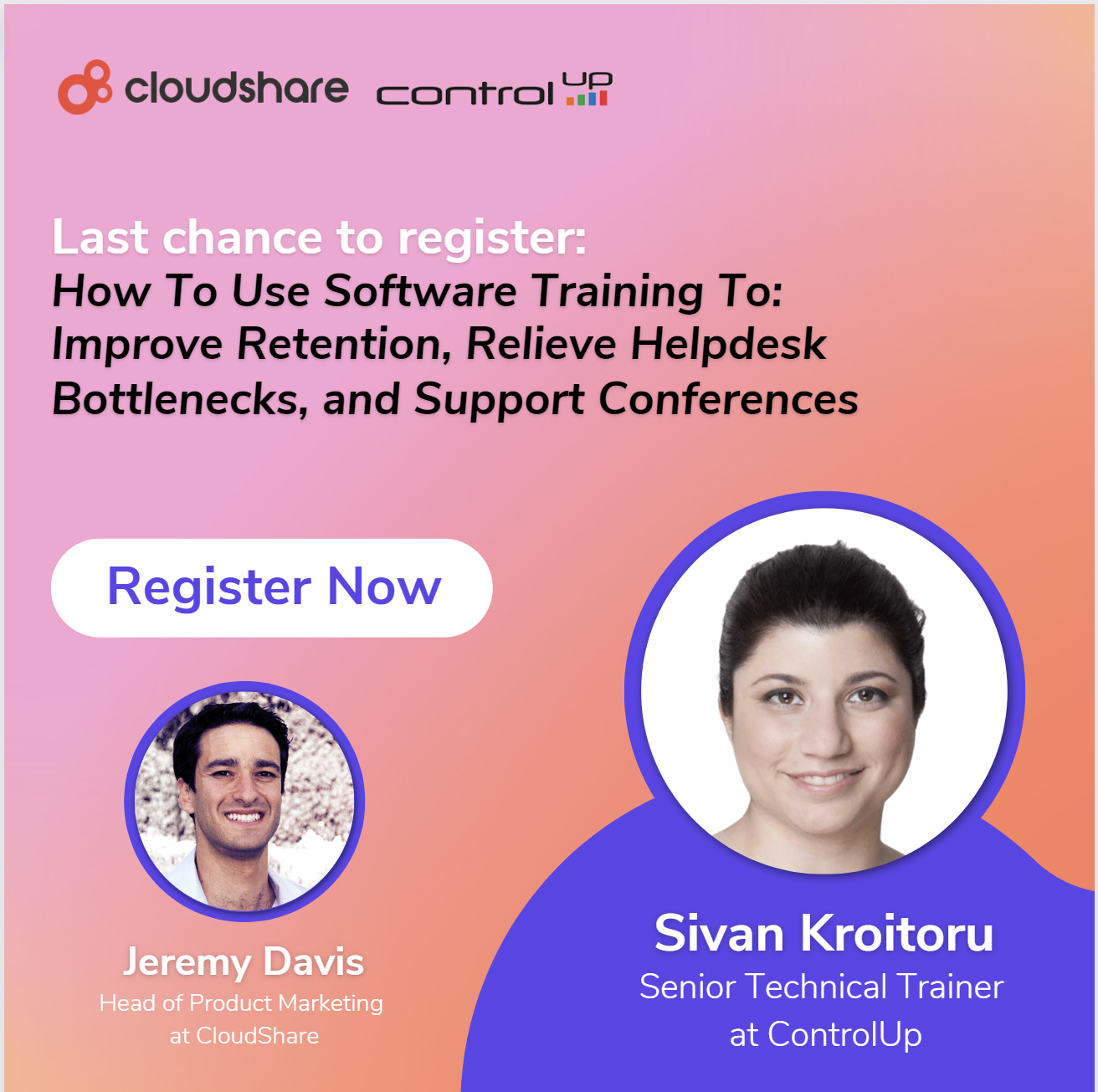 Reduce helpdesk bottlenecks
Zooming out, hands-on experiences aren't just what customers want, they also make a real difference to employees and partners when creating internal and channel training. We've spoken already about how hands-on experiences can make employee onboarding easier, but it's also about effective software training, to support employees so that they are ready to serve customers in crisis mode. According to Harvard Business Review, 70% of employees believe they don't have mastery over the skills necessary to do their jobs. 
We love how Sivan commented, "Support needs to be able to break things to fix things!"
Hands-on labs allow for 'broken environment' templates, enabling CSMs to train on systems that need fixing, rather than learning on paper. As a result, they are better prepared to support customers in their moments of need. 
Side perk? Knocking customer support interactions out of the park leads to better employee engagement and morale. Happy customers, happy employees, happy executives, happy you. 
Support conference marketing
Conferences are an essential part of marketing strategy, and today — companies need to build a virtual experience as well as an in-person one. 
Common challenges with virtual conferences include low engagement and a lack of immersive content, while common challenges at in-person conferences include surface-level content and a lack of educational experiences. 
Should you just throw up your hands and say you can't please everyone all the time?
Let's call that plan B. 
Instead, incorporating hands-on labs can solve both of these challenges at the same time, offering more immersive and collaborative experiences virtually, and getting attendees involved in the deeper workings of your solution at an in-person booth, tech talk, roundtable, or workshop. 
Virtual training labs can handle hundreds of participants simultaneously, have a low technical barrier to entry, and can be spun up in seconds from nothing more than a simple web browser interface, making them as perfect a fit for conferences as the image of a tote bag and a hot dog stand. 
Hands-on experiences FTW!
By working with CloudShare to deploy hands-on experiences across the business, the ControlUp team has made a difference in multiple areas of concern; alleviating onboarding pains, training employees more effectively, supporting conference marketing and boosting customer satisfaction and employee retention. 
But don't just take our word for it! Be sure to watch the webinar to discover: 
An all-in-one solution.

Learn how ControlUp uses hands-on experiences from presales to onboarding, training, and marketing.

Why CloudShare?

There are so many hands-on labs on the market. What made ControlUp fall in <3 with this one?

A live demo.

See how hands-on virtual labs work in ControlUp's environment, with a walkthrough of the platform in real-time. 
---
What you should do next…
1. Subscribe to our newsletter:
Subscribe to our newsletter below for the latest news, advice and thought-leadership for software professionals. Or visit our blog to browse our most recent articles.
2. Learn how virtual labs can grow your business:
To learn more about how CloudShare helps software organizations grow revenue, increase efficiency and improve quality, visit our resources page. You'll be able to browser dozens of valuable white papers, eBooks, webinars, case studies, and brochures.
3. Get a FREE, no obligation demo:
Discover just how easy it is to create your cloud environment—in minutes! One of our friendly virtual labs experts will be happy to:
Show you the platform in action
Calculate pricing for your business
Set you up with a 14-day free trial
Answer any questions you have
No pressure or obligation