How Software Training Boosts Customer Retention
To get articles like this free in your inbox, subscribe to our newsletter.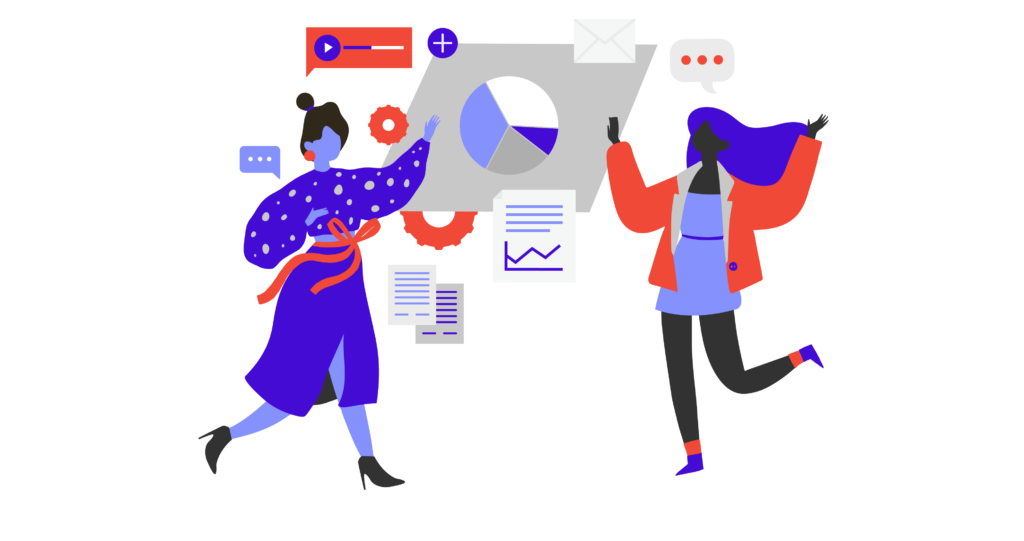 It's a very, very well-quoted metric: it's much more expensive to identify, market to, and acquire a new customer than to keep an existing one.
There are plenty of supporting stats out there:
Increasing customer retention rates by 5% increases profits by 25% to 95%
The probability of selling to an existing customer is 60 – 70%, while the probability of selling to a new prospect is 5-20%.
Existing customers are 50% more likely to try new products and spend 31% more when compared to new customers.
Importance of customer lifetime value (CLV)
But if you think about it, the direct costs of tactical outreach as a well-justified expense is only the second factor to consider in this equation. The first is about what that outlay is going to get you. Not all clients represent the same cost/benefit value; the main issue is really what that relationship is worth in the long term – customer lifetime value (CLV). While every company's calculation of CLV is based on unique considerations, there are specific sectors in which reducing churn is worth especially serious thought, strategy and, when necessary, investment of resources.
One of those sectors is enterprise software sales. And conveniently, it's an area in which customer onboarding and customer training can be particularly effective tactics to increasing retention. When you've got your software product well-embedded at a client site, it becomes a must-have, not a nice-to-have because it is:
Used for substantial time each day
Central to accomplish mission-critical tasks
Relied on by employees across departments
Considered an investment in time to set up populated with data
Not easily replaced
… So with each successful implementation, you create a reliable, recurring revenue stream worth fighting for.
Keep them on top of their game
Luckily for software vendors, providing ongoing software training is a win-win way to drive loyalty. When an enterprise client's success rests on maximizing its own productivity – both for an individual working to shine among their peers or for the company at large, battling its competitors – they want to squeeze the most out of the tools they use.
And because their own success (yes, rather than your success, per se) is their primary focus, you have a willing participant as you offer ongoing customer training for updates, upgrades, and new features. They are actually just as happy as you are
to see themselves far from a churn statistic, continuing your relationship, confident that they are getting value.
But what, exactly, is the most effective approach to training? What strategy will keep them engaged, learning, retaining, and then leveraging what they've learned?
There are three fundamental approaches to effective software training that drive customer retention.
1. Leave the car in the garage, and the suitcase in the closet
Virtual software training has emerged, especially during the pandemic, as a "forehead slap" solution: Tens of millions of employees and managers around the world are wondering why we didn't think of this sooner. Remote training replaces in-person training to save effort, time and cost for participants and trainers alike. No airports, traffic or travel snafus. No time away from the office or home. Just as meetings have been transformed into "immediate gratification" interactions that can be scheduled and run at the drop of a hat, training has too. You no longer need to wrestle with schedules weeks or months in advance because most participants had already planned to be at their desks.
2. Preplanned + Pre-scripted = Pretty Limited
Like most modes of education (all the way back from elementary school), training a customer used to be a scripted, structured affair with a pre-set curriculum repeated session after session. Yes, this certainly makes it easy for a trainer routinely teaching the same material, but what about the end result? This approach certainly limits the dynamic possibilities of such an experience.
Hands-on remote training simply turns that approach on its head.
A modern remote virtual environment makes the experience active, not passive. No longer a one-way lecture to follow, participants can grab the mouse and keyboard, and use a cloud-based, browser-driven version of your software to explore exactly the features they want, at their own pace, even at their own schedule.
This means they come out empowered, confident, and ready to think of themselves as experts in your product because they have succeeded with it, firsthand. They will use it more often, share experiences with colleagues, send feedback, and eagerly await – and then explore and embrace – each product upgrade.
Naturally, these customers are much less reliant on your support team, able to solve problems themselves and even to help others without their organization.
3. Know what they know
Finally, virtual training is an entirely digitized experience. As opposed to lecturing to a room full of participants, trying to glean their interest from the expressions on their faces (or the yawns and texting), you now have engagement you can measure. Whether for a certification program or just the confidence your training has worked, you (and your managers) can see:
How active your trainees are
When do they usually drop out of class
Which areas in your software they seem to struggle with or use incorrectly.
This feedback helps you gauge the success of your training efforts and help keep your training program compelling enough to consistently boost retention.
Remember: retention of existing customers is not primarily about promising them the world and hoping you can come through. That, often, is the job for pre-sales marketing. Existing clients will stay loyal if they are delighted with what they have, always sure they are using it to its maximum potential, and confident that, through your training efforts, you'll keep them that way.
---
What you should do next…
1. Subscribe to our newsletter:
Subscribe to our newsletter below for the latest news, advice and thought-leadership for software professionals. Or visit our blog to browse our most recent articles.
2. Learn how virtual labs can grow your business:
To learn more about how CloudShare helps software organizations grow revenue, increase efficiency and improve quality, visit our resources page. You'll be able to browser dozens of valuable white papers, eBooks, webinars, case studies, and brochures.
3. Get a FREE, no obligation demo:
Discover just how easy it is to create your cloud environment—in minutes! One of our friendly virtual labs experts will be happy to:
Show you the platform in action
Calculate pricing for your business
Set you up with a 14-day free trial
Answer any questions you have
No pressure or obligation