How to Build a Successful Customer Experience Training Program
To get articles like this free in your inbox, subscribe to our newsletter.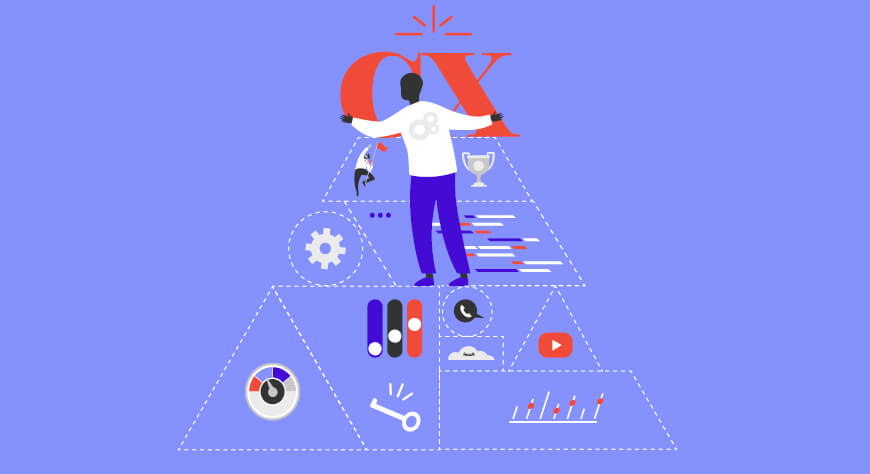 Organizations everywhere have discovered the importance of putting their customers at the center of everything. In this new, customer-centric paradigm, customer experience (CX) is key. However, to make it a success, businesses need to put a real focus on developing their customer experience training – and that's what we'll explore in this article.
Customer experience vs customer service
There's one thing we need to state right from the beginning. We're talking about customer experience here – not customer service. They aren't the same thing, and your CX training will need to make that clear. Otherwise, you risk losing part of your audience, who will immediately switch off because they think you're only talking about customer service (or customer support). They may not regard that as being relevant to them – only to the folks on the helpdesk, for instance.
A cornerstone of modern CX management training is that customer experience is important to everyone. It includes customer service and customer support, but it's a far wider concept (arguably a mindset) that encapsulates a lot more. Everybody in an organization has a role to play – and a responsibility – to ensure you provide great customer experiences that set you apart from the competition, enhance your brand, and ultimately pave the way to future success.
Post-sale CX isn't just "fighting fires" 
Your CX training program should be all-encompassing. It should stretch back all the way to when a customer hasn't even become a customer yet and cover their experiences as a sales prospect and their interactions with your offering/brand at that stage. Customer journey training is vital during this phase, to ensure that the right "pre-customer" experiences are delivered at every point, and that prospects are nurtured from discovery to consideration to purchase and beyond.
After the sale, when they're now a fully-fledged customer, CX isn't just a matter of smoothly and swiftly resolving issues, or ensuring positive experiences for matters like billing and admin. As we said before, good customer support and service are crucial. But here's something else that can have a huge impact on how your brand is experienced and perceived: whether you enable customer success.
Empowering your customers to succeed
Customer success is a big part of customer experience. Your organization needs to be good at enabling customers to make the most of your product or service. If you enable customers to use it effectively, efficiently, and at a high level, then that can have the biggest positive impact on their experience of the things you offer and your brand itself.
This is known as customer enablement. It includes customer education – educating current or future customers about the full benefit of your offering, how to use it properly, and how they can gain the most value from it. So, how do you ensure that your CX initiatives can capture this crucial aspect of your customers' experiences?
Technology has a vital role to play here. Let's look at how.
Choosing the right platform
With a modern platform such as CloudShare, you can support every aspect of your CX training and enablement. As well as training your employees in matters such as support, service, and sales, it's also the ideal customer training platform.
CloudShare allows you to succeed with the internally facing customer service and support elements of your customer experience by delivering engaging instructor-led sessions for your employees wherever they are. But, beyond that, it's a platform that can also support customer enablement by enabling the kind of hands-on exploration and education that creates power users and loyal customers. When it comes to tasks such as SaaS customer onboarding, the platform you choose can make all the difference, because so much depends upon customers' experiences within the environments you provide.
Bad experiences here can mean poor learning from users, unimpressed and dissatisfied customers, and negative brand experiences and business outcomes. Ultimately, a lot is riding on your platform's ability to be the high-performance, powerful business accelerator you need it to be – and that your customers expect. Having the best CX training programs and initiatives in the world won't help if you can't carry them out successfully.
So, as you can see – selecting and providing the right technology foundation today can be vital to the success of your current customer experience training efforts, as well as whatever programs and initiatives will follow in the future. Building success needs a solid platform to build on.
If you'd like to discuss how CloudShare can help you to create and deploy a successful customer experience training program, let's talk. Get in touch with us now.
---
What you should do next…
1. Subscribe to our newsletter:
Subscribe to our newsletter below for the latest news, advice and thought-leadership for software professionals. Or visit our blog to browse our most recent articles.
2. Learn how virtual labs can grow your business:
To learn more about how CloudShare helps software organizations grow revenue, increase efficiency and improve quality, visit our resources page. You'll be able to browser dozens of valuable white papers, eBooks, webinars, case studies, and brochures.
3. Get a FREE, no obligation demo:
Discover just how easy it is to create your cloud environment—in minutes! One of our friendly virtual labs experts will be happy to:
Show you the platform in action
Calculate pricing for your business
Set you up with a 14-day free trial
Answer any questions you have
No pressure or obligation