How to Generate Leads At Your Next Conference With Product Experience Platforms?
To get articles like this free in your inbox, subscribe to our newsletter.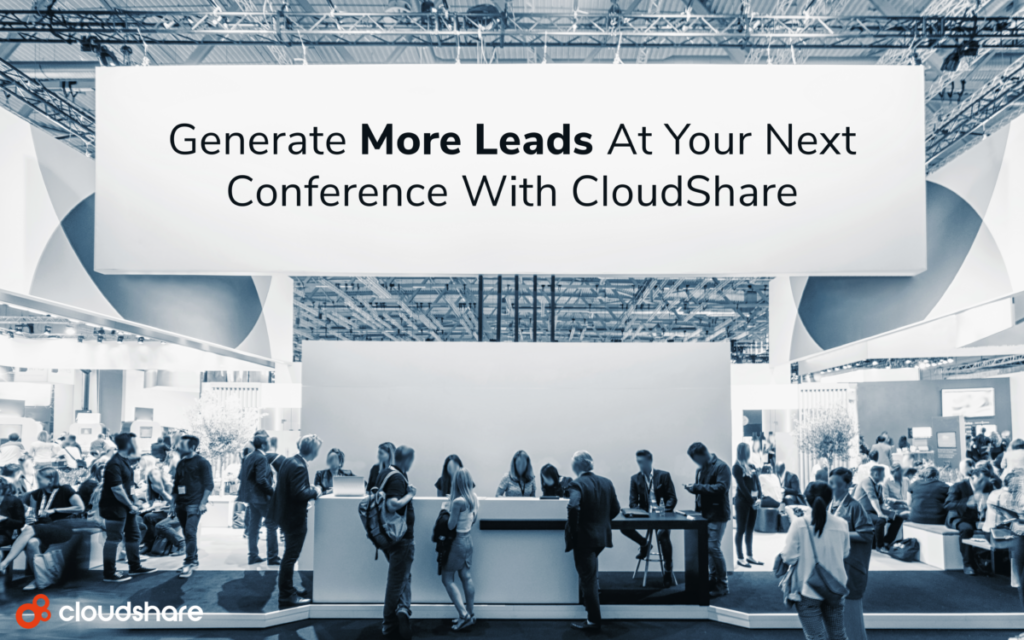 Giving a product demo is tricky—but doing it at a conference is a whole other ballgame.
In a conference, it's doubtful that potential customers know your company, what your product does and how it can benefit them.
What's worse is that you can't give a personalized demo because you don't know enough about the prospect—nor do you have enough time to personalize it.
But with virtual selling becoming the norm, prospects are already used to receiving a certain kind of product experience. You know, the one where they actually get to play around with your product—not just sit back and listen to an hour-long lecture on how it can help them. 
So, now that in-person conferences and trade shows are back, the question is: "How are you going to stand out from the crowd?"
One way to supercharge your next conference marketing strategy is by providing hands-on product demos to your prospects and encouraging them to buy from you.
This article will discuss the benefits of using a product experience platform at conferences and how you can leverage CloudShare for this purpose.
Benefits of using a product experience platform at conferences
The average free trial to paid conversion rate is 14%; however, on average, the demo to close rates in B2B is 20%. Basically, for every 4 to 6 demos you do, you should be able to close 1 deal.
And if you improve your demo close rates, it could result in a sales increase of 50%. This is why offering an excellent product demo is important.
Here are a few benefits of leveraging a product experience platform at your next conference:
#1: Ability to provide a hands-on demo
Every prospect needs to test drive your product, and understandably so. If you were shopping for an expensive car, wouldn't you want to test it out first?
Also, with software products offering complex features these days that are hard to grasp—prospects want to see and experience how it can benefit them.
So, providing a hands-on demo where they can take it for a spin and play around with the different features of your product is crucial.
Geoffrey James, Contributing Editor at Inc. emphasizes this, too: 
"There is almost nothing more powerful than a great product demonstration. When done correctly, a demo allows the customer to see and feel how things will be better if they buy (and worse if they don't)."
Moreover, it reduces the need to have too many technical support or sales representatives on call—freeing up resources and allowing you to offer demos at scale.
#2: Provide personalized demos
Gartner suggests that you need to offer free product demos when:
You need to personalize the conversation.

Your software and workflow are more complex.

Your buyers are busy and not likely to take the time to set up and use a free trial.
As a marketer, if you're trying to qualify leads (create MQLs), offering an experience that is fine-tuned to your prospect's expectations is crucial. To achieve this, you need a solution that can help you understand their needs and spin up a demo in minutes—not days.
This is where CloudShare's virtual training labs come into the picture, as you can register them and give them access to the demo in minutes.
Prospects can access these demos using a simple browser and conduct multiple sessions simultaneously. It's excellent for conference marketing as prospects can use any device to access it. So, you can kiss your software incompatibility woes goodbye.
Plus, you can personalize the demo by customized branding, as well as  incorporating videos or PDFs using the embeded content panel option.
#3: Track engagement with POCs
Usually, in the product demo process, marketers and sales professionals can't measure their prospect's level of engagement. How are you supposed to know if they're truly interested in your product? It becomes more challenging when you're trying to measure the impact of your conference marketing strategy.
It's a vital metric as it helps them understand whether they intend to make a purchase and, if not, what stopped them from doing so.
To remove the guesswork from this process, you need to know how engaged prospects are with your product in real-time, and jump in whenever they have a question or a problem. With visibility into what used to be a black-box, you can now monitor how active and engaged your prospects are when analyzing your product during a POC or a demo.
This option offers a high-touch experience for prospects and a user engagement metric for marketers.
#4: Integrate with a wide variety of applications
Marketers, on average, have 44 applications as part of their tech stack. 
When we consider the number of times they have to context switch, it's doubtful that they'd like to include one more application—unless it integrates with their current tech stack.
This is why we've created the CloudShare integration hub that allows you to integrate CRM tools like HubSpot and Salesforce. By doing so, you can create invitations for registered participants and even monitor their engagement within the same tool.
It prevents unnecessary context switching and offers a one-stop solution for your lead generation needs—even though you're using two different applications.
#5: Increase customer retention
Even when prospects turn into customers through a free trial or paid subscription, if they don't receive value within the first 30 to 90 days, they're going to churn.
However, when the prospect has been qualified by marketing and sales teams, the chances for this are low.
Prospects were already aware of the benefits of your product as they undertook a hands-on demo to comprehend how it works.
As they move from the product demo process (conference) to the trial run (product sign-up) and finally the onboarding process (post sign-up), they're gaining more experience with your product—making them less likely to churn.
#6: Reduce costs and resources required
Investing in resources for conference promotion can be expensive. When you add the cost for creating personalized, hands-on demo sessions for hundreds of participants—it can drive up the costs quickly. 
When you use a virtual product experience platform, you can stop worrying about it. You only pay for the number of hours each user consumes. 
Moreover, you can reduce unnecessary costs as CloudShare's platform sends notifications for inactive usage and completed demos so that you can switch them off.
It also reduces the number of internal team members required during this process and allows them to track engagement and reach out only when needed.
Make CloudShare a part of your next conference marketing plan
By now, you should be able to see how a product experience platform can help you get your message across and drive more leads.
It can improve your lead generation and qualification process while engaging your prospects.
This is an excellent way to do it if you want to stand out from the crowd and create a sense of urgency in your prospects.
As marketers love experimenting and going against the grain, this is the perfect opportunity to do so. 
Here's what our customers have to say:
"I don't recall a single time where we had a challenge that stemmed from the technology. Anyone can share their screen, but to be able to see what attendees are doing in real-time? That made all the difference."
— Megan Haight, Director of Channel Marketing, Aderant
If you're looking to generate qualified leads and understand what your prospects truly value, book a demo with CloudShare today.
---
What you should do next…
1. Subscribe to our newsletter:
Subscribe to our newsletter below for the latest news, advice and thought-leadership for software professionals. Or visit our blog to browse our most recent articles.
2. Learn how virtual labs can grow your business:
To learn more about how CloudShare helps software organizations grow revenue, increase efficiency and improve quality, visit our resources page. You'll be able to browser dozens of valuable white papers, eBooks, webinars, case studies, and brochures.
3. Get a FREE, no obligation demo:
Discover just how easy it is to create your cloud environment—in minutes! One of our friendly virtual labs experts will be happy to:
Show you the platform in action
Calculate pricing for your business
Set you up with a 14-day free trial
Answer any questions you have
No pressure or obligation