Insights from Pre-Sales Pros on Working from Home
To get articles like this free in your inbox, subscribe to our newsletter.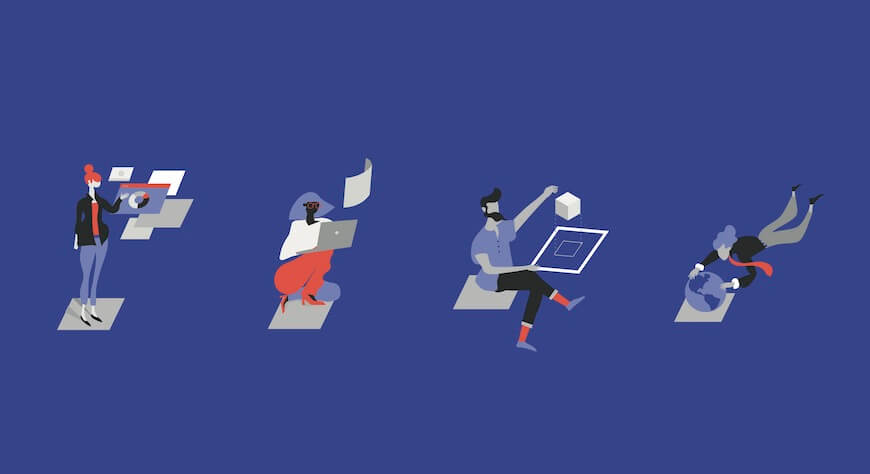 How has the "stay at home" mandate affected the work presales professionals do? That's the question at large. However, we wanted to probe a bit more and gather insights about specific challenges, so we reached out to several of our friends at Sales Engineers of New York and interviewed four of the organization's founders.
These experienced sales engineers, all of whom now work from home, offered some interesting insights about the current state of presales. Following are highlights from the interviews.
And keep an eye out for our upcoming eBook on "Accelerating Software Sales: The Home Edition – Your Guide to Maximizing Presales Productivity from Your Home Office," where we go in-depth into the discussions with these, and other, SEs about their experiences during this difficult time.
Can software sales professionals be equally successful working from home?
"Yes, with a new mindset. You have to realize you are not building relationships in a person-to-person type format. So, how do you keep those connections? How do you keep up to date? How do you keep things personalized? That's next frontier. It can be done, but you have to be very diligent and you have to have the right tools to make sure you're connecting with your customer."
— Owen McClave, manager of solution architecture, Amazon Web Services
"Ever since software sales existed, we've always been about being in the field, so this is a question about the future. But I think people can adapt and have been adapting to whatever scenario or situation occurs."
— Akshat Srivastava, presales solutions architect, Amazon Web Services
"Yes. What I've seen is customers have more time to self-enable and sometimes that involves talking to specialists like me who can help. With the customer not commuting as much and being home, they have more heads-down time. But at the same time, they want some guidance to make sure that that time is spent efficiently."
— Gee Chow, DevOps specialist, F5 Networks
"It depends on your sales cycle. I think we can evolve to get there. Over time, I think we'll learn different presales plays and become more effective."
— Sam Pena, VP, North America presales, Pluralsight
What are some of the most prominent obstacles to overcome when working remotely?
"If you're working on trying to close a deal, you lose the 'high definition' communication where you get body language cues. Building camaraderie with the customer is important. You lose some of that because you can't spend time outside the office like having coffee or grabbing a bite to eat."
– Gee Chow
"It all boils down to translating the energy of your demo to the audience. How do you create character and energy that's different than the last presales person?"
– Sam Pena
"Is the prospect understanding the concepts you're explaining? Is somebody lost during a proof of concept? Being able to troubleshoot can be challenging—especially if you're in a one-to-many scenario."
– Owen McClave
Sales Enablement in a new word: Challenges, Skills and Tech - Webinar
How does the process of delivering a demo differ when working from home? Does the prospect have a shorter attention span?
"When you are not working from home, before the demo, you can meet up with your sales rep in person and talk about the game plan. You can also prepare and say, I'm going to give you these cues during the demo. However, when you're working from home, everyone is on the same screen share. You may have a text and Slack, but there's very limited queuing mechanism so you have to plan in advance. We always chat and directly tag people. If someone joins, we're going to be like, hey, how are you doing? Somebody sees their name and they're like, cool, I've got to respond, and they become more engaged. So, call their names. Ask them a question."
– Akshat Srivastava
"We emphasize certain best practices, like turning on your camera from the start. That tends to drive the customer to do the same in response. We want to get as much feedback as possible… making eye contact to gauge if they're paying attention. The other challenge is building rapport. I intentionally try to interject more questions than normal and ask for feedback."
— Gee Chow
"It changes a lot. When you're getting prepared for a demonstration in person, you're working on interactive body language. When you're working in more of a digital, remote environment, you're working on things like how to screen share, how to transition, how to make sure people don't talk at the same time. It's a much different methodology to prep and setup. And yes, it's much easier to zone out when you don't know if somebody's looking at the screen or not."
— Owen McClave
Is a standard screenshare-style "show and tell" demo good enough?
"It really depends on how you come across on that screen share. You need to do your research and understand what you're demoing, why you're demoing it, and what is it that your prospect is looking for. But in addition to screen sharing, you want to turn off the screen and just have a chat, ask questions and hear them out."
– Akshat Srivastava
"It'll get you in the door to be able to at least have an actual demo. The question is: how do you differentiate? How can you be more interactive with the end user?"
– Sam Pena
"You always want to do what they call "tell-show-tell" methodology. It's good for demoing but you have to have an interactive audience, you have to engage."
– Owen McClave
Would your follow-up differ?
"We've been more intentional. Following-up is via email mostly, but then we leave them with information they can go off and consumer on their own, like a white paper, documentation and content relevant to what we presented."
— Gee Chow
"We follow-up via email. We thank you for the time, recap the meeting, explain what the next step is, and ask for the next meeting. If I look back at what it was like 'pre-remote,' there's not much difference. However, we do rely on content more. That is, we tend to follow-up with an e-book and are experimenting with sending the recorded demos."
– Sam Pena
"I believe it's actually easier to re-engage with the customer. You don't have to re-engage in a physical location or depend on flights or cars or anything like that. I've noticed less friction in getting people back onto the calendar."
— Owen McClave
Could you offer tips for working with your teammates?
"Over-prepare when you're delivering to a customer. You get one shot, maybe two, to deliver the value that you need to. And if everything isn't orchestrated and everybody isn't on the same page, it can come off as very sloppy."
— Owen McClave
"Reach out to them. Have a virtual coffee break or happy hour. Pick up the phone and call a teammate and see how they're doing. You have to come up with some mechanism where you're staying in touch. If there's a common chat group, Slack or Teams group, make sure you're contributing, not just sitting silently."
– Akshat Srivastava
"I have a team that didn't work remote, so a tip I give them is always reach out to your peers through Slack, a phone call or text message. Feeling connected is super important when you're remote. Another thing I say is don't feel like you need to wait for information. Be proactive. And finally, I encourage everyone to find ways to connect about things other than work. Bring the dog, the kids… maybe having a drink together."
– Sam Pena
"Understand Zoom fatigue is a real thing. Over time people lose interest in doing these voluntary Zoom sessions that have no real agenda. Camaraderie is good but you have to keep in mind the fatigue. I think it's still good to have, themed sessions that are internal, but maybe not as frequent."
— Gee Chow
How do you stay sharp in terms of staying on top of the product, the market, the customers' needs?
"You don't need to leave the house for that. You have a ton of online resources. The sky's the limit. This is actually the best time to stay sharp in terms of the market."
– Akshat Srivastava
"Well, I co-founded the Sales Engineers New York, which is a community of like-minded individuals. It's a collaborative network for people to come together, reach out and give their perspective. We share best practices on what's going on in the marketplace."
— Sam Pena
"Sales engineers are obsessed with technology, so we consume content as a big part of the job. We always want to know what's next… What's going on in our market segment… What's going on in the technology landscape. And, at my organization, we have amazing armies of enablement, product managers, and product marketing."
— Owen McClave
"Many of the conferences have gone virtual though I would say a lot of them are still in the learning phases so they're not formatted as effectively as they can be. I've done things like YouTube, LinkedIn Learning, basically more e-learning content than normal."
— Gee Chow
Would you benefit from having cloud-based, interactive sales demos and POCs?
"Yes. Interactivity can take demos to the next level. It can give the audience the context you want. Being able to have a tool that can help you customize the experience will be super beneficial and interacting with the product is super beneficial, too."
– Sam Pena
---
What you should do next…
1. Subscribe to our newsletter:
Subscribe to our newsletter below for the latest news, advice and thought-leadership for software professionals. Or visit our blog to browse our most recent articles.
2. Learn how virtual labs can grow your business:
To learn more about how CloudShare helps software organizations grow revenue, increase efficiency and improve quality, visit our resources page. You'll be able to browser dozens of valuable white papers, eBooks, webinars, case studies, and brochures.
3. Get a FREE, no obligation demo:
Discover just how easy it is to create your cloud environment—in minutes! One of our friendly virtual labs experts will be happy to:
Show you the platform in action
Calculate pricing for your business
Set you up with a 14-day free trial
Answer any questions you have
No pressure or obligation