Introducing the CloudShare Integration Hub 
To get articles like this free in your inbox, subscribe to our newsletter.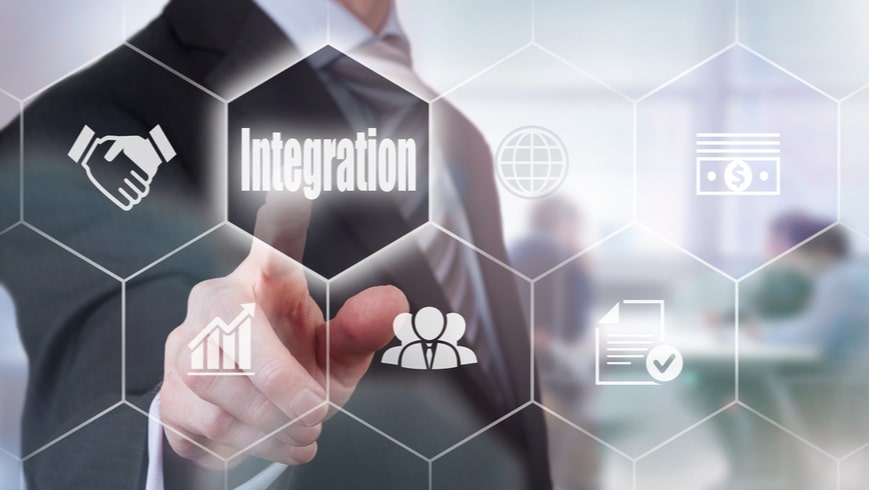 With the rapid adoption of software as a service (Saas), organizations are looking to integrate data across applications in the cloud. The shift toward the cloud has meant a need for better integration, to avoid data silos and connect information across multiple applications.
CloudShare's Integration Hub enables users to connect their CloudShare accounts to other applications, enabling Salesforce integration or with platforms like Google Sheets. The hub enables fast integration and a seamless flow of data between platforms, removing the need for manual data handling. It ensures that data analysis and reporting can be carried out faster and minimizes the risk of error that exists in manual data entry.
To get a better idea of the benefits of the Integration Hub, we need to take a deeper look.
What are the Features of the Integration Hub?
The CloudShare Integration Hub enables Google, Docebo, and Salesforce integration. Creating a flow of data, by connecting to these platforms, means that predefined fields will populate from CloudShare projects into the chosen platform. Users can customize integrations, choosing which fields to populate into the different platforms, and how often the data should sync.
The data includes information about end-users of CloudShare, including demographic information and engagement rates. For example, an organization using CloudShare to perform a virtual demo can monitor vital data points about the users, integrate the data with a platform like Google Sheets, and report on the experience. With CloudShare integration, data reporting becomes easier, with employees able to sync to their favorite app and analyze CloudShare experiences more easily.
To summarize, CloudShare integration enables users to:
Connect to a platform of their choice (Salesforce, Google Sheets)
Create predefined fields for integration
Integrate data based on these fields
Perform data analysis and reporting, based on populated data
Assess CloudShare experiences, based on transparent reporting
 Which Integrations are Available?
Currently, the integrations available are:
Training Salesforce integration
Sales Enablement Salesforce integration
Salesforce for End User Invitations
Google Sheets for Training
Google Sheets for Sales Enablement
Google Sheets for End User Invitations
Docebo
LMS
For example, with Salesforce integration for training, you can sync the class participation data (information about end-users, their engagement with the experience) from CloudShare to your Salesforce account. This allows users to monitor the training performance, track training progress, and make data-driven decisions (e.g. relating to class size, or dynamics of a training group) to elevate the training experience for future participants.
Reasons for Integration
Creating a flow of data across platforms allows for better bespoke analysis and decision-making. If data is siloed it can create barriers for data sharing and collaboration across departments. It is more difficult for business leaders to get a comprehensive view of the data and make decisions based upon it. When data is confined to one platform, it often remains untapped, and the different collections of data across apps cannot provide a holistic view of business operations.
Integration of data, such as Salesforce integration, makes data available to more people in an organization. It opens up previously closed barriers (non-CloudShare users) and ensures that the right data gets to the right people. We call this "healthy" data: accessible to all (or to all that need it) and used in a way that promotes better business decisions. Unhealthy data will be siloed, unused, or used in a way that is atomistic and does not inform wider company decisions/cannot be integrated with other types of company data.
An example:
An organization is running a virtual training lab to get employees up to speed. Half-way through the training, business leaders recognize a drop-off rate in participants. Employees are less willing to take part, and business leaders want to assess why. They integrate the data collated from CloudShare with Google Sheets and make it accessible to the wider organization. Heads of Departments notice a pattern of less participation from younger employees and take a new approach to their training strategy. They undertake a survey, which reveals that younger participants felt that information wasn't communicated well enough, and that case examples could be used. Taking the feedback onboard, business leaders instigate a separate training experience. This caters more to the needs of younger employees and sees a high retention rate as a result.
Data integration with CloudShare also relieves users of the manual process of moving data into another application. Data entry is a time-consuming process, which takes up time that could be spent on work of higher value. With the CloudShare integration hub, data is transitioned automatically, saving employees time spent on administration. The automatic integration also removes the risk of human error in data recording, which ensures that any business decisions informed by data are the right ones.
The Bottom Line
Integrating data into other platforms, such as Salesforce and Google Sheets, allows employees from all departments to access data and analyze it. The integration hub removes data silos and promotes healthy data activities. It reduces the need for manual data entry and saves employees time in recording data across different applications.
Crucially, it makes reporting easier, allowing users across an organization to assess CloudShare experiences and make improvements based on the information. With interconnected systems, such as the Salesforce integration, CloudShare users and wider employees can access the same single source of truth.
To promote healthy data with CloudShare integration, get in touch with the CloudShare team.
---
What you should do next…
1. Subscribe to our newsletter:
Subscribe to our newsletter below for the latest news, advice and thought-leadership for software professionals. Or visit our blog to browse our most recent articles.
2. Learn how virtual labs can grow your business:
To learn more about how CloudShare helps software organizations grow revenue, increase efficiency and improve quality, visit our resources page. You'll be able to browser dozens of valuable white papers, eBooks, webinars, case studies, and brochures.
3. Get a FREE, no obligation demo:
Discover just how easy it is to create your cloud environment—in minutes! One of our friendly virtual labs experts will be happy to:
Show you the platform in action
Calculate pricing for your business
Set you up with a 14-day free trial
Answer any questions you have
No pressure or obligation