Learn by doing: Top takeaways from the Learndot, Atlassian and CloudShare webinar
To get articles like this free in your inbox, subscribe to our newsletter.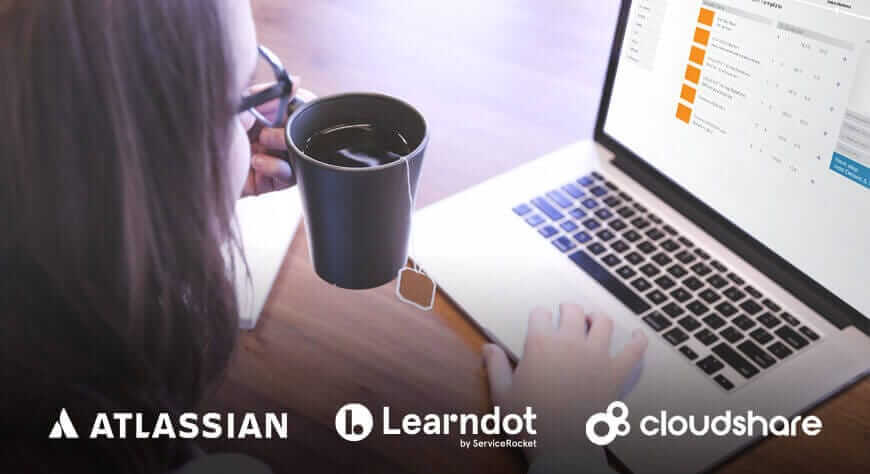 There are two reasons we love webinars. One, they let us respond interactively in real time to questions. Secondly, they harness the excitement of sharing the customer success of our Virtual IT Labs solution. But more importantly, they give us a chance to listen to training challenges, which helps us be more responsive and insightful about the industry's training needs.
We recently conducted a webinar with Learndot, a leading LMS for virtual training, along with our client Atlassian, a software industry leader, with annual revenues of over $600 million.
In this lively on-demand webinar, "Beat the Forgetting Curve with Learning by Doing," Learndot Marketing Manager Dilyana Hadjeva interviewed two business leaders from Atlassian: Robert Bleeker, education manager, and Nathan Matsushima, business process and systems lead, about how they use CloudShare every day to provide consistent, effective training.
Here's the story in a nutshell:
Atlassian had a serious training challenge on their hands as their company grew and began offering more software products. Earlier training solutions couldn't keep up with the demand and variety of training required, including the need to provide simultaneous hands-on demos and training for hundreds of users at once.
Dilyana kicked off the webinar with a quick poll to find out which participants were currently offering hands-on online training. The poll showed that a majority of participants were already trying to offer online training, which probably means that, as with Atlassian, their current solution isn't a perfect fit.
In this webinar, you'll hear how Atlassian built interactivity right into their online training from the ground up to really cement learner's knowledge through a variety of modalities that benefit their training team and learners including:
Hands-on training features to beat the learning curve
Interface creation for a highly responsive student user experience
Modularized learning at the user's own level
Reduce overhead and delays through virtual lab automation>
Live Q&A feature to provide complete interactivity
You'll also hear from Robert Bleeker and Nathan Matsushima about how their customers responded to the company's expanded training offerings, and the features they love best.
Feedback they've gathered backs up studies showing that learners love virtual training. And the more they use it, the more they demand it over traditional models, both for its flexibility and for its ability to beat the learning curve and get them up and running as efficiently as possible.
One of the best parts of any live webinar is a Q&A with participants, in this case moderated by Dilyana.  It's a can't-miss bonus that you'll want to stick around for after Robert and Nathan's presentation.
(One crucial question that may be on your mind: "How can you measure the impact of hands-on learning?")
If you and your users are fighting the "forgetting curve," this webinar will show you how easy it is to meet your users' needs and create learning that really sticks. See for yourself what Atlassian's learners have already discovered: virtual training works, with fewer hassles and fewer headaches than any conventional training solution.
Click through to watch it today.
https://staging.cloudshare.com/learndot-atlassian-webinar
---
What you should do next…
1. Subscribe to our newsletter:
Subscribe to our newsletter below for the latest news, advice and thought-leadership for software professionals. Or visit our blog to browse our most recent articles.
2. Learn how virtual labs can grow your business:
To learn more about how CloudShare helps software organizations grow revenue, increase efficiency and improve quality, visit our resources page. You'll be able to browser dozens of valuable white papers, eBooks, webinars, case studies, and brochures.
3. Get a FREE, no obligation demo:
Discover just how easy it is to create your cloud environment—in minutes! One of our friendly virtual labs experts will be happy to:
Show you the platform in action
Calculate pricing for your business
Set you up with a 14-day free trial
Answer any questions you have
No pressure or obligation