Online Vs. Blended Learning Courses: What's the Main Differences?
To get articles like this free in your inbox, subscribe to our newsletter.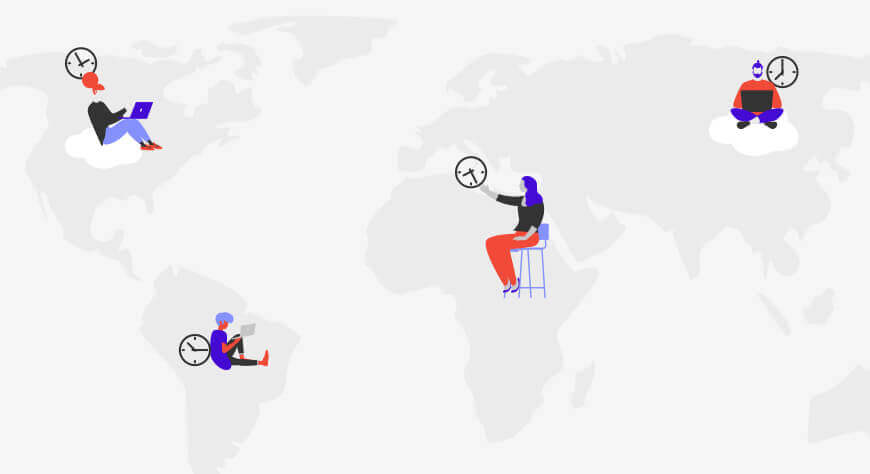 When it comes to designing a training program for your company, it may seem like the content is your biggest consideration.
But that isn't always the case. While content is important, you also need to think about how you will deliver the class.
So, how do you make the decision between e-learning vs. blended learning? And what's the best choice for your company in this new remote world?
Defining the Terms
Online learning, also known as e-learning, is exactly what it sounds like: a class held entirely on the Internet. Blended learning training, by contrast, contains a physical and an online component, combining the characteristics of both.
There's also the hybrid learning vs. blended learning distinction. The terms are incredibly similar, though, and many organizations use them interchangeably. A hybrid model involves a portion of participants attending in-person, while the others join from home through video conferencing.
The Case for Online Learning
Pros
Flexible scheduling. Both instructors and participants can study while working around their busy schedules. You have the option of catching up on your own time if needed. The result is a more convenient experience.
Flexible location. Since everything is online, you can engage with the material from anywhere, whether it's the living room or the local coffee shop.
Cons
Limited collaboration. Since there aren't any face-to-face social interactions, online learning can feel "distanced." You can mitigate this through features like online chat and video conferencing, however.
Staying focused. Most online learners can attest to how difficult it is to maintain motivation during an online class. That's why instructors often employ online polls and occasional quizzes to keep up engagement.
The Takeaway
Online blended learning works best when the participants are located far away from each other or just don't have open schedules for traveling. It's also ideal for large classes where lecture hall space would be prohibitive.
The Case for Blended Learning
Pros
Less travel. The time required on the premises is much lower with a blended model compared to a fully physical class. Participants can still interact with the material hands-on while still having the convenience of online learning.
Direct communication. Not only can you speak face-to-face with other peers and instructors, but you also have an opportunity to make connections during class.
Cons
Scheduling needs. Again, any class with a physical component will require participants to make room in their schedules for traveling.
Traveling. Everyone has to travel to the physical classroom at some point, which can be a problem, especially these days.
The Takeaway
The benefits of blended learning largely outweigh the drawbacks, in our opinion. You get the best of both worlds: users can study from home while still gaining the benefits of a traditional class. If everyone has the time, a blended learning model is an excellent way to boost engagement and take advantage of online resources.
CloudShare: eLearning Solutions Designed for Today's Remote World
Blended learning is typically the most popular option for businesses. Participants of internal training often include employees and business partners, who are already on the premises for most of the day. At the same time, they usually have busy schedules and don't have much room to accommodate traditional courses.
The flexibility and effectiveness of a blended solution are perfect for applications like technical coursework or sales training.
Are you in need of virtual training labs for your company's training program? Book a demo with CloudShare today to see how we can streamline and enable blended learning with minimal disruption to your business.
---
What you should do next…
1. Subscribe to our newsletter:
Subscribe to our newsletter below for the latest news, advice and thought-leadership for software professionals. Or visit our blog to browse our most recent articles.
2. Learn how virtual labs can grow your business:
To learn more about how CloudShare helps software organizations grow revenue, increase efficiency and improve quality, visit our resources page. You'll be able to browser dozens of valuable white papers, eBooks, webinars, case studies, and brochures.
3. Get a FREE, no obligation demo:
Discover just how easy it is to create your cloud environment—in minutes! One of our friendly virtual labs experts will be happy to:
Show you the platform in action
Calculate pricing for your business
Set you up with a 14-day free trial
Answer any questions you have
No pressure or obligation