Optimize Your Data and Unlock Better Insights With Cloudshare's New Analytics Dashboards
To get articles like this free in your inbox, subscribe to our newsletter.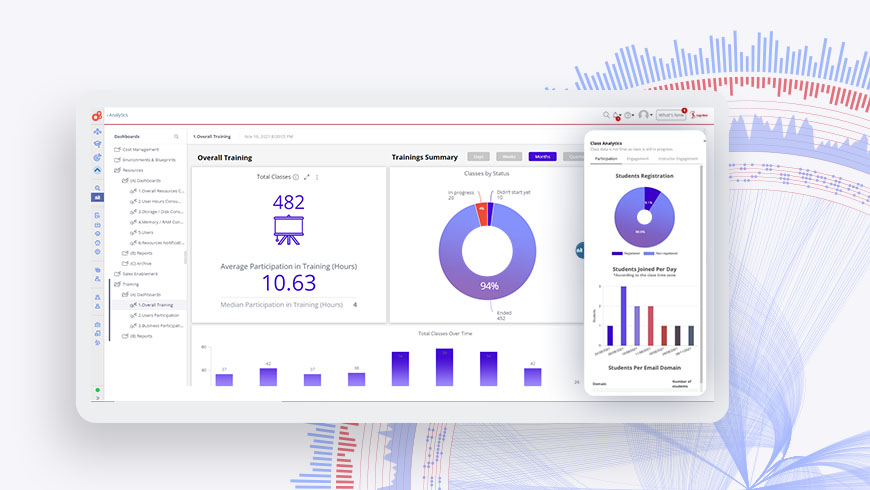 At CloudShare, we've long prided ourselves on offering the most advanced SaaS analytics solutions on the market. Our intuitive platform allows clients to track every facet of resource and application usage, from onboarding activities to usage statistics. Yet even with as powerful as CS Analytics is, we can always make it better.
That's why we're constantly evaluating new features and functionality. With that in mind, we're pleased to announce the debut of three all-new dashboards for the platform.
Policies Consumption joins our set of resource analytics tools, providing you with a granular breakdown of automated policies. Our new Sales Enablement dashboard, meanwhile, is focused entirely on the distribution and completion of Proof of Concept demos (POCs). Finally, Project Members Usage gives you a more complete overview of each individual working on your business's projects.
Continue reading for a breakdown of each new dashboard.
Policies Consumption
First and foremost is our new Resources tool, Policies Consumption. These automated rules allow you to trigger certain events or actions after specified events, and can save businesses a great deal of money and time. We wanted to add a better way to visualize how those policies are used and applied.
The new dashboard will allow you to break down policy usage according to multiple categories, including project, blueprint, region, and more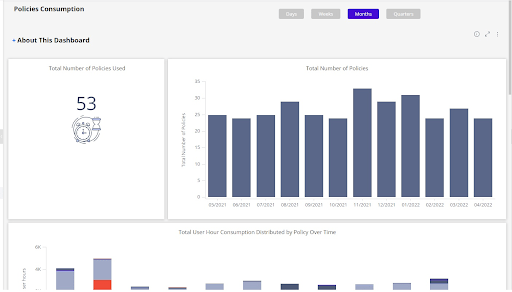 Let's say, for instance, that you initiate a policy dictating that during class time, an environment is suspended after half an hour of inactivity, and another policy that deletes an environment entirely after five days of inactivity—saving you both money per user hour and storage space. Through the policies dashboard, you'll be able to see how often each of those policies are applied, and for what regions. That in turn could allow you to further fine-tune policy enforcement.
Sales Enablement
Our new sales enablement dashboard contains all of the information you need to know about your proof of concept demos. As with the policy enforcement dashboard, the sales enablement dashboard is highly granular, allowing you to take a deep dive into how, where, and when your POCs are being used. Views available on this dashboard include:
Blueprint/Opportunity Analysis: Allows you to view a breakdown of opportunities for each blueprint, along with total tab activity time and average tab activity time for each user and/or opportunity.
Completed POCs: Allows you to view POCs which were completed within both the last 48 hours and within the current and previous month along with the total activity time on each. POCs are grouped by opportunity and ordered by date.
At-Risk POCs: Shows POCs with invitations that were sent more than three days ago with no activity along with those that are set to expire within the next 48 hours. As with the completed view, POCs are grouped by opportunity and ordered by date.
Lost POCs: Shows POCs that expired without being initialized, giving you an opportunity for follow-up.
In-Progress POCs: Shows a real-time summary of total activity time for ongoing POCs, organized by start time and opportunity.
High-Level Overview: Shows status and user activity of all POCs.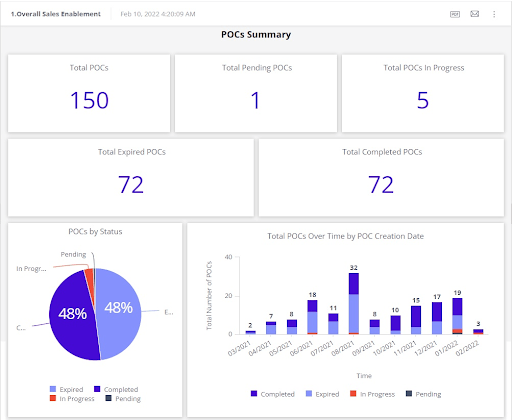 In short, the sales enablement dashboard arms you with everything you need to follow the entire sales cycle. There's a ton of potential for insight into both your sales funnel and your products. For instance, you might notice a large number of POCs are abandoned after a certain point in the demonstration.
You could drill down into the specific reason for this abandonment, either by reaching out to the lost opportunities or by examining the demo yourself. This could in turn allow you to not only optimize your onboarding, but potentially improve your offerings themselves.
Project Members Usage
When you're running multiple projects simultaneously, it can be incredibly difficult to track resource usage and efficiency. Data very often tends to get lost or confused. That's where our last dashboard comes in. Project Members Usage does exactly what it suggests — it provides you with an organized view of user activities arranged by project and experience type.
You can drill down into each user's individual activity hours, allowing you to make certain that every user is being leveraged to their fullest capacity. This dashboard also helps ensure that all relevant project information is tracked, so you can follow up with any users that aren't properly recording their activities. Finally, it provides you with the capacity to optimize both assignments and overall resource usage based on available data.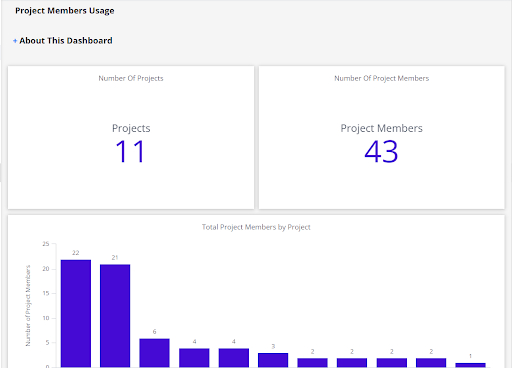 Let's say you have one employee who works faster than everyone else. In the absence of the breakdown provided by this dashboard, you might not even know they're finishing their work before anyone else. However, with a full breakdown of each user's hours, you can reach out to the person and find out how you might better leverage their capabilities — or at the very least, to find out precisely how they work as quickly as they do.
Learn More About What CS Analytics Can Do for Your Business
The three dashboards above join the huge list of dashboards and views already available through the CS Analytics platform, including:
Cost Management: Total spend, training spend, channels spend, and remaining purchase order balance.
Environments and Blueprints: Blueprint usage expressed as environment runtime, environment creations by blueprint, and multiple breakdowns of environment usage.
Resources: Alongside the newly-introduced policies consumption, dashboards under this category include consumption overviews for overall resource usage, user hours, storage/disk. memory and users. Also features configurable real-time alerts and reporting functionality.
Training: Provides a comprehensive summary of training activities, user participation, and business participation. Also includes the capacity to seamlessly generate reports for each data type.
We're pleased to have further improved the functionality of CS Analytics, but also want to emphasize that this is only the beginning.
Expect many more improvements in the coming weeks, months, and years. And if you're interested in learning more about what CloudShare can do for your business, feel free to reach out to our sales team to schedule a personalized demo.
---
What you should do next…
1. Subscribe to our newsletter:
Subscribe to our newsletter below for the latest news, advice and thought-leadership for software professionals. Or visit our blog to browse our most recent articles.
2. Learn how virtual labs can grow your business:
To learn more about how CloudShare helps software organizations grow revenue, increase efficiency and improve quality, visit our resources page. You'll be able to browser dozens of valuable white papers, eBooks, webinars, case studies, and brochures.
3. Get a FREE, no obligation demo:
Discover just how easy it is to create your cloud environment—in minutes! One of our friendly virtual labs experts will be happy to:
Show you the platform in action
Calculate pricing for your business
Set you up with a 14-day free trial
Answer any questions you have
No pressure or obligation