SharePoint's Hybrid Future
To get articles like this free in your inbox, subscribe to our newsletter.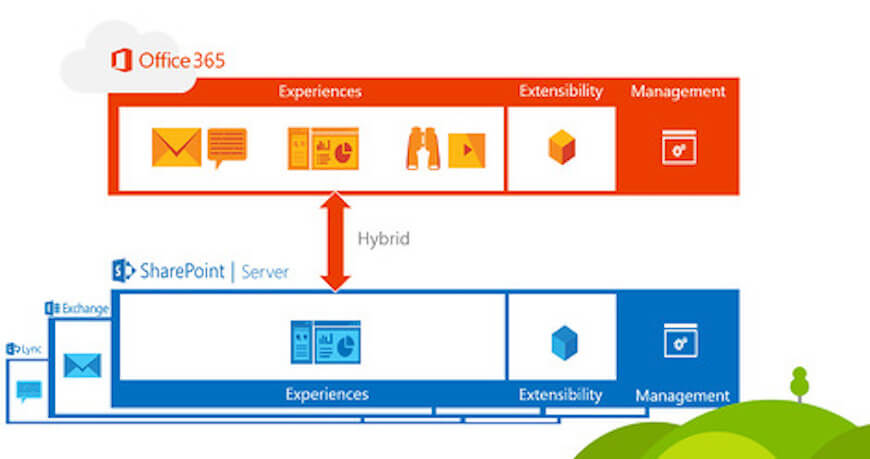 Today on the Office Blog, Julia White wrote that SharePoint 2016 on-premise is scheduled for a summer 2015 reveal date. For Microsoft observers and partners, this is an important affirmation, but hardly surprising news.
On-Premise SharePoint's Deprecation was Overstated
For the past three years, Microsoft has told the world that:
(1) The cloud is the future, &
(2) Office 365 will lead line of business innovation.
Office 365 has feature priority over SharePoint and the benefit of Azure's sales muscle. Unsurprisingly, this made many Sharepoint professionals uncomfortable…
"What's going on with SharePoint these days? Is SharePoint dying? Is it already dead? Do you need to look at another technology? Career? What's going on???"
…afraid…
"I can't come with evidence on what I say here but let me tell you that if you stick to the on-premises version, you'll sink with it!"
… and disengaged…
"SharePoint on-premises is slowly on its way out; it's become an evolutionary dead end."
Acknowledging the "Hybrid Cloud"
While Ms White and the Office team stand behind the cloud-first agenda and Office 365's place at the front of the feature queue, she committed to Sharepoint on-premise, with some timidity:
"We know that the move to cloud doesn't happen all at once. While we've seen growing demand for SharePoint Online, we recognize that our customers have a range of requirements that make maintaining existing SharePoint Server deployments the right decision for some. We remain committed to meeting those needs. We're excited about the next on-premises version of SharePoint and we're sure you will be too."
SharePoint professionals, especially the thousands that CloudShare has served, know, without checking below, that most users are still on-premise. And they know that these users are typically in corporate, government, or other high-value environments.
One blogger explains the motivation quite bluntly, "Microsoft, unlike any other vendor, owns yesterday's workloads." Ms. White and the Office Team note is a reminder that these workloads have a big role to play in the Microsoft strategy:
The $6 Billion partner and ISV ecosystem drives these large, behind-the-firewall implementations, solving for security, cost and server inertia. To keep this 75% happy, Microsoft is offering Delve, Power BI and Yammer as first class products in on-premise Sharepoint, building a "hybrid" roadmap to serve "yesterday" today.
---
What you should do next…
1. Subscribe to our newsletter:
Subscribe to our newsletter below for the latest news, advice and thought-leadership for software professionals. Or visit our blog to browse our most recent articles.
2. Learn how virtual labs can grow your business:
To learn more about how CloudShare helps software organizations grow revenue, increase efficiency and improve quality, visit our resources page. You'll be able to browser dozens of valuable white papers, eBooks, webinars, case studies, and brochures.
3. Get a FREE, no obligation demo:
Discover just how easy it is to create your cloud environment—in minutes! One of our friendly virtual labs experts will be happy to:
Show you the platform in action
Calculate pricing for your business
Set you up with a 14-day free trial
Answer any questions you have
No pressure or obligation