Sisense Deploys CloudShare to Simplify and Enhance Virtual Training
To get articles like this free in your inbox, subscribe to our newsletter.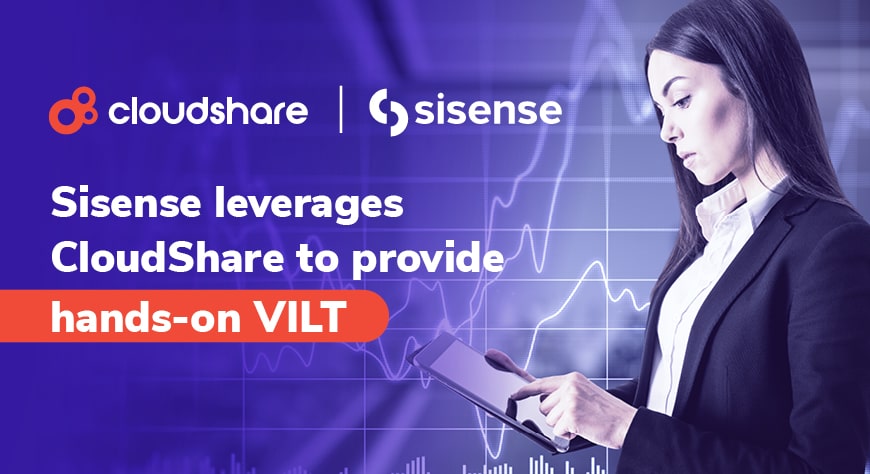 Sisense Deploys CloudShare to Simplify and Enhance Virtual Training
Keeping thousands of customers located all across the globe engaged and active during training courses is no small feat. Assuring that everyone gets a personalized and educational experience can get complicated when your students are too far from one another to come together for an in-person workshop. This is becoming a more common problem in this post-COVID world as companies move to online working environments.
This issue is exactly what Sisense— a business intelligence solution primarily focused on the SME market —came across as they attempted to provide virtual training for their 800+ globally-situated employees.
Other virtual training platforms weren't enough for such complex business intelligence training
After realizing that in-person training was off the table, the company tried using other virtual training solutions. However, they were super complicated to use and were missing crucial features, such as over-the-shoulder view.
This ultimately resulted in:
An unfair advantage to users close by to come in for in-person workshops
Untenable complexity of course material with no real way of educating users
A lack of standardization and consistency among lessons
"We knew there was a demand for virtual instructor-led training, but we lacked the capacity to provide it. Spinning up environments was simply too complex and time-consuming. We needed a simpler way to deliver remote, standardized training". 
— Adva Almog-Dadush, Training Program Manager at Sisense
CloudShare: An Excellent Solution for Virtual Hands-On Complex Training
Sisense ultimately chose CloudShare's all-in-one solution for its out-of-the-box functionality, its unique dedication to Sisense's success—not to mention it provided the exact use case Sisense was looking for.
With CloudShare, Sisense was able to simplify its virtual training, empower their instructors to provide engaging education, and ensure their users' success. Since joining CloudShare, Sisense has been able to provide high-quality online training to its users, including course materials, demos, and other hands-on learning experiences. Sisense has gained:
The capacity to effortlessly spin up any type of environment, no matter how complex
24/7 performance and a near 100% uptime with multiple global data center support
Powerful, intuitive tools to support student engagement
A high level of granular control with the ability to directly manage every course aspect
Download our latest case study, SISENSE DEPLOYS CLOUDSHARE TO SUPPORT VIRTUAL TRAINING INITIATIVE, to learn exactly how Sisense brought their users up to speed on their complex software with more efficient and accessible training environments.
---
What you should do next…
1. Subscribe to our newsletter:
Subscribe to our newsletter below for the latest news, advice and thought-leadership for software professionals. Or visit our blog to browse our most recent articles.
2. Learn how virtual labs can grow your business:
To learn more about how CloudShare helps software organizations grow revenue, increase efficiency and improve quality, visit our resources page. You'll be able to browser dozens of valuable white papers, eBooks, webinars, case studies, and brochures.
3. Get a FREE, no obligation demo:
Discover just how easy it is to create your cloud environment—in minutes! One of our friendly virtual labs experts will be happy to:
Show you the platform in action
Calculate pricing for your business
Set you up with a 14-day free trial
Answer any questions you have
No pressure or obligation