Students More Interested in the Sunshine than Your Software Training? Learn How Aderant Makes Virtual Training More Engaging
To get articles like this free in your inbox, subscribe to our newsletter.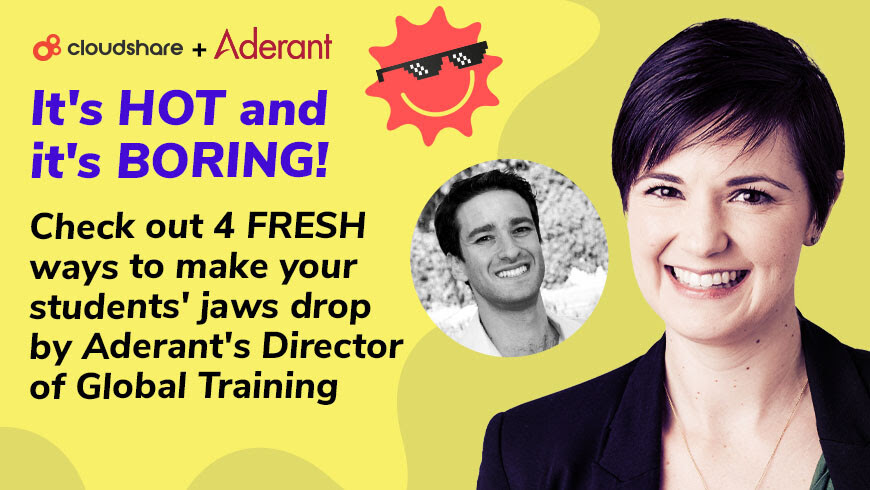 Let's face it… engaging learners in online learning environments is hard! Software training is not usually top of your students' summer bucket list, and you need to work that much harder to keep learners engaged, involved and learning. 
Luckily, our recent webinar was a masterclass in student engagement with Brenna Strickland, Director of Global Training and Development at Aderant, and our own Jeremy Davis, Head of Product Marketing. If you missed the live event, you can watch the webinar here, or if you want some quick tips on making virtual training more engaging — keep reading for some highlights! 
Making the Students the Teachers
We've all heard of the forgetting curve, how information is lost over time if you don't make the effort to practice, implement and retain it. To combat this, Brenna is a huge fan of making sure that learning is really applicable to the work that students are doing, and that they can apply it to their job right away and get hands-on quickly, or they'll lose the knowledge and skills. We all laughed at the example of trying to remember your password after a week or two of vacation!
When it comes to virtual training engagement activities, one top tip to get students more involved is to make sure you're getting student feedback for the agenda before you begin, to make sure you don't miss any burning questions. Serious about making the students the teachers? Try transferring screen-sharing over to the students and allowing them to take control of the walkthrough, under instructor guidance! Brenna discussed the benefits for the training manager of handing the students the wheel, including allowing students to move at the right pace for them, and getting learners more involved as it's their colleague standing by the metaphorical blackboard. 
51 Best Practices to Boost Customer Software Training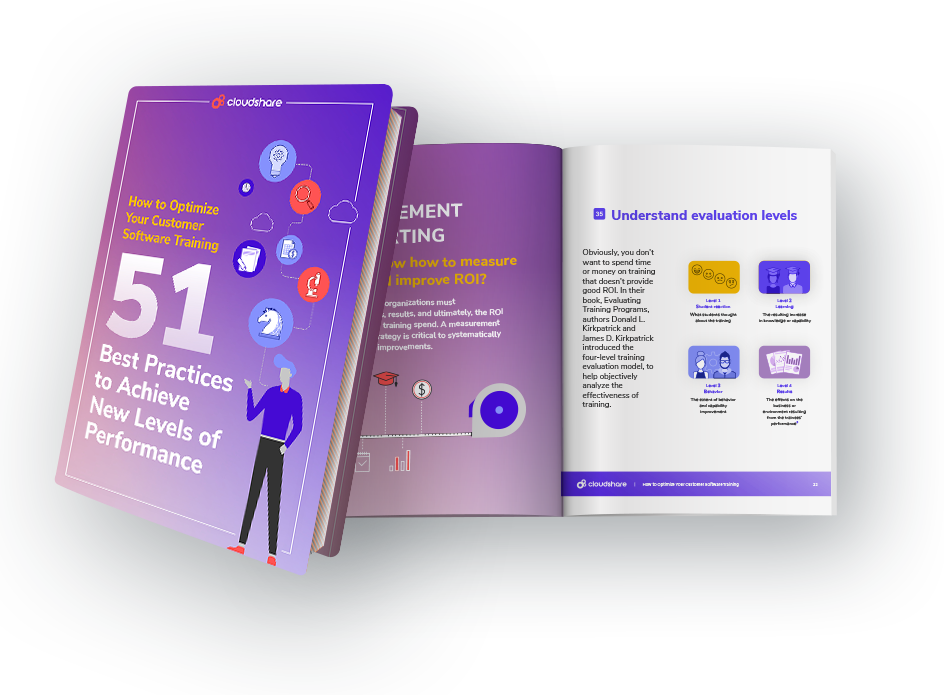 Creating a Smart Balance between VILT and Self-paced Learning
Self-paced experiences leaped by 365% from 2020 to 2021, that's a percentage for every day of the year! We loved hearing Brenna discuss how shifting to self-paced is a win for the students and the trainers alike. 
For the students, they can learn at their own pace, in their own time zone, and in their own schedule. For the instructors, a lot of the repetitive training can be shifted to self-paced, freeing up their expertise so that they can handle more complex issues. After all, keeping it real — by the 60th time an instructor has explained how to perform a specific task, they're probably going to struggle to summon up enthusiasm around the topic! 
Brenna walked us through how using self-paced learning alongside conducting effective VILT training works at Aderant. There's definitely a delicate balance in deciding what content should be self-paced, and how to ensure students get enough face-time to ask the important questions and get the help they need to minimize friction. 
Building Cohorts to Establish Group Relationships
At Aderant, there is a real sense of community via the use of Microsoft Teams. The trainers communicate with learners via Teams, and then students can also use the platform to discuss the content and training with one another, building camaraderie and support. 
We loved Brenna's advice, that while students won't remember everything, they will remember where they can go for help. When the trainer isn't there to give them the answer, they can go to one another, ask questions, hear different experiences, and really build a relationship with one another that is formed around the shared use of your product. Before you know it, you've got a meme-sending, GIF-sharing, joke-sending community! 
Brenna encourages everyone to create opportunities for this kind of relationship-building when looking towards conducting effective VILT training, whether that's via Teams, Slack, a social media group, or a dedicated community platform. During the webinar, she shares the "ideal number" of students for a successful community, and how to encourage communication independently of the class structure.  
Setting Expectations Around Learning for the Ultimate VILT Performance
The final tip from Brenna was about making sure students know what to expect! Will you enforce "video on"? Will you be passing over control to the audience? Do you expect them to complete a certain number of hours of self-paced learning before the class? It's important to let them know about virtual training engagement activities ahead of time. 
By explaining your expectations ahead of time, you can get the best out of your students, and not catch them off-guard. This can be via the shared channel, through email, or any other pre-training communications. 
However, and this may come as a shock to you as much as it did to Brenna… Not everyone reads every email! 😱 Take some time at the start of the class to reiterate expectations and outline the agenda and the format, so that you can be sure your class is all on the same page. 
This webinar was packed so full of value, we can't possibly cram it all into one recap blog post! Download the full webinar to learn more about engaging learners in online learning environments, including: 
The best way to balance VILT with self-paced learning

, including which content works best for which format, and how to get the best out of trainers and students.

Tips to encourage engagement with hesitant learners,

including working with the leaders of the class ahead of time.

Which engagement features improve completion rates,

such as multi-instructor mode and video conferencing, plus how to use CloudShare to measure VILT performance.
Not to mention, more training data gleaned from the CloudShare platform, and a live Q&A! Watch it here.
---
What you should do next…
1. Subscribe to our newsletter:
Subscribe to our newsletter below for the latest news, advice and thought-leadership for software professionals. Or visit our blog to browse our most recent articles.
2. Learn how virtual labs can grow your business:
To learn more about how CloudShare helps software organizations grow revenue, increase efficiency and improve quality, visit our resources page. You'll be able to browser dozens of valuable white papers, eBooks, webinars, case studies, and brochures.
3. Get a FREE, no obligation demo:
Discover just how easy it is to create your cloud environment—in minutes! One of our friendly virtual labs experts will be happy to:
Show you the platform in action
Calculate pricing for your business
Set you up with a 14-day free trial
Answer any questions you have
No pressure or obligation