The Big Share: A Q&A with CloudShare's New CRO, Nadav Peleg
To get articles like this free in your inbox, subscribe to our newsletter.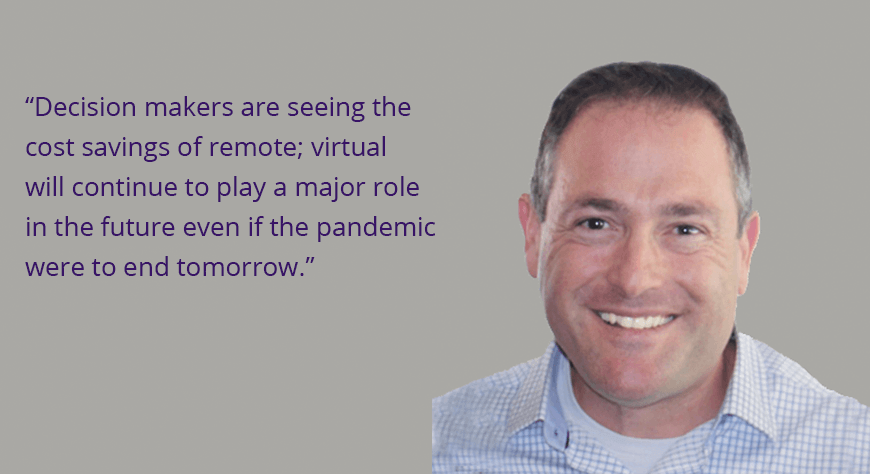 The Big Share features interviews with leaders and influencers from across CloudShare's extensive community, happy to discuss their experiences and provide expert advice on a range of business topics.
In this edition we speak with Nadav Peleg, our new chief revenue officer (CRO). Nadav has more than 15 years of experience in business development, sales and marketing. Previously VP of Sales at WhiteSource, he's held similar posts for leaders like Check Point Software Technologies, ClickSoftware and NICE Systems. In addition to the invaluable lessons he's learned in the professional trenches worldwide, Nadav holds a Master of Business Administration from Duke University's Fuqua School of Business. 
CloudShare (CS): Tell me a bit about the CRO position and what you're trying to achieve.
Nadav Peleg (NP): My goal is to bring our sales team closer together, get us all focused on the overall business, and build a holistic approach to manage it end-to-end. It's about controlling execution throughout the entire process – from pre sales and enablement to partner support and customer success – which in turn can decrease cycles and speed results. We're putting less of an emphasis on million dollar selling superstars and more on creating a "sales machine."
CS: What's the benefit of this approach?
NP: When you build this kind of collaborative, supportive infrastructure you have a better ability to handle unforeseen circumstances. Your success doesn't hinge on a single person and your processes can withstand change. You also gain the agility to adapt, and ultimately, scale. You often see this approach in product research and development. You have a good product for 100 users, but you have to scale to reach the next level or competitors will leave you in the dust. You balance growth with the development of the product to create the right alignment across your organization. Our customers want to scale, CloudShare wants to scale, too. Our futures are linked and this promotes our mutual success.
CS: You mention "unforeseen circumstances." No sooner did you start at CloudShare and the pandemic took hold. Has this changed your views?
NP: It's confirmed them. When it comes to selling technology like software – or training employees, customers and partners – a lot of in-person education and hand holding is required because it's complex material. With COVID-19 bringing an end to face-to-face meetings, enterprises need a way to deliver that same experience.
Our virtual labs replicate exact product and real-world environments, bridging those personal gaps and giving prospects and users powerful hands-on experiences that they'll remember. Zoom, while useful for conference calls, can't do these things. And because decision makers are seeing the cost savings of remote, virtual will continue to play a major role in the future even if the pandemic were to end tomorrow. That enterprises can re-allocate a slice of unused travel budget to take advantage of this technology now, while future proofing their organizations at the same time, makes a great deal of sense.
Sales Enablement in a new word: Challenges, Skills and Tech - Webinar
CS: What changes do you see developing?
NP: Two areas are being impacted most; customer engagement and virtual training. CloudShare is changing the way to engage remotely on a technical level and this will become the norm. Sales demos can highlight feature functionality and how a product will truly perform in the wild. A hands-on proof of concept (PoC) is the equivalent of showing someone a car versus letting them take it home and drive it for a while. What's more, you have metrics with insight into prospect usage, what they liked, what they missed – you can even see if they're stalled and step in to offer assistance and close the sale.
Today, there are less leads and cycles can drag on. But, with CloudShare, onboarding can really start with a PoC or test drive. We give prospects the product, let them see the ease of use and value for themselves, and then they don't want to give it up. This decreases the sales cycle, not to mention that our business acceleration cloud has purpose-built tools to automate tasks and management, so a greater volume of work can get done faster.
CS: And what changes do you see in virtual training?
NP: The future is the virtual class; it's no longer a supplemental part of a curriculum. When COVID-19 hit, everyone figured "let's do the same thing we did before, just over Zoom." That didn't work. The capabilities of instructors to teach and assist effectively were limited. Once again, the ability to engage participants with hands-on experiences in safe, isolated environments that encourage experimentation wasn't there. And, a lot of people have developed their own work pace during the pandemic.
Using a platform like CloudShare, participants get the right experience from home without jeopardizing their health. Virtual instructor led training (VILT) can accommodate students no matter where they live – and you can bring in experts regardless of where they reside, too. Instructors have thumbnails of student desktops so they can check in on progress, make corrections, even provide assistance via text when they need it most of all. And, you can offer self-paced courses, enabling students to work when and where it's most convenient, supported by the ability for instructors to check work and help.
CS: I liked the car analogy for sales. Have you got one for training?
NP: I've been playing a lot of LEGOs with my son lately. Should I say "watch and learn," build something in front of him and hope it sticks? That's not going to be effective or any fun. Some coaching and hands-on learning is what's needed, and should he have questions, he can ask my advice. With a platform like CloudShare, I could scale to teach LEGOs to his class, even an entire school system on the other side of the globe, and they would all get that same type of learning experience.
CS: Those are a lot of benefits. Any you're missing?
NP: Oh, that's just a start. But, if one of my students on the other side of the planet spilled their LEGOs, I wouldn't step on them – so that doesn't hurt, literally.
Want to learn how you can painlessly accelerate training and sales results? Contact us now for a free demo and 14-day trial!
---
What you should do next…
1. Subscribe to our newsletter:
Subscribe to our newsletter below for the latest news, advice and thought-leadership for software professionals. Or visit our blog to browse our most recent articles.
2. Learn how virtual labs can grow your business:
To learn more about how CloudShare helps software organizations grow revenue, increase efficiency and improve quality, visit our resources page. You'll be able to browser dozens of valuable white papers, eBooks, webinars, case studies, and brochures.
3. Get a FREE, no obligation demo:
Discover just how easy it is to create your cloud environment—in minutes! One of our friendly virtual labs experts will be happy to:
Show you the platform in action
Calculate pricing for your business
Set you up with a 14-day free trial
Answer any questions you have
No pressure or obligation