The Path To Training Success & Profitability: Webinar Wrap Up
To get articles like this free in your inbox, subscribe to our newsletter.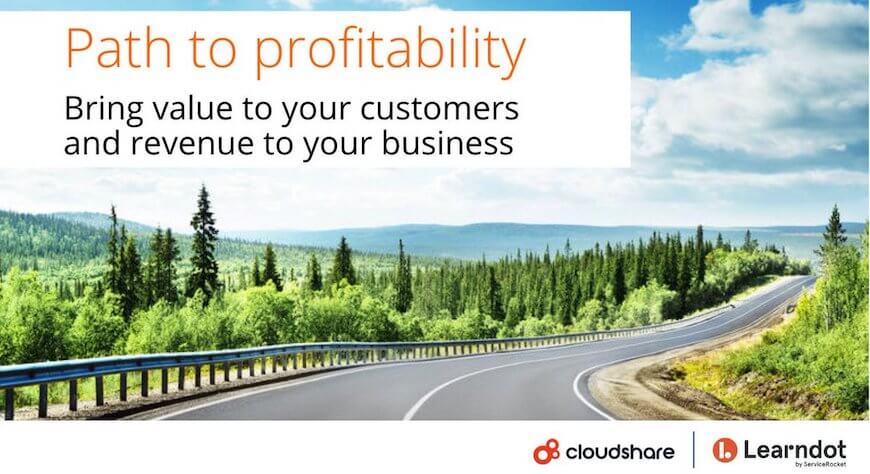 We were very excited to present our webinar: The Blueprint for a Successful and Profitable Training Program along with our good partner, Learndot, last week. The webinar was hosted by our friends at Training Industry.
The registration numbers clearly showed that this is a topic of interest to many. We were happy to help fill this need for valuable strategies and information. Those who missed out can find a summary below, and can always listen to the recorded version here.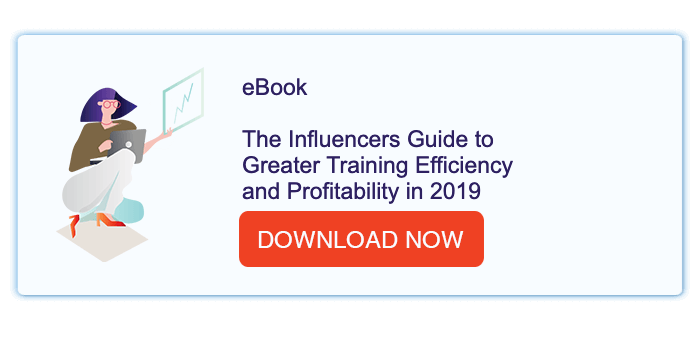 Jesse Miller, General Manager of Learndot, kicked off the webinar by reminding folks that before looking internally into your specific training requirements, you must first understand the overall environment in which you operate. This includes understanding your audience (e.g. short attention spans) as well as other external challenges, such as fast release cycles, leading to the need to keep learners updated on the latest features and to avoid training on outdated products. Even though you don't have control over factors such as these, if you want your training program to be successful, you need to make sure that your solutions address them.
Jesse went on to explain their take on the Training Maturity Model because the exact solutions and targets you want to achieve should be based on an objective assessment of where you are today. This enables you to best determine your next steps. Our live audience broke down as follows based on the 4 stage scale:
Reacting – 16.4%
Performing – 47.3%
Scaling – 23.6%
Optimizing – 12.7%
Regardless of the stage of your training program, a training manager's ultimate objective is to deliver the right training to the right audience at the right time. However the stage you are in helps you decide on what is prudent to do to take your program to the next level. Here's where we got into the blueprint for how to do it.
Blueprint Takeaways
The blueprint we laid out can be broken down into 4 parts as well. Here are the key takeaways to help you create a customized blueprint for your training organization.
Goals Setting

Define your training goals, make them specific
Keep to between 1-3 per quarter
Align with business goals and customer success goals
Make them measurable

Right Training

Identify needs
Provide valuable and engaging content
Identify the best delivery formats
Follow best practices
Provide intuitive workflows
Choose the right technologies

Right Audience

Segment your audience

End users, IT admins, resellers, etc.
Based on existing user data
Based on your learners' self-assessment

Right Time

Provide training relevant to stage in customer journey

New customer
Implementation
Adoption
Renewal
So perhaps right about now you're thinking, what is the connection to virtual training labs? Well, that is a great question, because we've got the answer to that :-).
First of all, virtual training labs are the best way to help your learners retain information because they actually learn by doing. (We've done a whole webinar on why this is significant. If you want more information, listen to it here.)
Learners get to work with a copy of your exact solution (not a powerpoint nor a watered down solution) without fear of damaging systems or data. They get to learn by mistakes and can easily revert back to the original setup, if and when necessary. Michal Frenkel, our VP Product, refers to virtual labs as a playground for your users. So if you are providing software training, whether you have a complex on-premise solution, a SaaS solution hosted on a generic cloud provider, or a combination solution, virtual training labs let you provide the right type of training anywhere and anytime.
With cloud-based training labs in your training technology stack, you can easily serve different types of users, from end users to internal users, such as sales and technical users that need to know how to install and configure your product, to resellers and channel partners. Because templates are easy to create and update, you can be sure your learners are learning on the latest version. Elastic scalability means that you can quickly deliver as much training as you need anywhere you need it, without the worry of paying for resources not in use. Overall, cloud-based training labs make it easy for you to deliver the relevant training to the relevant audience at the right time.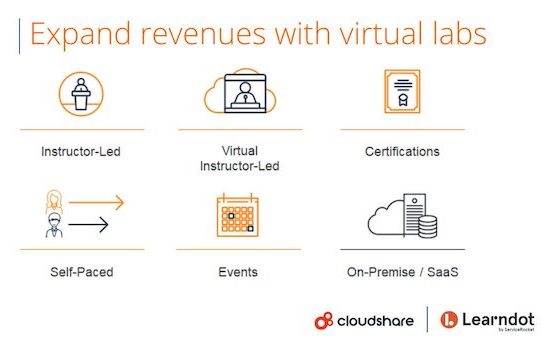 In the profitability discussion, Michal discussed how training labs can be used to deliver different types of training modes that can be offered at different price points. For example, CloudShare's virtual training labs are frequently used by our customers to offer self-paced courses, on-site instructor-led training courses, virtual instructor-led training (VILT), certification classes, and mass courses at company or industry events. With a variety of offerings, it's easy for you to cater to a broader audience and expand your training revenues.
While much more information was provided including ROI information, Jesse wrapped up the profitability discussion by showing a business model of a SaaS training program for a hypothetical company. This really resonated with many in the audience.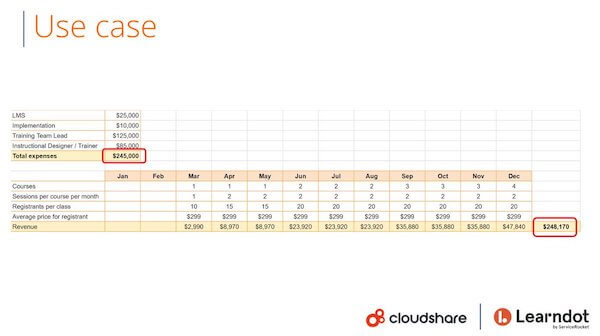 So, in summary, the key to building a successful and profitable training business for your software company is to deliver the right training to the right audience at the right time. But first, you have to understand the environment in which you operate, understand the needs of your business and your audience, the stage of your program, set measurable goals and deliver the right content using the best technology to help your team operate most effectively.
If you've read this far, I'm sure you will find the recorded session just as valuable as the live one. If you have any questions, simply contact us via our website or social media and we will be glad to answer.
To watch the complete webinar on-demand, go ahead and click here!
See you at our next webinar!
---
What you should do next…
1. Subscribe to our newsletter:
Subscribe to our newsletter below for the latest news, advice and thought-leadership for software professionals. Or visit our blog to browse our most recent articles.
2. Learn how virtual labs can grow your business:
To learn more about how CloudShare helps software organizations grow revenue, increase efficiency and improve quality, visit our resources page. You'll be able to browser dozens of valuable white papers, eBooks, webinars, case studies, and brochures.
3. Get a FREE, no obligation demo:
Discover just how easy it is to create your cloud environment—in minutes! One of our friendly virtual labs experts will be happy to:
Show you the platform in action
Calculate pricing for your business
Set you up with a 14-day free trial
Answer any questions you have
No pressure or obligation